Employment Growth Leaderboard Sees Major Overhaul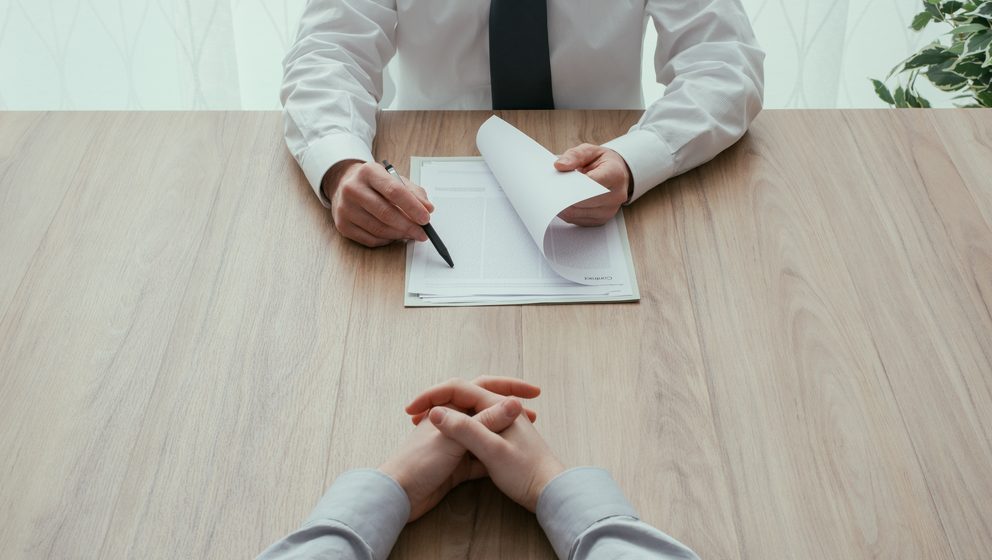 U.S. employers added more than 2.3 million jobs in the year-ending January 2017, growing the country's employment base 1.7%, according to preliminary data from the Bureau of Labor Statistics.
Among U.S. metropolitan areas, New York ranked #1 in actual gains, logging an increase of 151,500 net jobs in the year-ending January 2017. Dallas, hovering above the 100,000-job threshold, secured the runner-up placement. Meanwhile, the combined Dallas/Fort Worth area added an impressive 135,400 positions across multiple industries.
Atlanta, in close stride, clung to its #3 spot, while Philadelphia entered the list at a distant #4. More than 35% of Philadelphia's 67,100 new jobs could be attributed to Education/Health Services, a sector that expanded more than 4% during the same 12-month period.
Phoenix rounded out the leaderboard, stealing the #10 position from Detroit. While Phoenix makes occasional appearances on the leaderboard, the metro continues to lag other Sun Belt markets in post-recession hiring performance.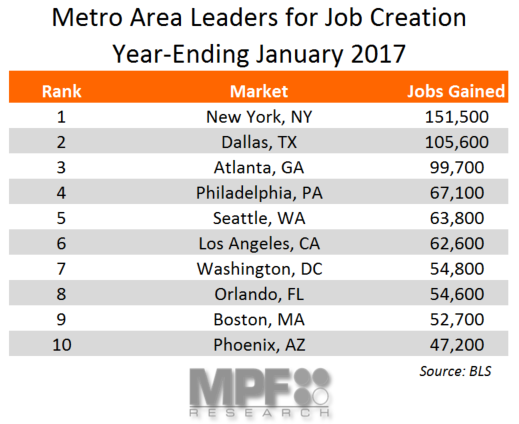 January's percent-change roster experienced a more drastic overhaul. While the three frontrunners from the year-ending December 2016 remained intact, the remainder of the leaderboard was hardly recognizable.
The introduction of Atlanta, Austin, Charlotte, Las Vegas, Nashville, Palm Bay/Melbourne/Titusville and Riverside/San Bernardino pushed out five metros, including Jacksonville and Fort Lauderdale. Nevertheless, Florida maintained a striking presence. Orlando, recently named one of the nation's five most stable apartment markets, ranked #1 in the year-end standings – as it has in four of the five most recent months.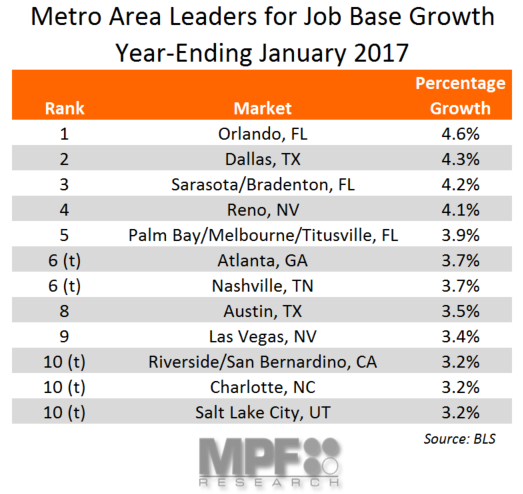 Meanwhile, Salt Lake City dropped five spots to #10. Despite the reshuffling, Salt Lake City's robust employment growth continues to parallel builder and operator confidence, with construction activity and rents remaining aggressive.