Employment Growth Cools in July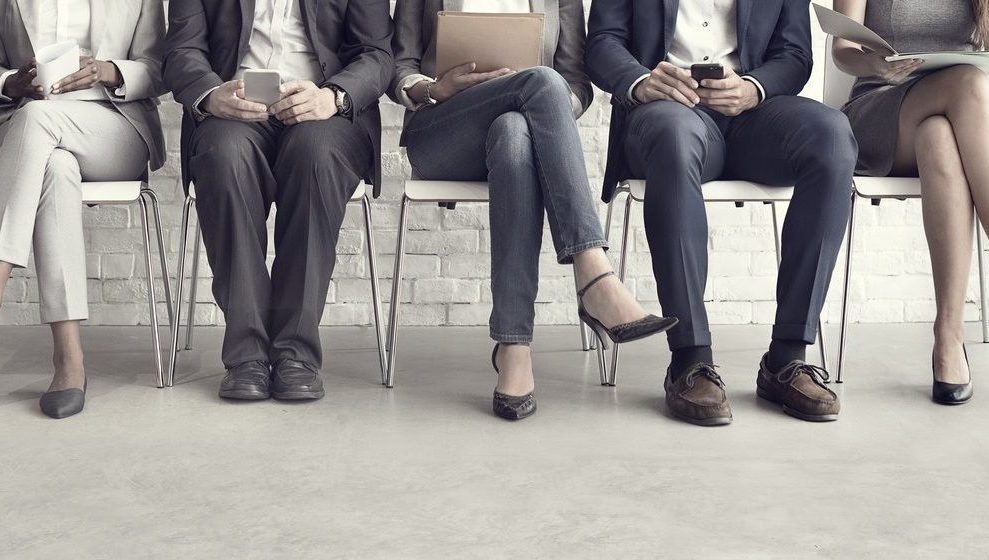 Posted September 13, 2017
National job gains cooled slightly in July, with U.S. employers adding roughly 2.1 million jobs in the year-ending July 2017. That figure grew the country's job base 1.5%, according to preliminary data from the Bureau of Labor Statistics.
Among U.S. metropolitan areas, New York, Atlanta and Dallas remained the top three job-gainers, while Washington, DC vaulted to #4, pushing Los Angeles down to #5. Though the 62,000 positions created in Los Angeles during the year-ending July 2017 are in line with some of the metro's latest annual performances, the figure is staggeringly short of the year-ending July 2016 tally of 102,100 new jobs. In recent months, economies across Southern California have experienced a pullback in hiring activity, as unemployment levels remain very low.
Meanwhile, Minneapolis-St. Paul fell from #5 to #8, but Boston remained at #6, while Houston, pre-Hurricane Harvey, moved up one spot to #7. By comparison, Houston logged annual job cuts in July 2016, with losses stemming from the prolonged slump in the energy sector. July 2017's momentum is attributable to a pickup in hiring for manufacturing jobs and administrative and business support positions.
Meanwhile, Phoenix fell two spots to #9, and Riverside/San Bernardino slipped one spot to #10. In Phoenix, hiring has slowed as the metro's once-elevated unemployment rate has fallen to levels in line with the national average. The hiring slowdown has occurred across most employment sectors.
Together, the total jobs created in the top 10 metros for the 12 months ending in July were up 10.9% from June's annual total, and up 10.2% from the 12-month total for July 2016.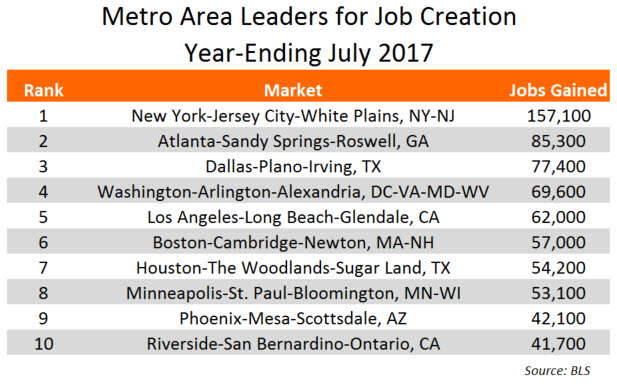 On the annual percent-change leaderboard, Sarasota/Bradenton, pre-Hurricane Irma, maintained its #1 position, expanding its workforce 5.2% in the year-ending July 2017. Much of that growth occurred in the Leisure/Hospitality sector, which accounted for nearly 45% of the metro's 15,000 new jobs.
Meanwhile, Gainesville, which tied for #1 in June 2017, fell five spots to #6. Annual growth in the market slowed from 4.4% to 3.2%. With the exceptions of Manufacturing and Information, every industry registered gains.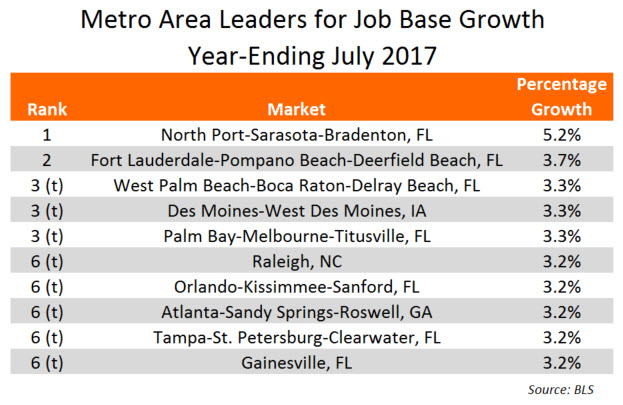 A handful of leaderboard newcomers – Atlanta, Raleigh and West Palm Beach – pushed out Jacksonville, Las Vegas, Nashville, Ventura County, Reno and Tallahassee.
Overall, the percent-change leaderboard for the year-ending July 2017 featured a lower barrier to entry, with only one metro registering growth above 4.0%. In comparison, seven markets grew at least 4.0% in the year-ending June 2017.