Employers Pull Back on Hiring in August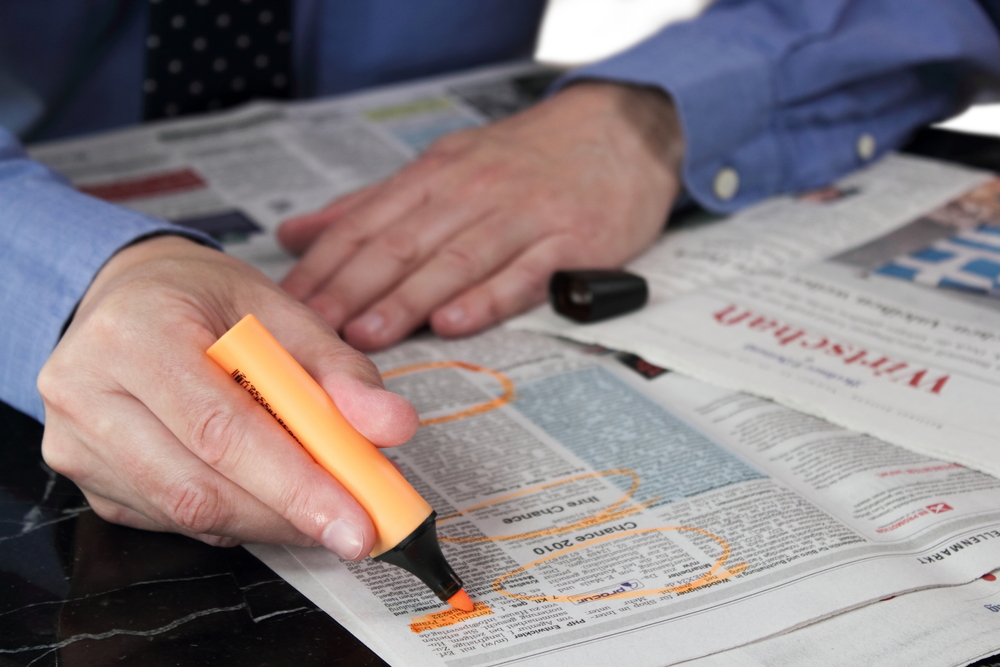 National job gains continued to slow in August, with U.S. employers adding just under 1.8 million jobs in the year-ending August 2017. That figure grew the country's job base 1.2%, according to preliminary data from the Bureau of Labor Statistics.
Among U.S. metropolitan areas, New York, Atlanta and Dallas remained the top three job-gainers, while Washington, DC slipped to #5 and Boston rose two spots to #4. Boston added 63,400 jobs in the year-ending August 2014. Increased job growth in Boston was due to an acceleration in hiring in the Education/Health Services sector. The Professional/Business segment also showed improved momentum.
In a more dramatic shift, Los Angeles plunged to #11 from #5, allowing Houston and Minneapolis-St. Paul to move up one spot each, to #6 and #7, respectively. Los Angeles added just 37,200 jobs in the year-ending August 2017, again falling short of a year-earlier figure of more than 100,000 newly created positions. The slowdown in job creation comes as unemployment in the metro remains low. In addition, several sectors – including the Manufacturing, Trade/Transportation/Utilities, Information and Government sectors – actually recorded net job losses for the 12-month period.
Seattle, Orlando and Tampa moved into the #8-10 spots, as Phoenix and Riverside joined Los Angeles in tumbling out of the top 10 list.
Together, the total jobs created in the top 10 metros for the 12 months ending in August were down 10.1% from July's annual total, but up 8.1% from the 12-month total for August 2016.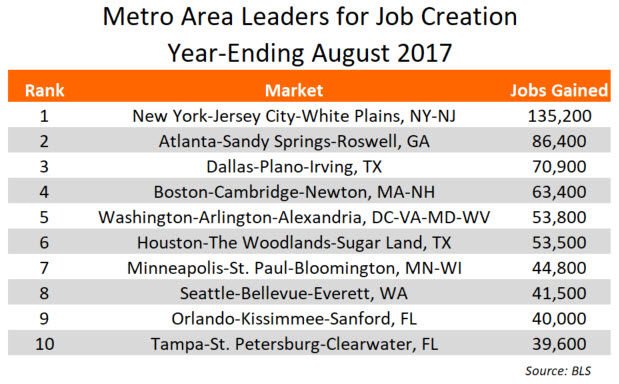 On the annual percent-change leaderboard, Sarasota/Bradenton again held the #1 position, growing its employment base 5.0% in the year-ending August 2017. Keeping with recent trends, nearly 40% of the metro's 14,600 new positions belonged to the Leisure/Hospitality industry.
Meanwhile, Raleigh rose four spots to secure the runner-up position. The market added more than 21,000 positions to expand its workforce by 3.5%. Professional/Business Services accounted for nearly half of area employment gains, though most sectors saw net increases.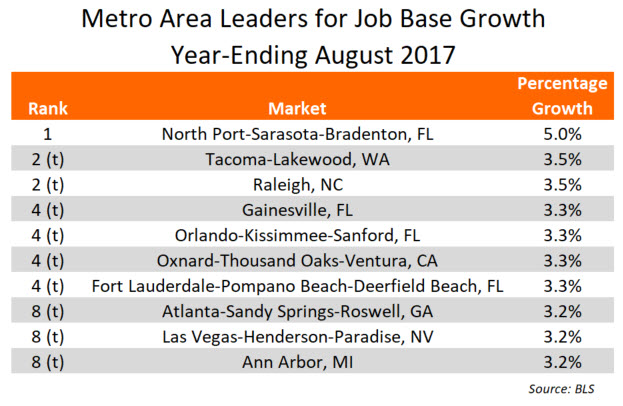 Meanwhile, the introduction of Tacoma, Ventura County, Las Vegas and Ann Arbor knocked West Palm Beach, Des Moines, Palm Bay-Melbourne-Titusville and Tampa Bay from the rankings.