Despite Elevated Supply, Purdue Rent Growth is Among Nation's Top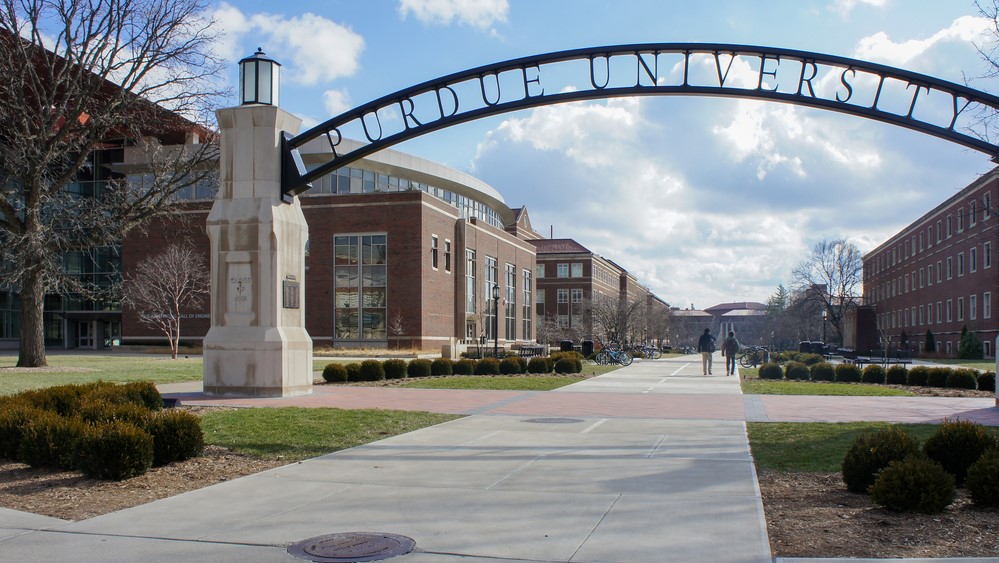 At Purdue University in West Lafayette, Indiana, two seemingly contradictory facts jump out about the school's student housing market. One, supply is at an all-time high as the university is expected to see more units deliver than any other university in the country. Second, performance – particularly rent growth and pre-leasing – looks solid.
After years of erratic changes in enrollment, Purdue has been consistently – and increasingly – growing its student base since 2015. In both 2016 and 2017, enrollment grew above 2.5%, and in 2018, enrollment jumped an astounding 4.4%. After welcoming its largest ever freshman class last fall, Purdue scrambled to hire additional faculty and staff to keep up. The school attributed the increase in enrollment to more students accepting admittance to the school, and an increase in out-of-state students. Growth in graduate enrollment has predominantly been in the school's Polytechnic Institute and education and sciences programs.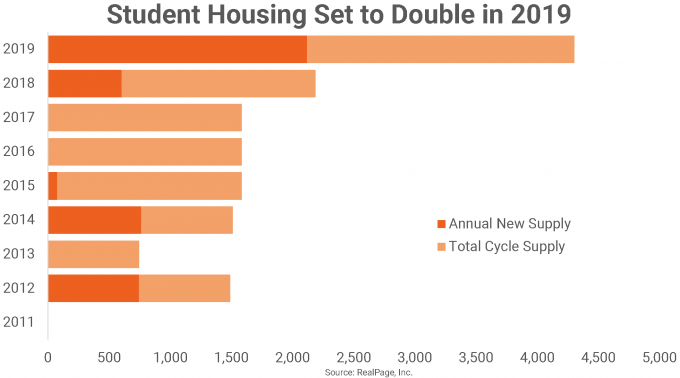 Considering all the new students now attending Purdue, the pipeline of new purpose-built student housing supply doesn't seem as daunting. This fall, 2,200 new beds are expected to come online across 11 properties – the largest surge in a single year on record. That single-year completion number essentially doubles the total number of beds that the university received from 2011 through 2018.
And yet, the university appears poised to absorb all that new product without much issue. Through June, off-campus beds are about 80.5% pre-leased. That runs in line with the national norm of 81% and just below Purdue's year-ago pre-lease rate of 85.9%.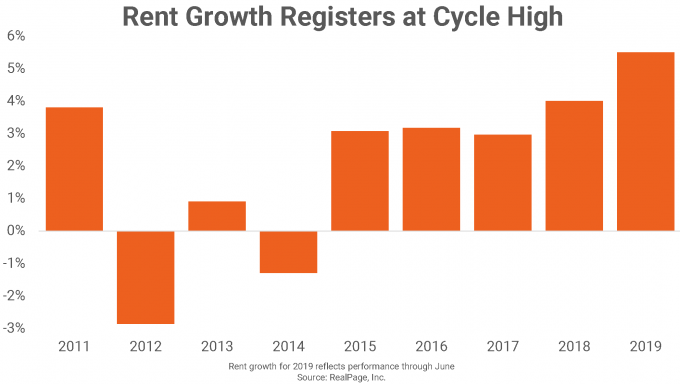 Additionally, Purdue ranks among the nation's top rent performers through June 2019 with rent growth of 5.5% – well above the national norm of 1.7%. As of June, Purdue took the #11 spot for rent growth nationally. The 5.5% increase would also a school best for the cycle, assuming the pace is maintained through the end of the leasing season in August.
Even with all of the new beds, Purdue would maintain an off-campus bed-to-student ratio of about 22%, just above the national average, but far from the highest rates nationally.
Meanwhile, Purdue offers one bed for every three students, more than most universities. Rent change for those on-campus beds has been stagnant since 2014.