Economic Recovery Slows in Many Markets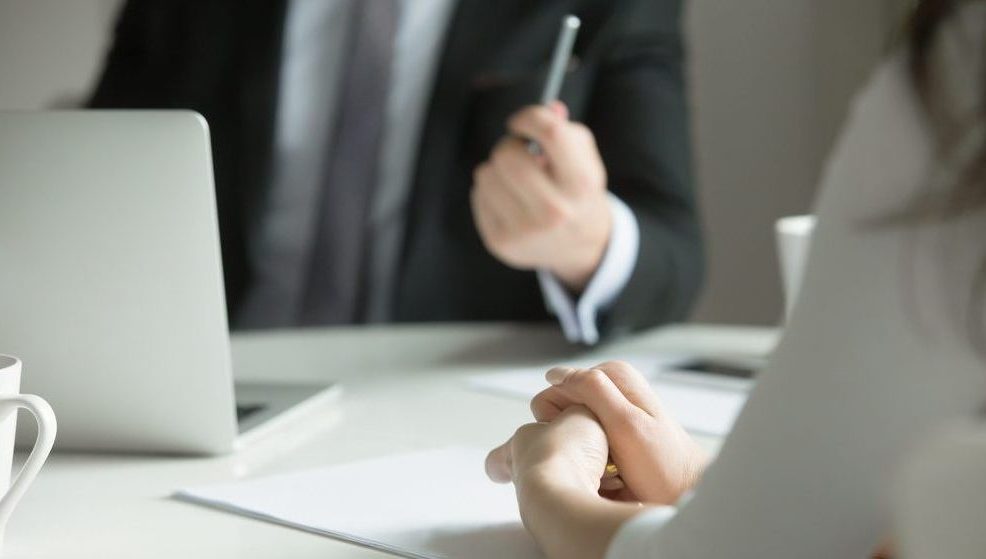 While job losses continued to ease across most markets in July, the pace of recovery is slowing, as increasing COVID-19 infection rates caused several state and local governments to reinstate or tighten existing restrictions recently.
The steep job losses incurred in March, and especially in April, will take many more months to fully recover. While most markets spent June and July recouping some of those losses, the annual declines remain widespread, according to the Bureau of Labor Statistics (BLS).
The list of markets with the steepest annual job losses remained essentially unchanged from last month. The nation's one-time COVID-19 epicenter and largest economy – New York – still ranks as the hardest-hit, but losses continued to ease. July's annual figure of just over 1 million jobs lost is an improvement from the more than 1.4 million lost for the year-ending April, and the 1.1 million lost in the year-ending June.
Los Angeles and Chicago again ranked as bottom performers, each with about 400,000 jobs lost. While both markets improved in July, the recovery was bigger in Chicago, moving Los Angeles into the #2 spot among the worst national performances.
After New York and Chicago, Boston saw the nation's biggest economic recovery in July, but annual losses remain substantial at 340,000 jobs. Philadelphia, Washington, DC, and Detroit had annual declines of about 230,000 to 250,000 jobs as of July, but their average improvement from the previous month was notable.
Anaheim is the only bottom performer to lose additional jobs in July, pushing the total loss for the year to 203,100 jobs. Houston joined the top 10 steepest loss list (replacing Nassau County-Suffolk County, NY) with 188,400 jobs lost in the 12-months ending in July 2020. As it did last month, Minneapolis rounded out the #10 spot, with an annual loss of nearly 180,000 jobs.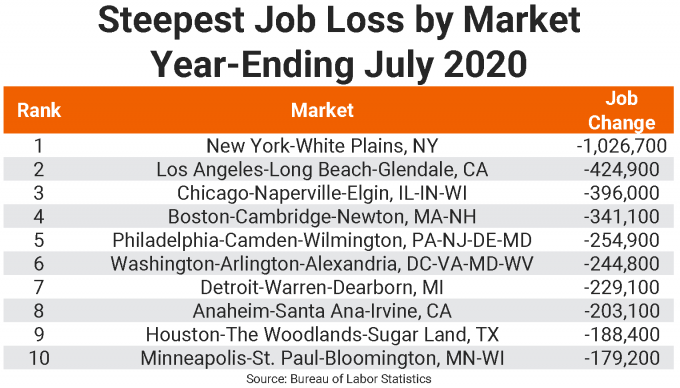 The BLS employment figures are not seasonally adjusted, making monthly comparisons difficult. Still, 117 of the 150 largest apartment markets had fewer jobs lost in the year-ending July than in the year-ending June, and two small college towns even turned to slight job gains – Boise City, ID and College Station, TX. In fact, almost all the markets with the nation's mildest job losses were also college towns: Champaign-Urbana, IL, Eugene, OR, Fayetteville, AR, Lincoln, NE, Fargo, ND, and Provo, UT.
Twenty-three of the 150 top markets lost at least 100,000 jobs in July's report compared to 28 markets with similar losses last month, and 49 markets in April. Twenty-five markets lost between 50,000 and 99,999 versus 29 last month. Combined, the jobs lost in the 10 worst markets accounted for 30.1% of the total losses for the U.S. The next 10 markets for job losses accounted for another 12.3% of total job declines.
Three states with flaring COVID-19 infection rates and reinstated restrictions saw more markets with increasing job losses when compared to June – Texas, Florida, and Arizona. California has been one of the slowest states to reopen their economy and that is reflected in the number of markets in the 20 steepest job loss list. Along with Los Angeles and Anaheim, Riverside, San Diego, San Francisco and Oakland make the list, with San Jose and Sacramento not far off the list.
According to the BLS, New York, Anaheim, and Las Vegas were the major markets to make the list for steepest job loss as a percentage of total employment for July 2020. Last month's list showed percentage losses ranging from 14% to 16%, while the markets on July's list range from 12.2% to 14.2%, as the economy continues to show signs of slow improvement.
Four of the 10 steepest percentage declines in employment were markets in New York state. The remaining markets on this list are spread between Massachusetts, Texas, Nevada, California, and Hawaii.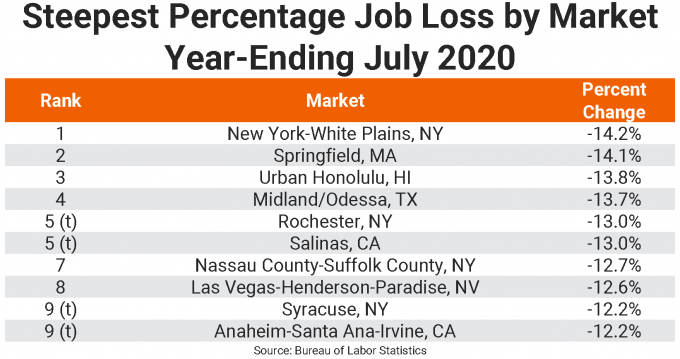 Similar to total job change, many of the markets with better-performing percentage job change are primarily small college towns. In addition to the two markets that gained jobs for the year-ending July (Boise City, ID and College Station, TX), the largest markets with milder job losses include Chattanooga, TN (-0.3%), Salt Lake City, UT (-2.7%), and Knoxville, TN (-3.1%). Sixty-two markets had percentage job losses greater than the seasonally unadjusted percentage loss for the U.S. of 7.7%.