Here's a List: Downtown Rent Growth Leaders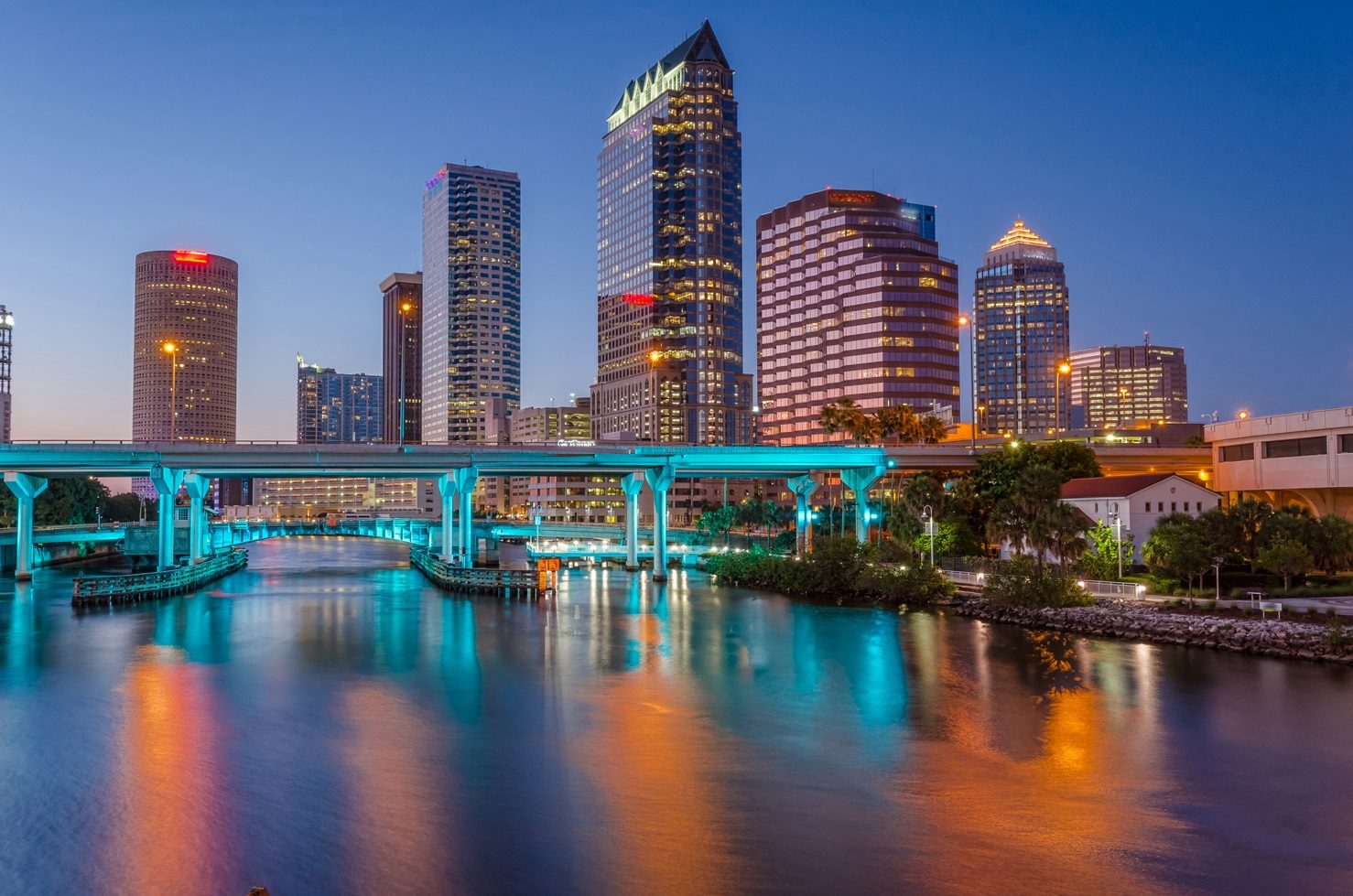 Slowing rent growth as additional new apartment properties complete in downtown markets is a key storyline emerging in the multifamily sector. In fact, pricing is now backtracking in some urban core neighborhoods, particularly in San Francisco and Houston as well as parts of Manhattan.
However, there are metros where downtown rents continue to climb at a pronounced clip. Among the country's 50 largest metros, 13 have urban core apartment markets posting annual rent growth of at least 5%.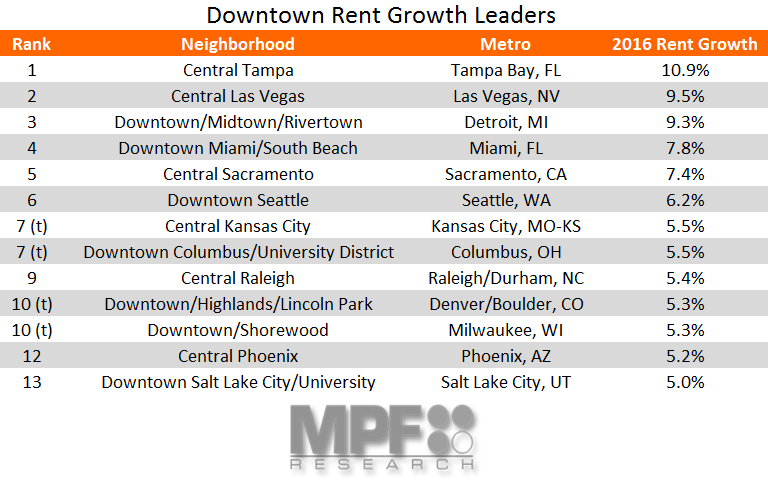 Tampa Leads the Way (For the Moment)
Central Tampa ranks as the downtown market with the fastest-growing rents, with pricing for new leases up 10.9% during the past year. Helping Central Tampa's performance, the existing product base is full, and the submarket only had to deal with roughly 800 units moving through initial lease-up in 2016. However, that situation is about to change drastically. Ongoing construction in the submarket has soared to more than 4,500 units, with approximately 2,700 of them scheduled for delivery in 2017. It's highly unlikely that 2017 rent growth will come in anywhere close to 2016's performance.
Miami's Results Are Volatile
If there's a surprise on the list of urban core rent growth leaders, it's probably the really strong showing posted by Downtown Miami/South Beach right at the end of 2016. Competition from condos offered for lease impacts this submarket, generally holding down the ability to push prices for conventional apartments over the past couple of years. But the results go all over the place from one quarter to the next, and late 2016 was one of those points in time when pricing hit a probably unsustainable spike.
Limited Building Helps Las Vegas, Detroit and Sacramento
Downtown submarkets posting the strongest rent growth tend to be places where building activity remains fairly modest. Very limited flows of new product coming to market over the past year certainly are helping support rent growth in the urban cores of Las Vegas, Detroit and Sacramento. Furthermore, none of these spots will add especially big blocks of new apartments over the next couple of years, enhancing the odds that they will stay on the list of urban core rent growth leaders.
Seattle and Denver Do Well Even with Lots of Building
Significant new supply entering the market doesn't necessarily preclude substantial rent growth, as evidenced by the strong showings posted in the urban cores of Seattle and Denver. How enormous is the building in these neighborhoods? Since the start of the current apartment cycle in early 2010, the existing stock in Downtown Seattle has grown 30% with the completion of nearly 6,000 units. (Additional big blocks of new supply have been built in the neighboring, urbanized South Lake Union/Queen Anne and Capitol Hill/Central District submarkets.) For Denver's Downtown/Highlands/Lincoln Park submarket, this cycle's inventory growth is at a stunning 49%, after the addition of nearly 6,400 units.
Properties still on the way total about 3,700 units in Downtown Seattle and approximately 5,300 units in the Downtown/Highlands/Lincoln Park submarket in Denver. The further product additions certainly could slow rent growth from today's levels, but the urban cores in Seattle and Denver still appear likely to rank among the healthier rent growth performers among the very active downtown construction zones.