Dallas/Fort Worth Leads For Multifamily Permits in March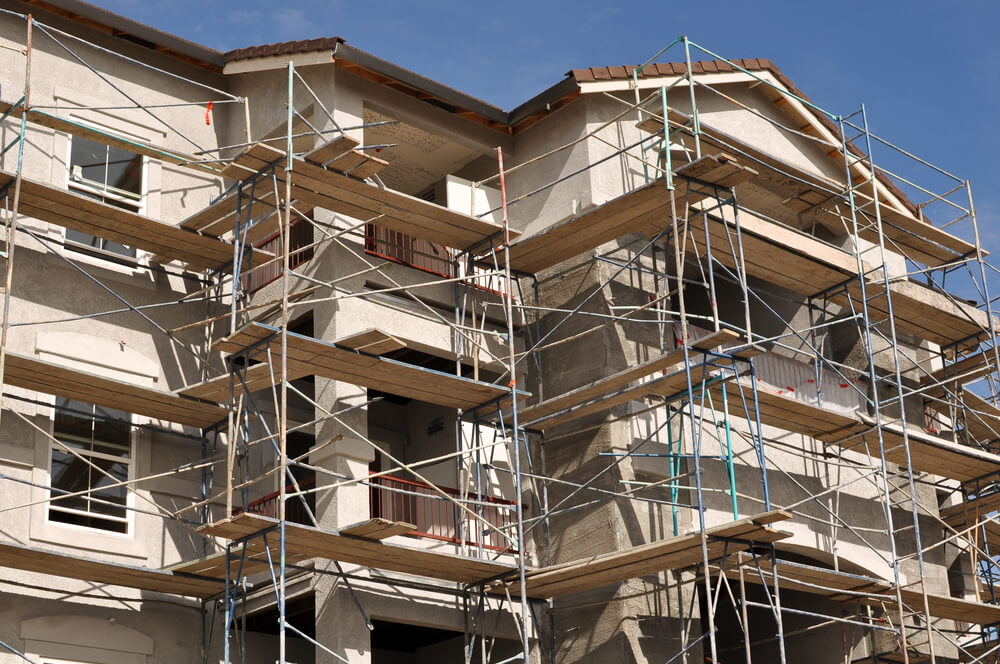 A spike in permitting activity across several major markets helped revitalize national figures.
During March 2017, total U.S. multifamily authorization activity rose 33.8% from February 2017 and 17.6% from a year prior, according to preliminary data from the U.S. Census Bureau. A total of 32,100 multifamily units were approved for construction by local governments across the country in March, bringing the year-to-date figure to 87,800 units. That year-to-date count reflects a 4.8% year-over-year increase.
For the second consecutive month, Dallas/Fort Worth claimed the top spot for permitted units, with New York narrowly trailing. Both markets registered increases of more than 80% for year-over-year authorizations.
Los Angeles, Boston, Minneapolis/St. Paul and Phoenix were introduced to the standings, pushing out Chicago, South Florida's Miami, Fort Lauderdale and West Palm Beach, Charlotte and the Bay Area's San Francisco and Oakland. Experiencing a five-slot drop, Austin rounded out the leaderboard. The metro's sluggish authorization volume suggests builders are sensitive to Austin's slowed job growth.
Meanwhile, nearly all leading metros registered positive year-over-year changes. Phoenix saw the greatest growth, with activity spiking. Despite a recent hiring stumble, the metro has seen an upward trend in supply. Minneapolis/St. Paul and Boston also experienced impressive increases, at 306.0% and 214.6%, respectively.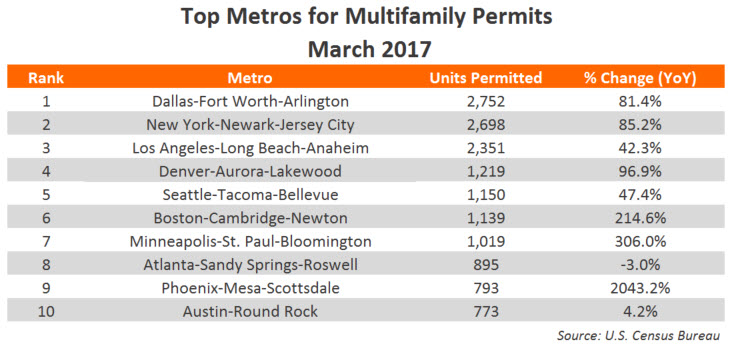 The year-to-date authorizations leaderboard was relatively quiet, with only Portland and Chicago falling from the list. Washington, DC and Boston respectively replaced the metros at #9 and #10. In the current economic cycle, Boston's aggressive completion volume has been met with strong seasonal demand. Still, experts question whether persistent, elevated development will interrupt the market's rent growth momentum.
Meanwhile, Los Angeles returned to its familiar top-three placement. Among the year-to-date February 2017 frontrunners, the metro had uncharacteristically dropped to #8. Los Angeles' rebound was chiefly attributable to March authorizations, which accounted for nearly 70% of the metro's year-to-date-count.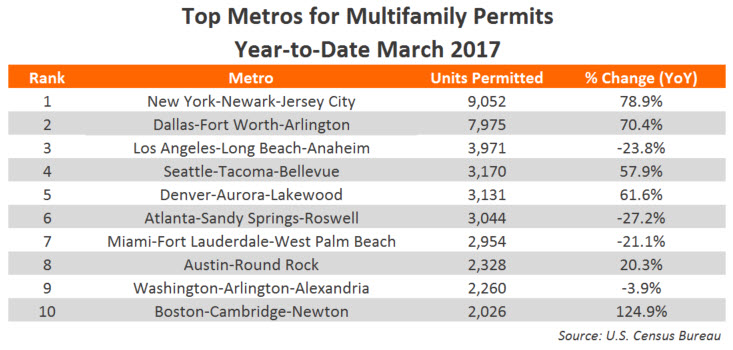 A separate Census report shows a total 86,700 multifamily units started construction through March 2017. That figure represents a 14.2% increase from the first three months of 2016.