Demand Surge Puts Houston on Top in 4Q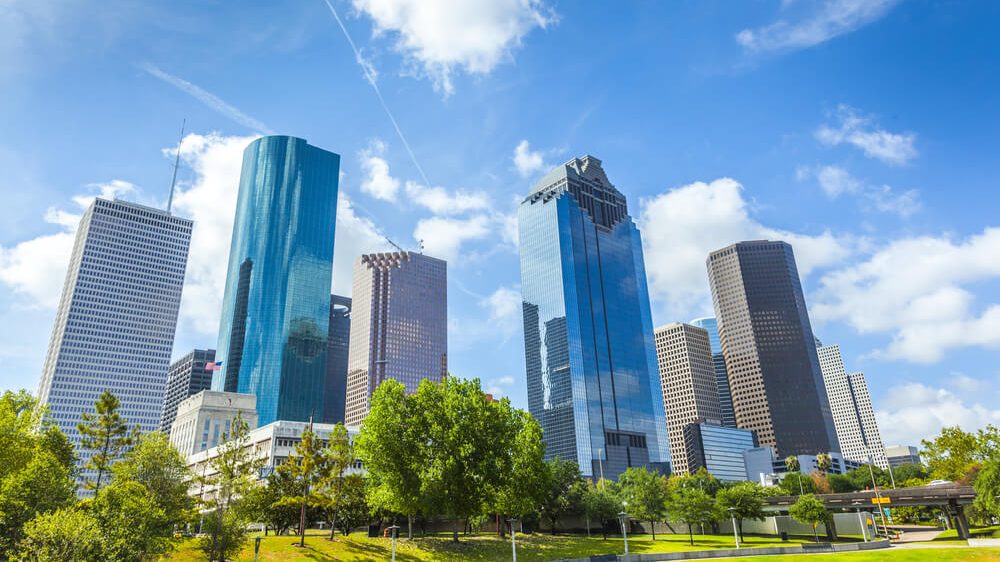 Houston was the nation's leader for apartment demand in 4th quarter 2017 as a flurry of leasing activity following Hurricane Harvey drove up the metro's overall numbers. The big surge in demand provided a shot in the arm to an apartment market which had struggled for momentum over the previous two years.
The number of occupied units in the Houston metro jumped by 13,755 in the final three months of 2017. Houston's demand figure was nearly three times that of the nation's #2 metro, Dallas, which absorbed 4,715 units in the quarter.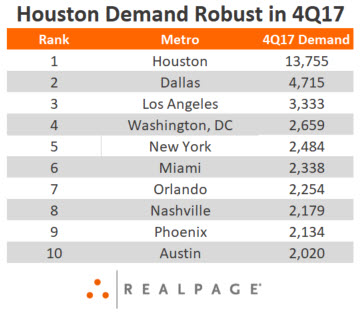 For perspective, Houston's quarterly demand tally surpassed the regional totals for the West, Northeast and Midwest. Houston contributed roughly a quarter of the nation's apartment demand in 4th quarter.
Since RealPage has been tracking the market, Houston recorded stronger demand volumes only one other time: in 4th quarter 2005, after Hurricanes Katrina and Rita, when the metro recorded roughly 24,000 units of apartment demand in just three months. Much of that absorption volume came from evacuees from New Orleans and the coastal areas damaged by these back-to-back storms.
Houston's elevated demand volumes at the end of 2017 were again bolstered by displaced residents turning to apartments for alternative housing. The submarkets absorbing the largest share of this rental housing migration were the Downtown/Montrose/River Oaks, Katy and Galleria/Uptown areas.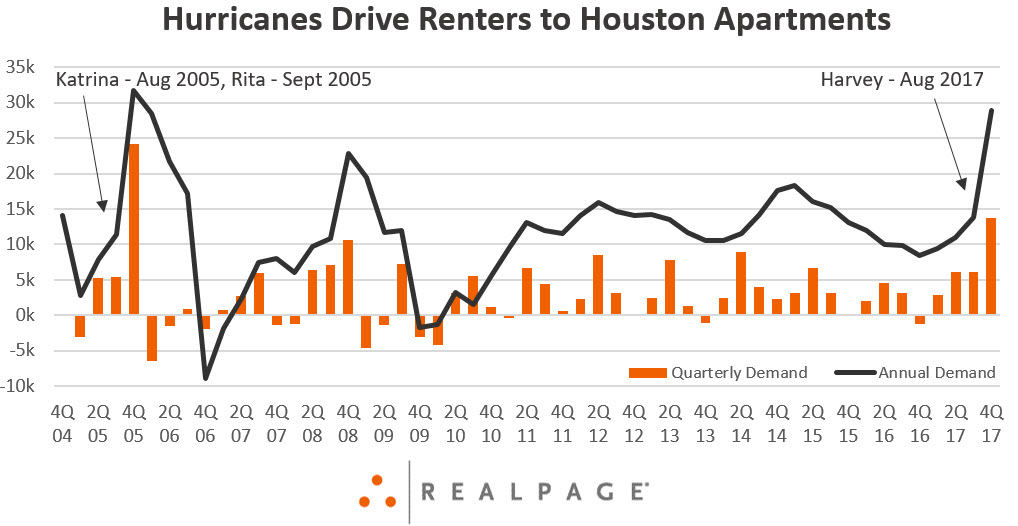 Much of the apartment demand total was driven by properties that were still building their initial resident bases when the storm and subsequent flooding hit in late August. New properties in initial lease-up absorbed just over 2,700 units in September, the biggest total monthly figure achieved throughout this economic cycle. Lease-up absorption remained above 2,000 units in October.
Houston's demand surge in 4th quarter took the 2017 absorption tally to 28,837 units, the strongest showing nationally and a decade high for the metro. That annual demand figure ended a nine-quarter streak of absorption trailing new completions. The streak began as oil prices fell in mid-2015, hurting the local economy, and subsequently housing demand, in the energy-dependent metro. Coinciding with the trouble in the local economy, annual delivery volumes ramped up to more than 16,500 units.
The demand-supply deficit took occupancy down a total of 2.3 points, from a post-recession high of 94.7% in mid-2015. In 4th quarter 2017, Houston recouped 1.5 points of that decline, as occupancy landed at a two-year high of 93.8%. The gain came as Houston received 4,725 units in the quarter and 20,759 units annually.
All this leasing activity helped boost Houston's rent growth to 2.3% in 4th quarter and 3.5% in 2017. That pricing momentum was driven by upper-tier and middle market product. Performance improved in nearly every submarket.