Demand Bounces Back in Houston's Apartment Market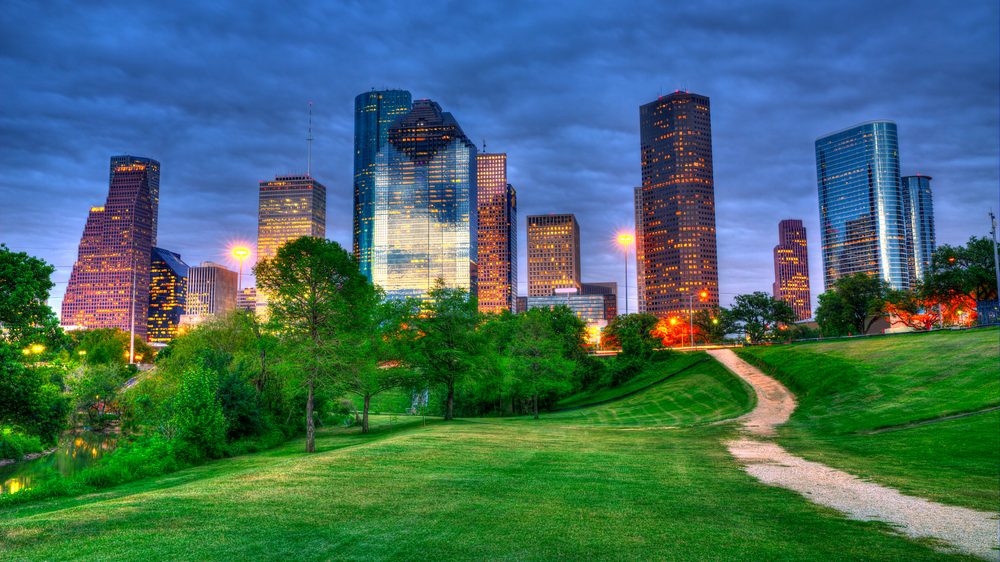 After five quarters of struggle, Houston started 2019's prime leasing season with one of the biggest absorption numbers in the country.
Apartment demand logged notable recovery in Houston during 2nd quarter 2019, when the market absorbed roughly 8,200 units. Quarterly demand was stronger in only New York (8,900 units) and Dallas (8,700 units), and a similar volume registered in Chicago (8,220 units).
Solid quarterly demand volumes made up for the five previous quarters which netted essentially no absorption, as new renters basically just made up for the loss of departing households who had been temporary occupants displaced by Hurricane Harvey. Strong absorption in 2nd quarter 2019 signals the market could finally be rebalancing from the effects of the hurricane.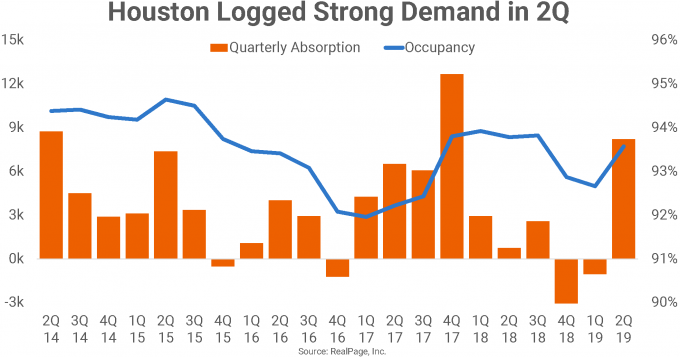 Apartment demand was spread out among the various Houston submarkets, with no area contributing more than 7% to the market's total absorption volumes. Among the neighborhoods that supported the biggest demand tallies, most were also big supply contributors as well. The western suburb of Katy generated the most apartment demand, with nearly 550 units absorbed during 2nd quarter. Garnering demand for roughly 400 units to 460 units during the past three months were Galleria/Uptown, Clear Lake and the neighboring submarkets of The Woodlands, Champions East and Spring/Tomball areas.
Strong demand was seen across the product spectrum as much of the quarterly demand went to backfilling vacant units or leasing up new supply. Additionally, Houston renters are renewing expiring leases at a solid pace, preventing much resident loss in the existing stock.
Roughly 52.6% of renters with expiring leases in Houston chose to renew in the year-ending 2nd quarter 2019. While registering a fraction behind the U.S. norm (53.1%), this performance in Houston was solid compared to the market's long-term historical average and was well ahead of the recent low of 49.9% recorded just a few quarters ago in 3rd quarter 2017.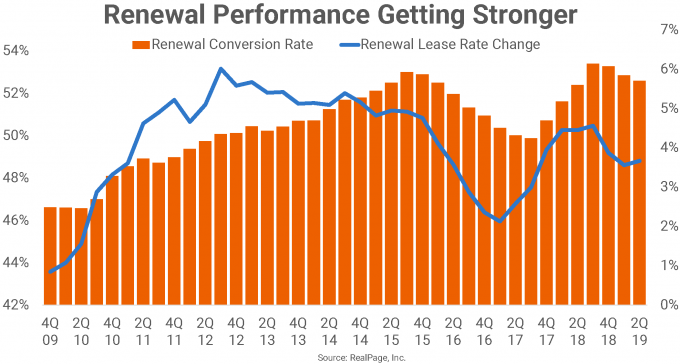 Among Houston's various product lines, the least expensive Class C product logged very strong retention rates at 56.4% in 2nd quarter. The large base of middle-grade Class B stock and the upper-tier Class A units – which are most vulnerable to competition from new supply – saw slightly more than half of renters renew.
Renewal rent growth in Houston has also made some improvements recently. Rents for renewing leases were up by 3.7% in 2nd quarter. While still below the national average of 4.6%, Houston's growth represented an increase from the previous quarter for the first time since 3rd quarter 2018. The 3.7% increase was also well ahead of increases between roughly 2% and 3% seen throughout much of 2016 and 2017.