Declining Metro-Level Permit Volumes Bring Down National Numbers in July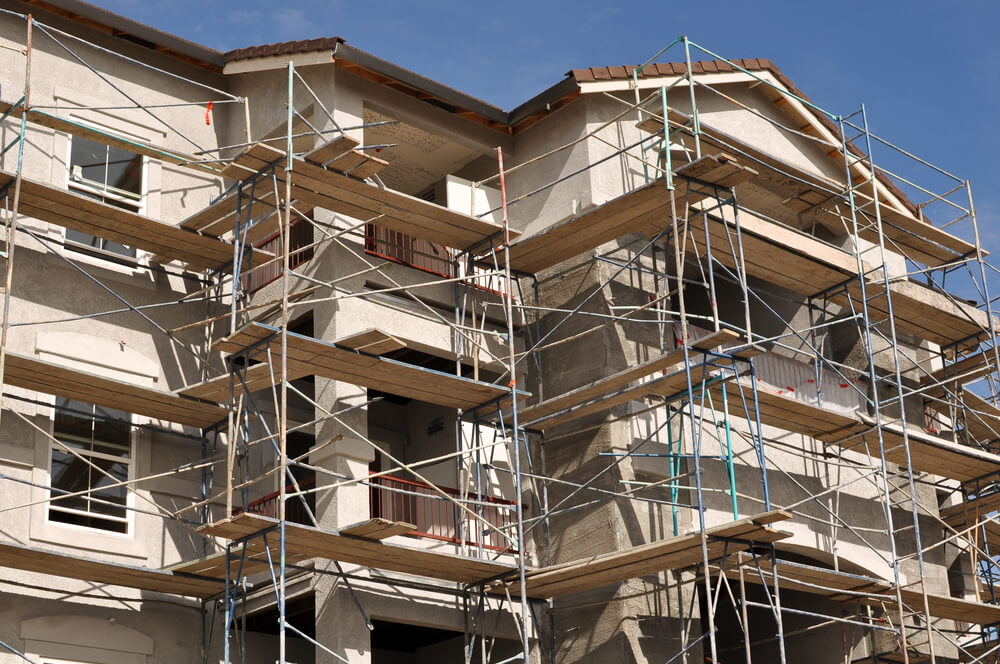 Posted September 11, 2017
Major shifts in July's metro-level multifamily permitting activity translated to a decline in national authorization numbers.
According to the U.S. Census Bureau, local governments across the country approved 28,650 multifamily units during July 2017, a -9.4% change from a year prior. The monthly figure brought the total year-ending July 2017 authorization count to 377,000 units. That permitting activity represents a 12.1% decline from June 2017's annual volume and an 11.7% drop from July 2016's annual total.
Among individual metros, the leaderboard experienced a shakeup. New York reclaimed its top spot, as the previous month's leader, Austin, was among six markets to fall from the standings. Overall, fewer permits were issued by metros ranking in the top 10. Only four of the top 10 metros in July permitted more than 1,000 units in July. By comparison, each of June's top 10 metros permitted more than 1,000 units.
Introduced to the top 10 in July were Boston, Washington, Atlanta, Miami, Charlotte and San Francisco. While Boston's entry at #2 was due in part to the activity declines of regular contenders, the metro also stood on its own economic merits. A recent report found Boston to be among the nation's most fundamentally stable markets.
Meanwhile, the monthly leaderboard's greatest year-over-year changes belonged to Miami and San Francisco, with each registering permit increases of more than 300%. Both metros have experienced elevated construction volumes in the current cycle.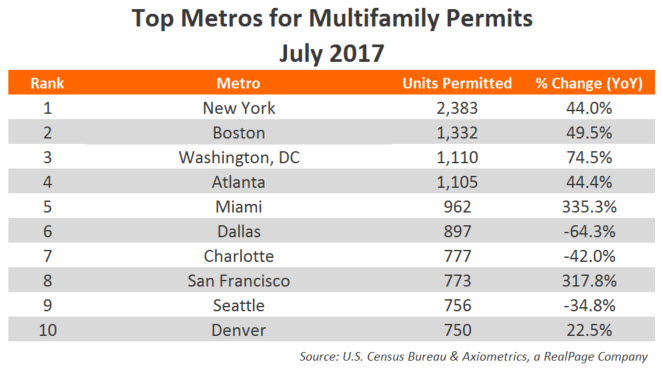 On the annual leaderboard, the top metros remained largely intact, with only Miami replacing Phoenix in the #10 spot.
Only two of the top 10 metros issued fewer multifamily permits in the 12 months ending in July 2017 than they did in the preceding 12 months. Dallas and Atlanta each had double-digit declines in multifamily permits: -19.8% and -21.7%, respectively.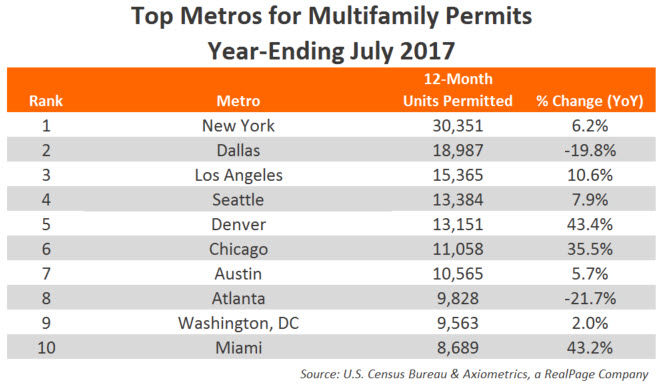 With eight of the top 10 apartment markets reporting increases in annual multifamily permits, the annual total of multifamily permits issued in the top 10 metros – 141,121 – was 5.3% greater than the 134,044 issued in the previous 12 months. The total number of permits issued in the top 10 metros was almost equal to the number of permits issued within the 11th-38th ranked metros. A year ago, permits issued in the top 10 metros almost equaled the 11th-35th ranked markets.