Dallas Supplants New York as Job Gains Leader in September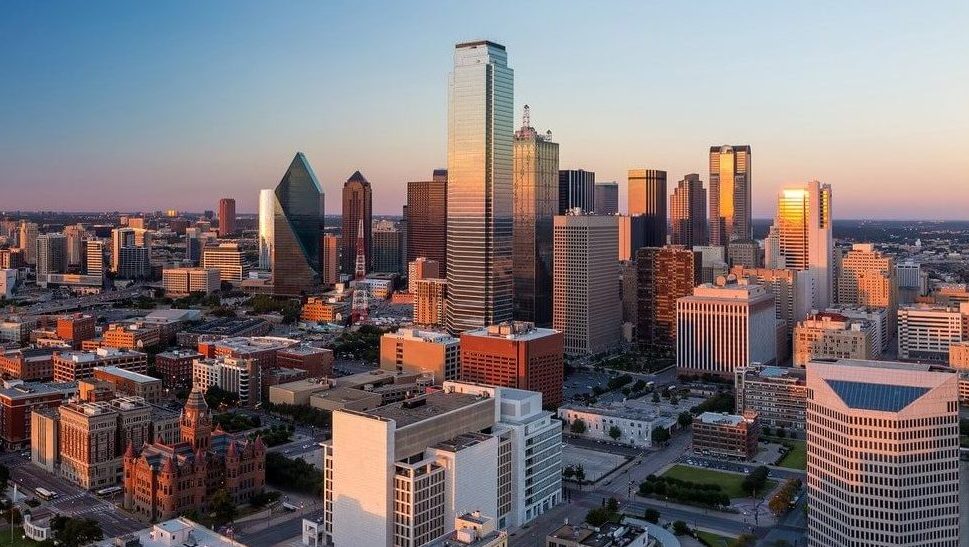 Dallas replaced perennial #1 New York as the national leader for job gains in September, according to the Bureau of Labor Statistics. The change atop the leaderboard occurred as hiring slowed more in New York than in Dallas.
The Dallas metro area added 99,500 jobs in the year-ending September while New York added 86,100. Those additions were down from August's gains of 109,800 in New York and 100,300 in Dallas.
Despite the month-over-month slowdown, New York's hiring activity was still good enough for #2 nationally in September, ahead of Houston's 82,800 jobs added.
The #4 spot in September was filled by Seattle, which moved up two places from last month, and Atlanta jumped from #9 to #5. Phoenix slipped one spot to #6, and Los Angeles fell back to #7 from #4 in August. Orlando and Chicago each stepped back one spot to #8 and #9, while San Francisco moved into the #10 spot displacing Philadelphia, which fell back to #15.
Only four the top 10 had more jobs gained in the 12 months ending in September than in the 12-month period ending in August, with Atlanta, Orlando and San Francisco gaining 2,400 to 10,600 jobs more than in August while Houston's gain was minimal. The remainder of the markets decreased by between 800 and 23,700 jobs, with the largest decreases in New York, Los Angeles, and Phoenix.
Compared to the 12-month period ending in September 2018, half of the markets had annual job gains less than the current annual pace, with Phoenix, New York and Orlando slowing by about 12,000 to 20,000 jobs. Dallas saw annual employment gains increase by more than 36,000 jobs from the same period last year, while Seattle's jumped by 22,000 jobs. The remaining positive markets added about 2,500 more jobs to their annual gains than last year.
In terms of overall gains, the combined gains of the top 10 markets decreased 4.8% from August, or about 31,000 fewer jobs added. The 661,700 jobs added in the top 10 markets comprised 29% of the total U.S. employment gain for the year.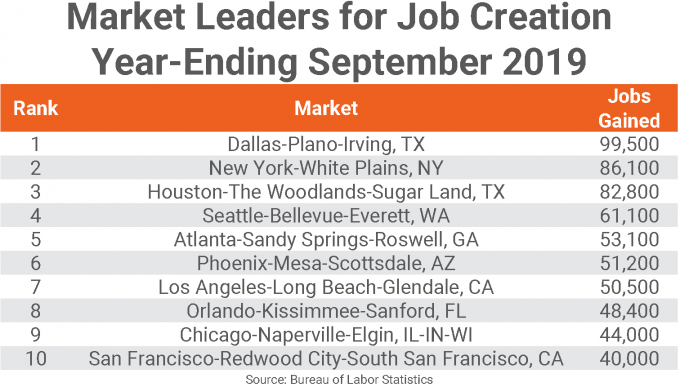 Aside from Philadelphia being bumped to the #15 spot, seven of the next nine in the top 20 spots were returning metros. Riverside and Miami remained in their previous rankings from last month while Boston, San Jose, Charlotte and San Diego remained within one to three spots of their previous rankings. Washington, DC jumped to the #11 spot in September, and Salt Lake City and San Antonio joined the top 20 at #18 and #20, respectively.
Outside of the top 10 list, the largest improvements in annual job gains occurred in St. Louis, Boston, New York's Long Island, Baltimore and San Jose with an average increase of about 15,600 additional jobs gained than the year before.
There were several more markets that saw annual job gains slow by at least 10,000 jobs than there were that gained 10,000 or more jobs than the previous 12 months. Significant slowing in job gains occurred in Tampa, Detroit, Fort Lauderdale, Miami and Minneapolis-St. Paul. Seventy-two of the 150 markets in the list gained fewer jobs in the year-ending September than the preceding 12 months.
However, only 10 of RealPage's top 150 metros lost jobs in the year-ending September 2019, one more than last month and unchanged from last year. Detroit and Minneapolis are the only markets that lost jobs in September that are of a significant size.
The major markets of Dallas, Seattle and Orlando again made the top 10 for job growth as a percentage of total employment in September 2019. Other familiar markets in the top growth list are Reno, NV and the Florida markets of Naples and Cape Coral-Fort Myers. The southern metros of Wilmington, NC, Myrtle Beach, SC, Huntsville, AL and Fayetteville, AR all made this month's top job growth markets list.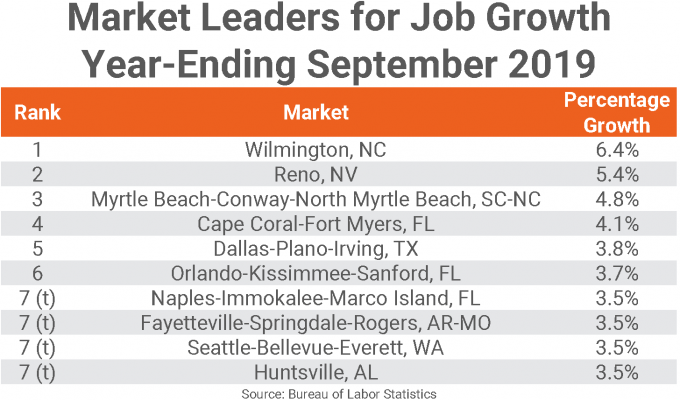 Comparing current annual job growth rates with those from one year ago, six of the top markets for improvement in growth rates went from negative to positive growth while only Myrtle Beach and Huntsville improved upon positive growth. Each of these eight markets improved by at least 200 basis points (bps).
Metros with declining growth rates include: Midland/Odessa, TX (-1,040 bps), Naples (-770 bps), Cape Coral-Fort Myers (-440 bps), Savannah, GA (-430 bps), and Palm Bay-Melbourne-Titusville, FL (-400 bps). Each of these remained positive, but experienced sharply slowing job growth.