Dallas Led the Nation for Job Gains Prior to COVID-19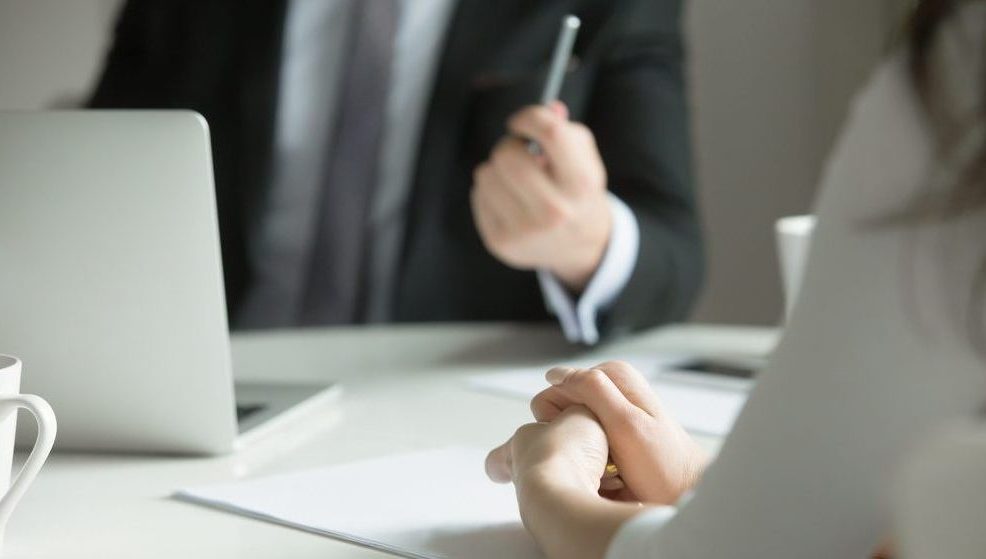 As of February 2020, Dallas was still the nation's top spot for job creation.
According to the Bureau of Labor Statistics, Dallas held onto its reign as the nation's job growth leader in the year-ending February, adding 95,200 jobs. This number was a sizable 33,100 jobs ahead of the increase the market logged in February 2019. Recent job growth in Dallas translated to a 3.6% growth rate to the existing employment base, the best performance across the nation's 150 largest markets.
New York was in the nation's #2 spot in February, gaining 87,200 new jobs. This was, however, 37,700 jobs fewer than what the market gained in the year-ending February 2019.
Los Angeles gained 83,500 jobs, snagging a #3 ranking, while Phoenix earned the #4 spot in February with the addition of 69,800 jobs. Houston, which had secured a place among the top three job growth markets last year, fell to #5 in February, with a gain of 68,900 jobs.
It should be noted that these numbers reflect the employment situation before the COVID-19 pandemic affected the U.S. economy. Look for employment figures to show a marked decline in the March data release. A record 3.3 million unemployment applications were filed last week, and another sizable number is expected when the Labor Department releases its next round of weekly unemployment claims data.
Growing by roughly 40,000 to 60,000 jobs in the past year were San Francisco, Denver, Atlanta, Seattle and Washington, DC. Of those, Seattle moved up most in the rankings, going from #10 last month to #7 in February.
Seven of this month's top 10 growth markets gained at least 50,000 jobs, one more than last month. However, the spread or difference between #1 and #10 grew in February to more than 58,000 jobs, compared to 51,400 last month.
Six of the top 10 markets gained more jobs in the 12 months ending in February than in the 12-month period ending in January. Upturns were most notable in Seattle and Washington, DC, which created roughly 9,500 to 11,200 jobs more than gains from the year-ending January. On the other hand, New York, Atlanta, Denver, and San Francisco logged declines from last month's gains.
Compared to the 12-month period ending in February 2019, all but four of the top 10 gained more jobs in the 12 months ending in February than last year. The biggest jumps were in Dallas, Seattle and Los Angeles, with 25,000 to 33,000 more jobs gained than last year. Conversely, New York, Houston, Atlanta, and San Francisco added fewer jobs through February than they did last year. In fact, New York and Atlanta saw their annual gains drop by more than 34,000 jobs each for the year-ending February 2020.
Total gains of the top 10 national markets combined increased from January, up 2.8% or about 17,200 more jobs added. The 631,600 jobs added in the top 10 markets comprised 27% of the total U.S. employment gain for the year.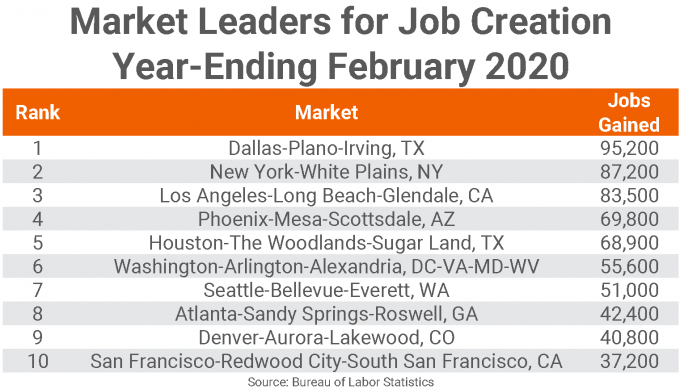 Nine of the next 10 in the top 20 spots were returning metros. Fort Worth was the big gainer, jumping from #18 in January to #15 in February with the 30,800 jobs created compared to an annual gain of 28,000 jobs in January. On the other hand, Salt Lake City dropped from #15 in January to #19 in February. Charlotte fell out of the top 20, replaced by Riverside, while the remaining seven six markets didn't move far from their previous rankings.
Outside of the top 10 list, the largest improvements in annual job gains occurred in Kansas City, San Antonio, San Diego, and Jacksonville, FL, with an average increase of about 8,900 additional jobs gained than the year before.
There were several metros that saw annual job gains slow by at least 10,000 jobs from the previous 12 months. In addition to New York and Atlanta, significant slowing in job gains occurred in Las Vegas, Cleveland, Midland/Odessa, Indianapolis, Little Rock, Baton Rouge, Greensboro/Winston Salem, and Miami. This list is expected to grow exponentially in the months to come.
Twenty-five of RealPage's top 150 metros lost jobs in the year-ending February 2020, eight more than last month and 19 more than last year. Little Rock, Akron, Cleveland, Toledo, and Savannah are the only markets of significant size that lost at least 1,000 jobs in the past 12 months.
Dallas, Austin, Phoenix, and Nashville were the major metros or divisions to make the top 10 list of metro areas for job growth as a percentage of total employment for February 2020. However, returning smaller metros to the top growth list are Boise City, ID, Bakersfield, CA, Salisbury, MD, Myrtle Beach, SC, Jacksonville, FL, and Provo, UT. Again, expect a reduction in top job growth leaders' performances in the coming months.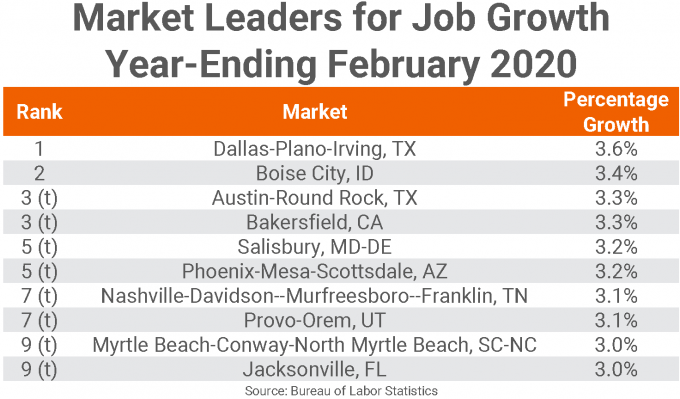 Comparing current annual job growth rates with those from one year ago for the top growth rate markets, none of the top 10 went from loss to growth. Looking at those markets with the greatest change in growth rates from one year ago for all 150 markets, only Santa Rosa, CA and New Haven, CT improved by at least 200 basis points (bps). Ninety-seven of the top 150 metros saw declining growth rates. The steepest declines occurred in: Midland/Odessa, TX (-940 bps), Naples, FL (-404 bps), Little Rock, AR (-360 bps), Savannah, GA (-339 bps), Baton Rouge, LA (-306 bps), Las Vegas, NV (-203 bps), and Mobile/Daphne, AL (-200 bps). Most of these experienced deepening job losses, with only Mobile/Daphne, AL and Las Vegas, NV continuing to see job growth in the year-ending February.