COVID-19: Where the Apartment Market Stands One Year Later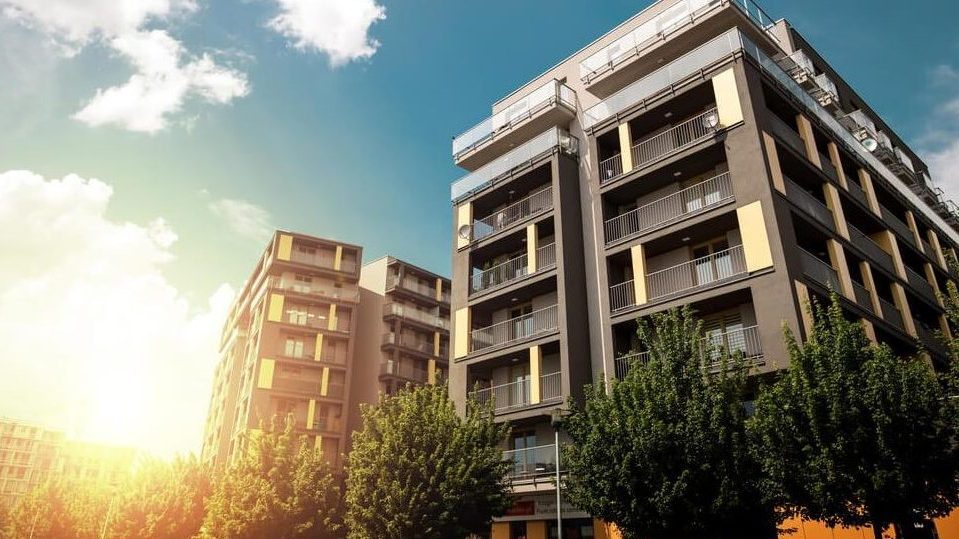 COVID-19 became a real thing for lots of people on March 11, 2020.
Over the past year, many of us at RealPage have referred to the date as Tom Hanks Day, since it's when America's Dad shared that he and wife Rita Wilson had contracted the virus. It's also when the NBA shut down pro basketball play and when the World Health Organization first classified what was happening as a global pandemic.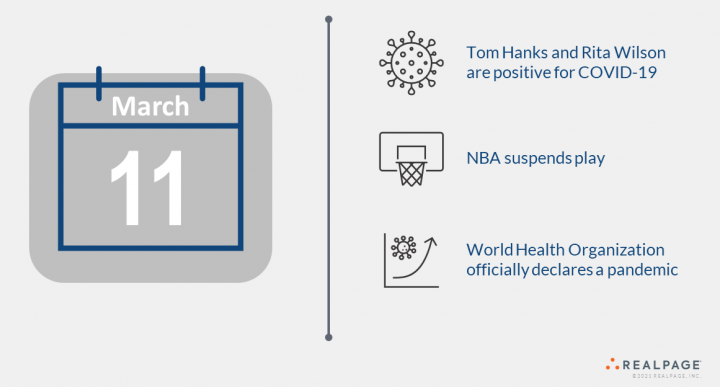 As with so many things, then, the U.S. apartment market entered a fundamentally different period one year ago today.
Starting on March 12 and then proceeding through most of April, many apartment renters froze in place. Searches for new accommodations dropped drastically from year-earlier levels, and new-resident lease signings plunged. At the same time, retention of existing renter households at initial lease expiration soared to record heights. Said bluntly, people stopped moving and hunkered down.
One year later, key stats for the apartment market are in much better shape than what was initially feared back in March 2020.
Demand Is Robust
After apartment leasing activity took a giant hit in Spring 2020, people began to move around once more around mid-year. Apartment demand soared in 3rd quarter and held well above what's seasonally normal as 2020 drew to a close. By the end of the year, absorption of market-rate units in the country's 150 largest metros was up to roughly 296,000 units, only a hair under annual results in 2017 through 2019.
Demand remains above the seasonally typical volume in first few months of 2021. More than 30,000 units were absorbed in January and February, a time period when cold weather normally limits the net increase in occupied apartments to just a handful of units.
With demand proving stronger than many expected, U.S. apartment occupancy has avoided any damage. The February 2021 average occupancy rate of 95.4% for the U.S. is basically unchanged from the February 2020 figure of 95.5%.
Renters Are Paying (Mostly)
Unprecedented layoffs in March and April 2020 triggered fears that many households would no longer be able to pay their rent. That didn't happen, at least not in the professionally managed apartment properties sector of the rental housing stock.
According to National Multifamily Housing Council research – to which RealPage contributes data – the share of households meeting their rent obligations ranges between 93% and 95% for each month since the initial U.S. outbreak, in most months off no more than 2 percentage points from year-earlier results.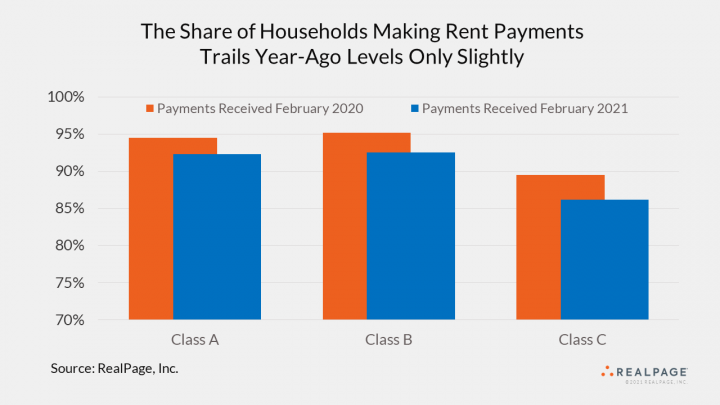 While a now-improving economy might suggest that the worst is behind us for missed rent payments, there's still some downside risk. Households suffering financial stress certainly need the rental assistance that is part of the Biden administration's American Rescue plan. However, RealPage analysts have concerns that forgiveness of back rent owed could lead households to deprioritize meeting their rent payment obligations.
Pricing Power Is Mixed
Effective asking rents for new-resident leases generally dropped as COVID emerged, sliding a little in most locations but much more in select spots, especially expensive gateway cities.
How you feel about today's pricing power is influenced by where you are, since there's a huge spread in the results between the country's top and bottom performers. Annual rent growth is great in metros like Riverside, Sacramento, Phoenix, Tampa and Atlanta. On the other hand, the hole remains deep in New York and the Bay Area, and there's also lots of work to do in Seattle, Boston, Washington, DC and Los Angeles.
In the latest stats, month-over-month rent growth proved very solid during February. Markets that had displayed momentum previously are continuing to do quite well, and green shoots are beginning to show up in the places that had taken the biggest pricing hits earlier.
We're Still Building
Lots of apartment product remains on the way. Ongoing construction coming into 2021 totaled roughly 583,000 market-rate units, and this year's scheduled deliveries reach just over 400,000 units, surpassing annual additions delivered throughout the past few years.
Activity has cooled off a little over the course of the past year, with both starts and new multifamily building permit approvals down by 10% to 15%. Still, that's a minor dip compared to what happened in the 2008 to 2009 recession, with the numbers remaining high by long-term historical standards.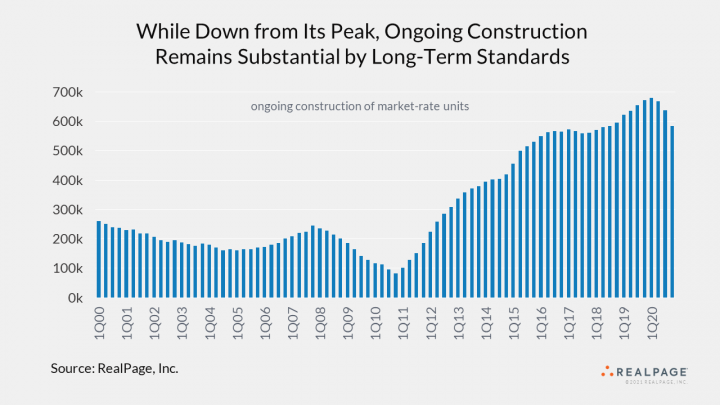 Developers remain eager to build in the suburbs, especially across fast-growing Sun Belt areas. While there's less capital available for urban core construction, don't write off that segment of the stock. Conversations about building more downtown towers are in process, as a project that gets going in the immediate future is likely to be delivering in a much-improved leasing environment.
Property Trade Volumes Are Coming Back
Information from Real Capital Analytics shows a moderate decline in the nation's apartment sales volume during 2020, mainly reflecting that trades paused during the summer months. There was a brief period when many took a wait-and-see position, holding off until some clarity on valuations could be established. However, sales came roaring back during the final quarter of 2020, and the typical sales price – about $176,000 a door – basically didn't move from its pre-pandemic level. Cap rates even compressed by another couple of ticks during the course of the year.
The stack of capital available for apartment investment remains huge, probably even bigger than it was pre-pandemic as some money that had been designated for other types of real estate now could go to apartment buys. Anyone on the sidelines waiting for fire-sale prices on distressed assets appears to be out of luck, with maybe the exception of a few small properties with mom-and-pop owners.
Operations Continue to Evolve
Apartment operators had to move fast to adapt to the changes that COVID brought to day-to-day practices on site and in the back office. After addressing safety issues for both employees and residents, the first moves often were to introduce or expand virtual leasing capabilities and to address rent payment options.
Lots of changes continue, as operators are assessing how their resident profiles are evolving and how the needs and preferences of their customers are shifting. Use of technology to move processes offsite is accelerating, and many operators are taking a hard look at expenses and how those costs might be trimmed.