Class C Apartment Rent Cuts Continue for Second Month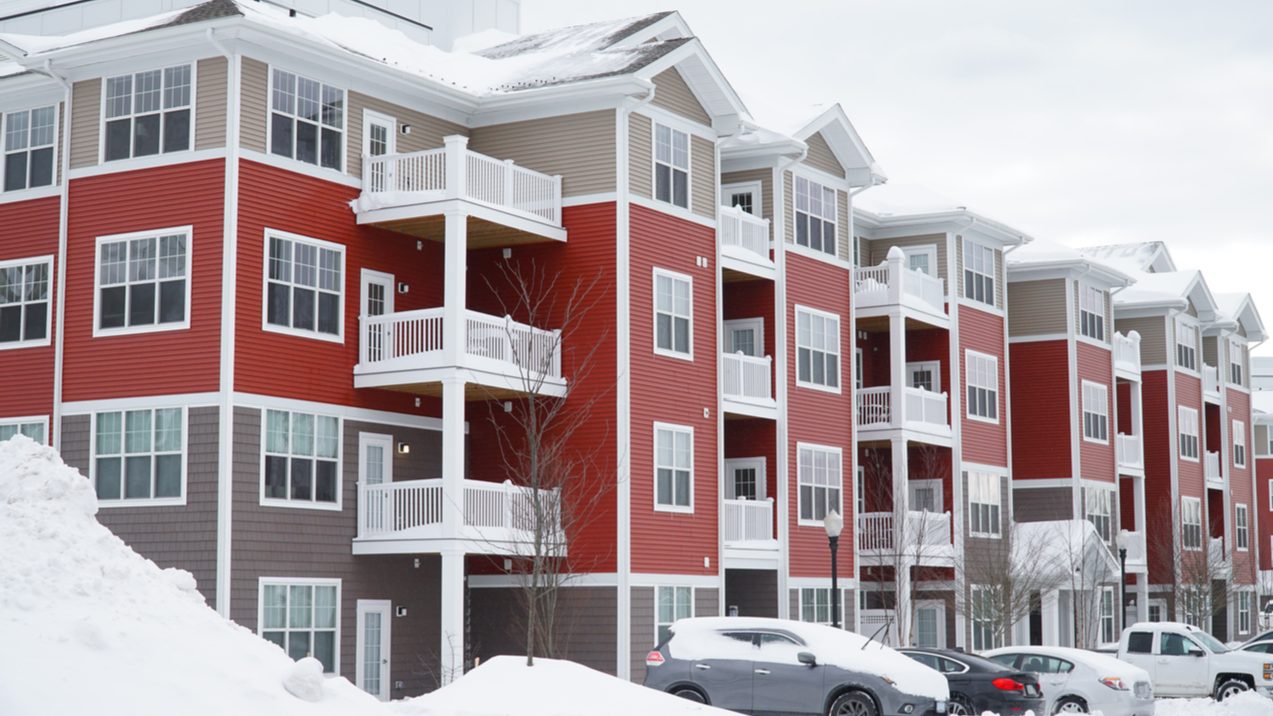 Throughout most of the pandemic, the nation's most affordable apartment niche managed to avoid lowering rents like the more expensive Class A and B product lines. That changed in October, and Class C operators reduced rents again in November.
Following a 1% year-over-year cut in October, Class C product logged rent change of -0.5% in November. Those were the first declines since the initial COVID-19 U.S. outbreak in March. Rent growth had hovered under 1% from May through September.
By comparison, the more expensive product – Class A and B apartments – began cutting rents in May. In November, year-over-year rent change remained in the red, at -2.1% among Class A units and -0.9% in the middle-market Class B apartments.
Before the recent economic downturn hit the nation, all three apartment asset classes were recording rent growth near the 3% mark. In April, however, a record number of Americans filed for unemployment, as the economy fell into recession. Most apartment operators began to pull back on rents to prioritize occupancy at a time when government stay-home orders limited mobility among the renter base and business limitations continued to hurt the employment base.
Class C units managed to hold onto rent levels, due in part to high lease renewal rates that supported tight occupancy. Eviction moratoriums may have also contributed, as rent payment levels in Class C remain the lowest among all product lines.
Rent cuts in the nation's Class C stock in recent months was driven by steep declines in some of the markets hardest hit by COVID-19: Bay Area, New York and to a lesser degree, Austin.
The three Bay Area markets are seeing some of the steepest Class C rent cuts in the nation, with declines of 21.9% in San Francisco, 19% in San Jose and 4.9% in Oakland.
While rent performances have softened nationwide in 2020, no major market is experiencing more severe performance slumps than those seen in the Bay Area. San Francisco alone has seen occupancy come down by 370 basis points (bps) since March, sending rents down 20% year-over-year in November. Class C rent cuts in San Francisco were the steepest in the market, closely followed by the 20% cuts in Class B units. Class A units experienced cuts of 13.4%.
Among the 50 largest apartment markets, San Francisco is seeing the worst rent cuts in the nation in Class C and B units but is second worst among Class A stock, beating out only Boston's luxury stock.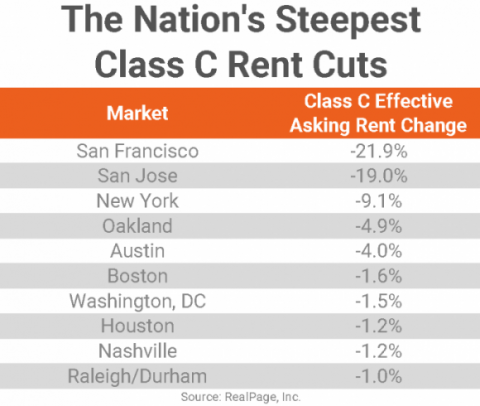 Class C rent cuts in New York were at 9.1% in November. New York was an early epicenter of COVID-19 activity, and the market has seen its economy and apartment market decline notably as a result, with the Manhattan submarkets impacting the metro's overall poor performance in recent months. Nearly 1.4 million jobs were lost here between February and April. While New York has regained a big block of those positions, the market still has a long way to go before recovering fully from the COVID-19 downturn.
Austin is the only non-gateway market to see steep price cuts of 4% or more in the Class C apartment stock. However, the Class C rent cuts are not nearly as bad as the declines of 8.5% seen in the Texas market's Class A stock in November. Also helping Austin stand apart from the rest of the markets on this list, this metro ranks among the best for job recovery recently, as the market has regained nearly all the jobs lost during the downturn.
Class C rent declines registered between 1% and 1.6% in Boston, Washington, DC, Houston, Nashville and Raleigh/Durham.