Chicago Rises in Job Growth Rankings in April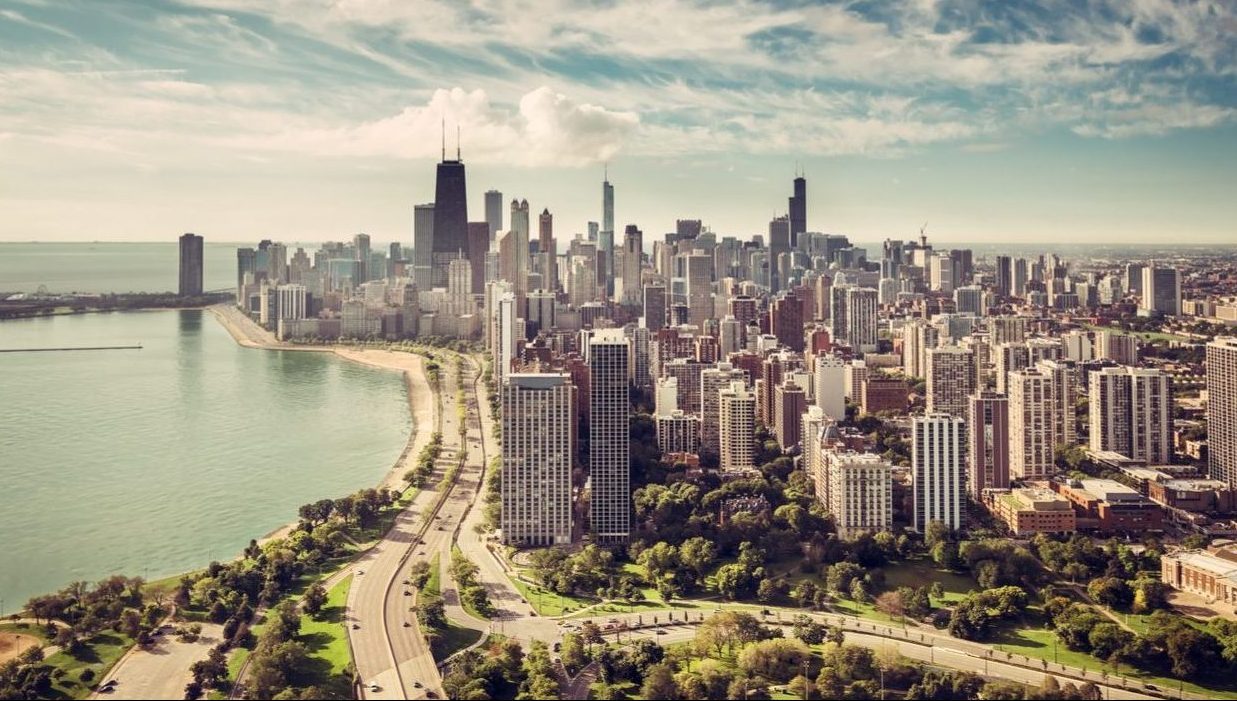 Job growth is strong in New York, Dallas and Houston, and it's getting stronger in Chicago.
The trio of metropolitan areas remained atop the rankings in the Bureau of Labor Statistics' latest data for job gains in April, while Chicago jumped from #9 in March to #4 in April with a strong 74,000 jobs added.
Phoenix rounded out the top five with a solid gain of 68,000 jobs for the year-ending in April.
Those five metros are among the nine leading job gainers in March that returned in April.
San Francisco also returned, moving up two spots to #6, gaining 64,700 jobs. Meanwhile, Los Angeles jumped all the way to #7 from #11 in March, returning to the top 10 list by adding more than 56,000 jobs. Atlanta tumbled from #4 to #8, and Seattle and Orlando fell a few spots each, yet remained in the top 10 at #9 and #10.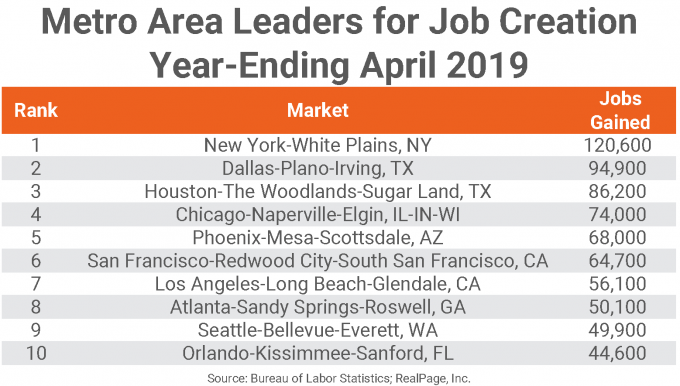 Seven of the top 10 gained at least as many jobs as in the year-ending April 2018, with Dallas, Houston and Chicago adding an average of about 40,000 more jobs to their employment gains than last year. The New York-White Plains metro division's 120,000 new jobs were about 13,000 fewer than last year.
Despite moving up into the top 10 list this month, Los Angeles also gained fewer jobs than last year – about 19,000 less.
Philadelphia slipped out of last month's top 10 to #11, and many of the metros in the #12 through #20 spots were almost the same as last month as well. Eight of the remaining nine top 20 spots were returning metros, although several moved around the list. The greatest change occurred for Tampa, which fell from #12 in March to #20 in April, although annual job gain slowed by about 5,000 jobs, to 24,700. Denver was also a market that tumbled down the list, falling from #20 last month to #35 in April with a gain of 16,000 jobs.
The rest of the markets ranked #11 through #20 moved up or down no more than three spots from March.
In terms of overall gains, the total gains of the top 10 markets combined increased sharply from March, up 18.8% or about 112,000 more jobs added. The 709,100 jobs added in the top 10 markets comprised 27% of the total U.S. employment gain for the year. About 120,000 of those additional jobs came in Dallas, Houston and Chicago.
Of note, the Midwest markets of St. Louis and Cincinnati also had significant improvements in their annual job gains, with 20,000 and 13,000 more jobs than the year before, respectively. Strong improvement was also seen in Seattle, San Jose, West Palm Beach and San Francisco.
In addition to Denver and Los Angeles, the metro areas of Riverside, Anaheim, Detroit and Raleigh/Durham had some of the largest decreases in annual job gains compared to last year. Boston, New York and San Diego also experienced cutbacks in annual employment gains.
Despite the strong increases in the top 10 markets, more than half of the 150 markets in the list gained fewer jobs for the year-ending in April than the preceding 12 months.
However, only seven of RealPage's top 150 markets lost jobs in the year-ending April 2019, eight fewer than last month and only one more than last year. None of the seven markets that lost jobs in April are of a significant size.
The major markets of Orlando and Dallas again made the top 10 list of metro areas for job growth as a percentage of total employment for April 2019. Other familiar metros in the top growth list are Reno, NV; Myrtle Beach, SC; Boise City, ID; Fresno, CA; Midland-Odessa, TX and the Florida markets of Palm Bay, Port St. Lucie and Cape Coral.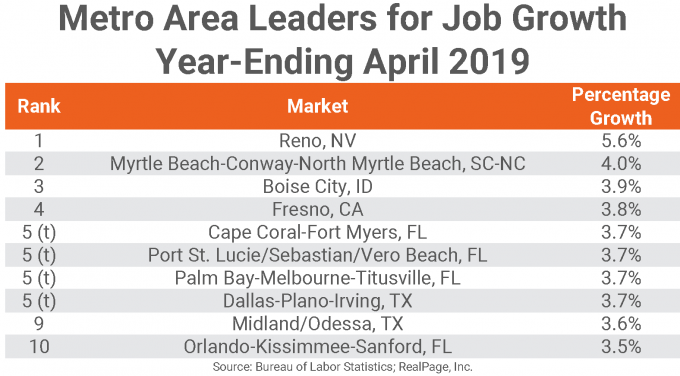 Comparing current annual job growth rates with those from one year ago, Sioux Falls, SD, Jackson, MS; Springfield, MA and Santa Maria-Santa Barbara, CA more than doubled their growth rates with improvements of 180 to 280 basis points (bps). Metros with declining growth rates include: Midland/Odessa, TX (-1,260 bps); Vallejo/Fairfield/Napa, CA (-280 bps); Raleigh/Durham (-260 bps); Stockton, CA (-260 bps); Riverside, CA (-250 bps); Shreveport, LA (-210 bps); and Youngstown, OH (-200 bps).