Chicago Rent Growth Ticks up to Highest Level in Two Years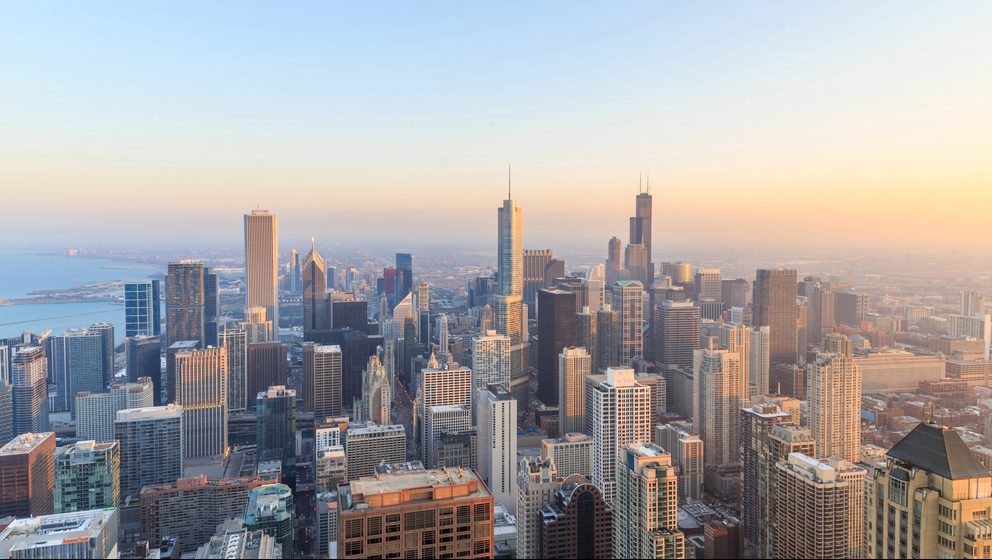 Chicago appears to be getting a second wind in terms of apartment rent growth, as annual price increases have been on an incline for the past two consecutive quarters.
At year-end 2018, the Windy City saw 2.3% annual rent growth – a figure that's still below the national average of 3.3%, but higher than Chicago's performance of late. Annual price increases haven't reached above 2% since late 2016 and fell as low as 0.2% in mid-2018.
Several submarkets were integral in lifting the market's rent growth in the second half of 2018. A handful of downtown and nearby submarkets that had been slashing rents recently are now seeing growth. Chief among them is Bronzeville/Hyde Park/South Shore, where rents fell 2.9% annually in mid-2018 but ended the year up 4.0% annually. Meanwhile, the downtown areas of The Loop and Streeterville/River North logged annual rent cuts of 1.0% and 2.0%, respectively, at mid-year. The Loop closed out 2018 with growth of 3.6%, while rents inched up 0.8% in Streeterville/River North.
Another large shift was in the adjacent Lincoln Park/Lakeview, where annual rent growth rose from 1.4% at mid-year to 5.2% by year end.
Only one Chicago submarket – Naperville – was still logging negative rent change at the end of 2018, and even that was a mere -0.1%.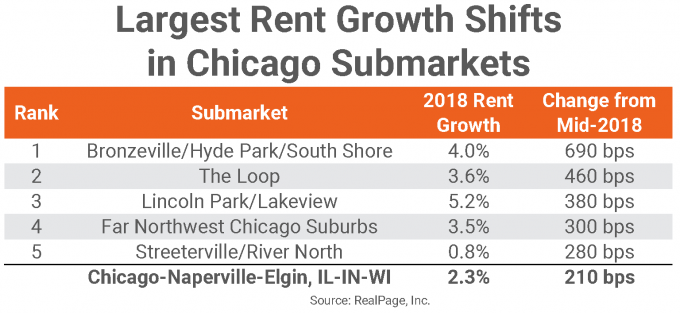 Of the submarkets seeing the biggest rebound in rent performance, many are heavy in Class A stock. For the market overall, that luxury product line logged rent growth of 2.6% in 2018, compared to a 0.8% cut mid-year. That improvement of 340 basis points (bps) easily beat the 130 bps increase in Class B stock and the 80 bps shift of Class C units.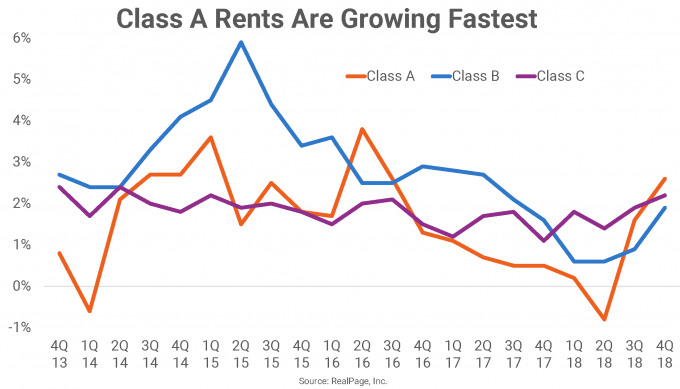 Helping to inspire rent growth, higher-than-average demand is putting upward pressure on rents for the first time in a few years. In 2018, Chicago saw demand for 11,800 units. Absorption in Chicago hasn't been that high since 2011.
Fueling apartment demand, job growth jumped at mid-year. In 2018, Chicago added about 58,000 jobs, which is still a far cry from the 87,000-plus jobs the market was adding in 2015. But year-end 2018's 1.2% job growth is the highest the Windy City has seen since mid-2017. Job gains over the past year were predominantly in local governments and in the Education/Health Services sector.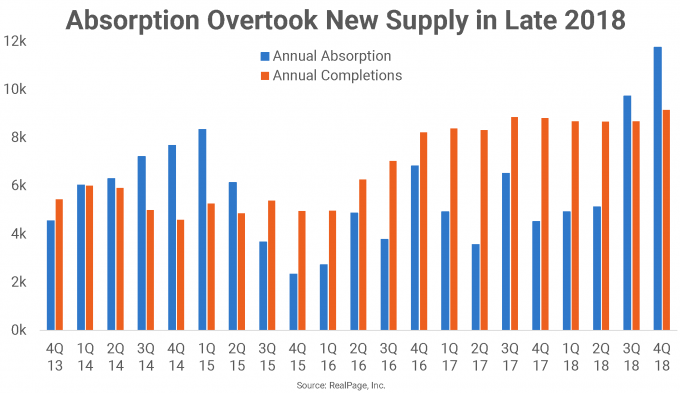 While demand surged, annual supply has remained consistent, with the 9,146 units completed in 2018 in range of the 8,200-unit to 9,200-unit norms over the last two years. The Loop and Streeterville/River North continue to receive the bulk of development. But demand drivers there are robust, and those submarkets usually drive overall absorption in the market.
Not surprisingly, occupancy has also improved, with the rate landing at 94.7% in year-end 2018. That rate is up 50 bps year-over-year.