Checking Out Shifts in Apartment Construction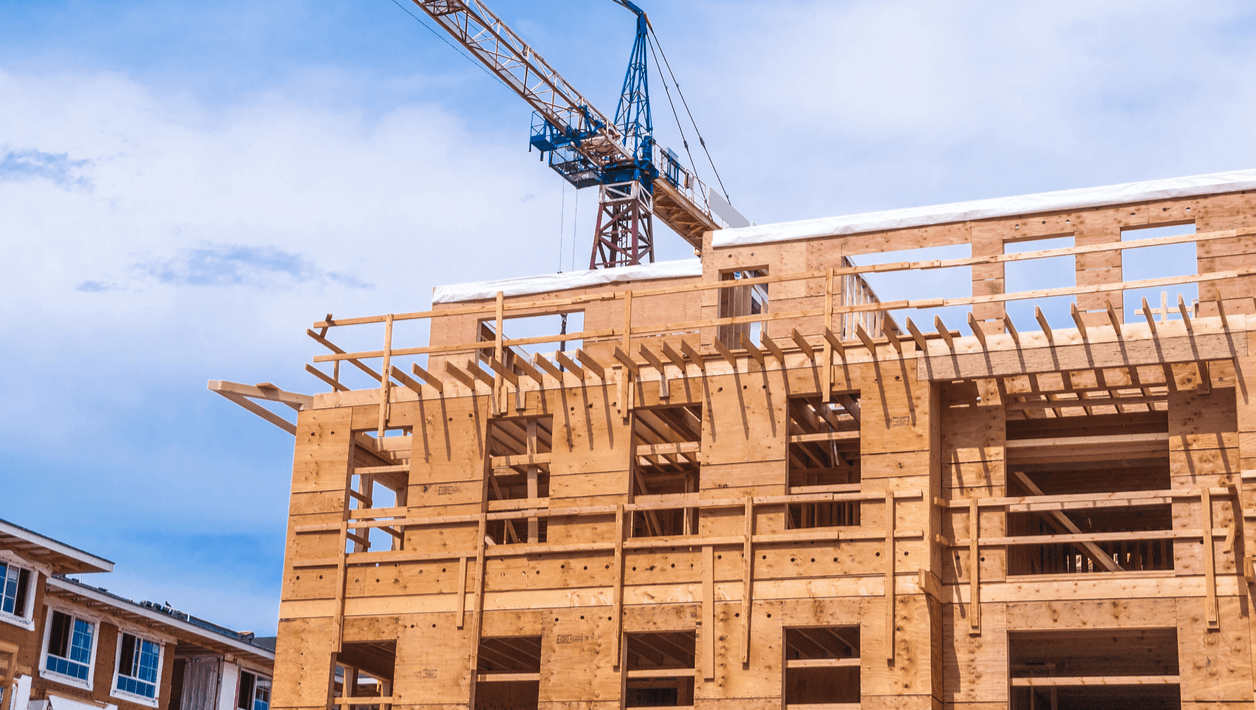 Big shifts in U.S. apartment construction patterns that some anticipated when COVID-19 first emerged never materialized, leaving today's ongoing building totals just slightly below the volumes seen in late 2019 and early 2020.
Furthermore, while there are some meaningful shifts in activity on the metro or neighborhood level, those movements mostly seem to be reflections of local influences, rather than big-picture changes.
Total Building Remains Robust
RealPage, Inc. stats show 623,769 market-rate apartments currently under construction in the nation's 150 largest metropolitan areas.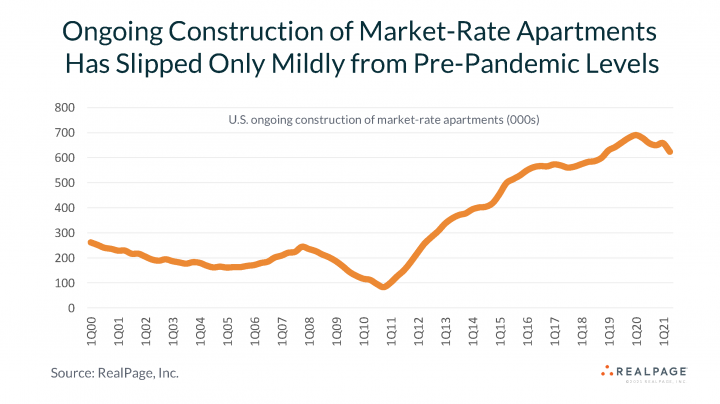 Product on the way is down about 10% from the early 2020 ongoing construction tally of 690,442 units, but that pre-pandemic peak was a three-decade high. Thus, today's building pace is still very elevated in relation to the long-term norm.
If you look back to what happened during the last recession seen in 2008 to 2009, the difference in activity is stunning. At the low point set in 2010, ongoing construction of market-rate apartments got down to slightly fewer than 100,000 units, so we're now building six times that volume.
Building Is Up the Most in Phoenix
With 22,428 market-rate apartments on the way now, Phoenix construction activity tops the volume of ongoing building seen as of 1st quarter 2020 by 5,967 units, the country's biggest metro-level increase. That's not a surprise, as Phoenix also registers hefty population growth, including quite a few relocations from other metros, as well as rapid growth in its job base.
Ongoing construction also is up by more than 5,000 units from the early 2020 totals in three other locations. Nashville and Austin benefit from many of the same influences driving up building activity in Phoenix. In contrast, it's perhaps more surprising to see New York in this group of markets.
Despite the fact that a big block of renters left New York in the early days of the pandemic, some developers never really lost faith in the area's long-term appeal. They continued to start construction on new apartment properties. However, it is worth noting that virtually all of the increase in building activity occurred in Brooklyn, Queens and suburban Westchester County, rather than in Manhattan.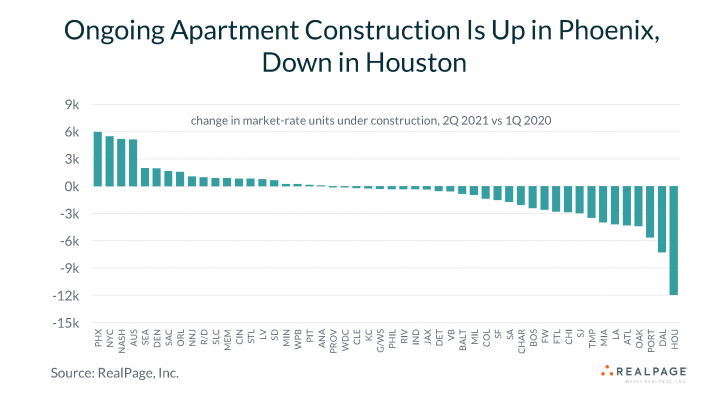 Construction of market-rate apartments climbed by 1,000 to 2,000 units between early 2020 and mid-2021 across Seattle, Denver, Sacramento, Orlando and Newark-Jersey City. While it's probably not surprising to seen building increase in Denver and Sacramento, it probably is not what was expected to occur in gateway markets Seattle and Northern New Jersey or hospitality-heavy Orlando.
Construction Cools in Houston and Dallas/Fort Worth
The country's biggest pullbacks in market-rate apartment construction since 1st quarter 2020 have occurred in Houston and Dallas/Fort Worth.
Ongoing building is off by 11,970 units – falling to 21,677 apartments underway – in Houston. The Dallas construction tally of 28,581 units is down by 7,274 apartments, with the drop of another 2,563 units – to a construction total of 10,073 apartments – registering in adjacent Fort Worth.
These declines register even though Dallas/Fort Worth and Houston have been the nation's #1 and #2 apartment demand centers over the past year and a half.
A slowdown in building for Houston isn't necessarily shocking. Struggles in the energy sector have held back overall employment growth, and apartment occupancy remains low by national standards.
Lesser construction in North Texas was harder to see coming. Site acquisition difficulty probably is the biggest factor in that slowdown, reflecting that D/FW has been the country's top market for apartment development by a huge margin over the course of the past decade or so. Also, some of the North Texas suburbs that traditionally have been development friendly have begun to require that big projects get scaled down significantly, or they've been turning down building requests completely.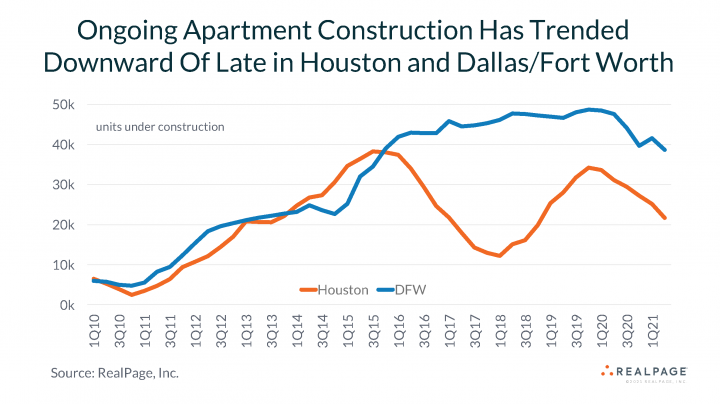 Another half-dozen metros post current apartment building activity that's down at least 3,000 units from early 2020 volumes. They are Portland, Oakland, Atlanta, Los Angeles, Miami and Tampa.
Mirroring the situation seen in Dallas/Fort Worth, both Atlanta and Tampa – and Miami, to a lesser degree – are spots where developers are scrambling to try and get more product coming out of the ground, especially given that current rent growth results are so stellar. Capital is clearly available for additional properties in these locations, if sites can be locked down and approved.