Carolina Supply Centers See Peak Rent Growth in June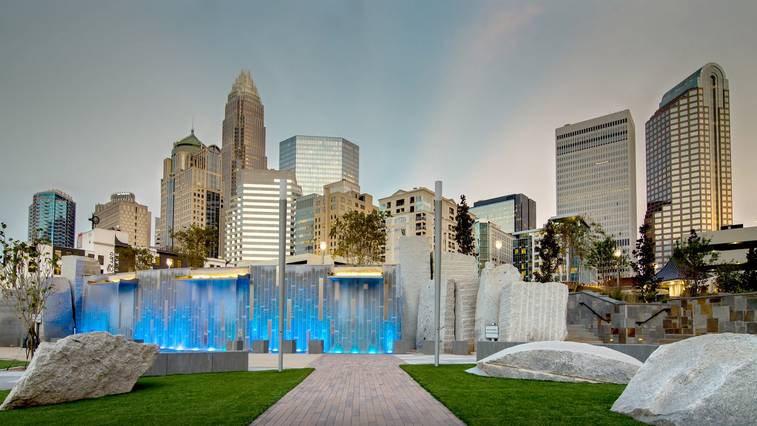 Some Carolina apartment markets reached peak rent growth in June, despite having been some of the nation's key development centers in recent years.
Despite seeing apartment inventories swell by 33% to 49% in the past decade, these Carolina markets – Charleston, Charlotte, Wilmington and Raleigh/Durham – have had no problem absorbing new apartment supply of late and operators in all of these markets pushed rent growth to historic highs June.
Charleston
Charleston's apartment base swelled by a significant 49% in the past 10 years, by far the nation's biggest inventory increase. This was more than three times the national average of 15.5%. The existing apartment base in Charleston totals 64,840 units, and roughly one-third of those were built just in the past ten years. In fact, much of these new additions hit just in the past five years, as completion volumes in Charleston climbed significantly in the latter half of the decade. Annual apartment completions hit above the 3,000-unit mark for the first time in late 2017 and then reached a new high above 4,000 units in the year-ending 2nd quarter 2021.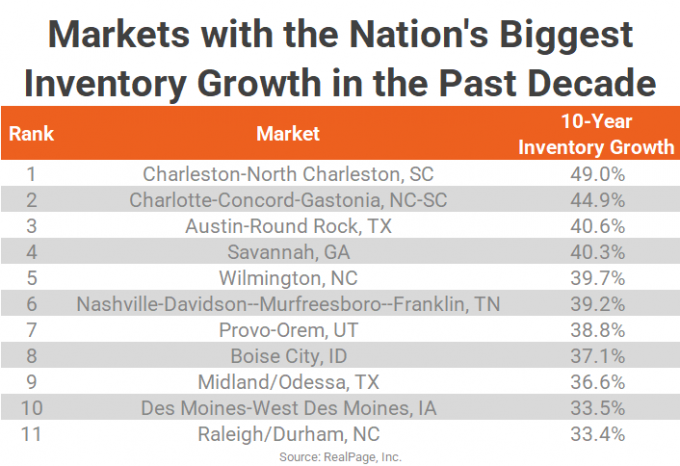 Despite such sizable growth to the existing apartment stock, however, Charleston has managed to absorb those units reasonably well, especially in recent months, when the rise in remote work during the COVID-19 pandemic drew previous office workers to a handful of beach towns. Solid demand pushed occupancy to 96.1% in June, which was the market's strongest showing since 2006. With such strong fundamentals, apartment operators pushed effective asking rents up 11.7% year-over-year, a pace Charleston hasn't set in at least two decades. The only time the market has gotten close to this peak the annual rent growth of 7.7% Charleston reached in October 2011.
Charlotte
Located just a few hours northwest, Charlotte saw its apartment base swell by 44.9% in the past ten years, with the addition of 62,916 new units. The level of new apartment completions in Charlotte accelerated to a 26-year high in the year-ending 2nd quarter, when 9,528 units were delivered.
Demand has managed to keep pace with consistently elevated supply throughout the past decade, even outpacing record completion volumes in the year-ending 2nd quarter 2021, pushing occupancy upward and inspiring big rent growth. In the past year, Charlotte prices climbed 10.6%, the strongest showing this market has seen in at least two decades.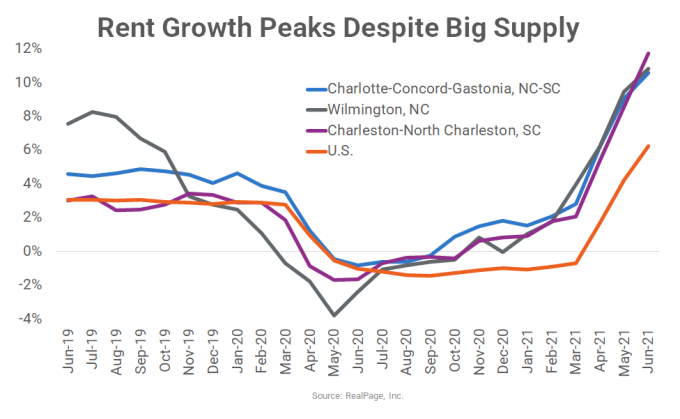 Wilmington
The Wilmington apartment base swelled by 39.7% in the past decade, with the addition of 7,127 units. Wilmington has been rebuilding its apartment base after Hurricane Florence made landfall on Wrightsville Beach in 2018, marking the area's strongest storm since 1954.
Demand has been strong in Wilmington which, like what was seen in Charleston, benefited from a move of remote workers toward coastal beach towns. Wilmington logged absorption for 2,928 units in the year-ending 2nd quarter, which was double the market's five-year average. As a result, occupancy in Wilmington hit a recent high above 97% as of June, and operators pushed rents by 10.8% year-over-year. This was the market's strongest rent growth showing in at least two decades. The last time price increases got even close was the annual boost of 8.9% in January 2019.
Raleigh/Durham
Just missing out on a top 10 showing, Raleigh/Durham's inventory growth rate of 33.4% was the 11th-biggest in the nation in the past decade. Roughly 42,900 new units were built in Raleigh/Durham in the past 10 years. In fact, just in the past year, delivery volumes stretched beyond the 6,000-unit mark – a point this market rarely reaches. The last time annual deliveries were stronger in Raleigh/Durham was back in 2002, when deliveries reached near 7,000 units.
Demand has kept pace well with increasing supply in Raleigh/Durham, reaching historic heights at nearly 7,800 units in the year-ending 2nd quarter, and pushing occupancy to a rare moment above 96% as of June. Same-store effective asking rent change went up in kind, hitting 10.3% in June. This was the largest annual increase since RealPage began tracking the market and, in fact, the only time annual price hikes got even close in the past twenty years was the annual growth of 8% posted just one month ago.