Austin's Cedar Park Inventory Doubles Over the Past Decade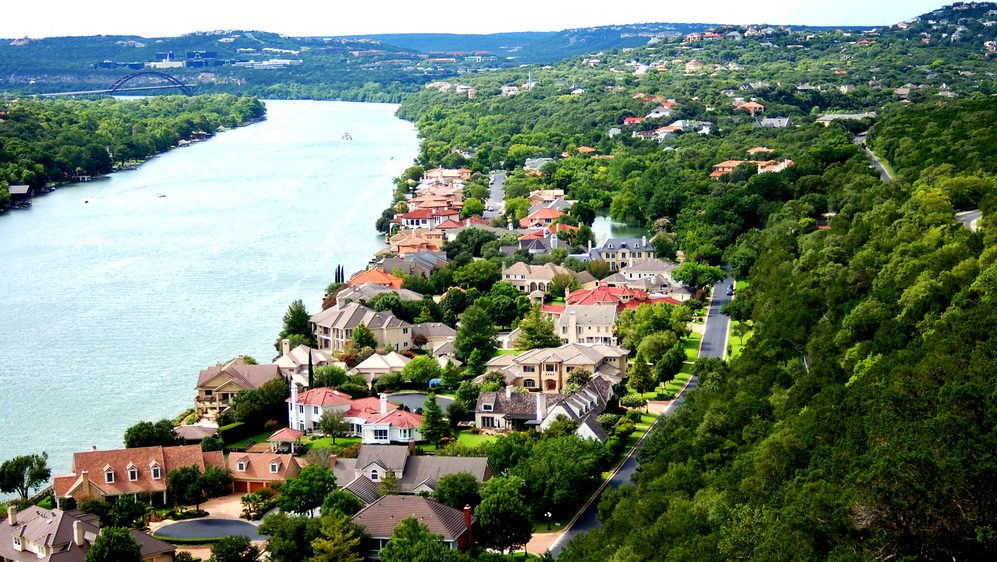 Austin's elevated construction volumes have been well spread across the market, but Cedar Park's slice of supply has nearly doubled the existing unit base in that submarket in the past decade.
The Austin apartment market has been a national leader for inventory growth this economic cycle, which started in early 2010. Some 65,600 or so units have been built here since the cycle started, growing the market's inventory base by nearly one-third. Only Charlotte and Nashville have seen more aggressive inventory growth rates during the cycle.
Construction has been well dispersed across the 16 Austin neighborhoods, with no submarket accounting for more than 10% of cycle deliveries. However, a few neighborhoods started the cycle with such small existing bases, even a small portion of Austin's total supply volume culminated in extreme inventory growth.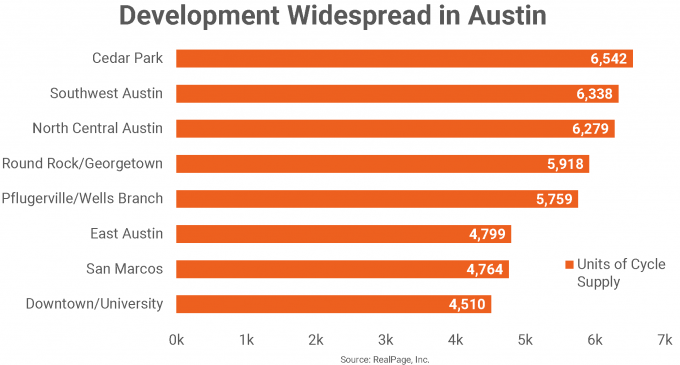 Cedar Park has been the most severe case, with an inventory growth rate of 92% in the cycle. Roughly 6,500 units were completed here in the past decade, the largest slice of Austin deliveries (10% of the total).
Annual inventory growth peaked in Cedar Park in early 2014 at over 20%. From 2015 through 2018, inventory growth remained aggressive, averaging about 8.5% annually. More recent growth rates have registered closer to the Austin average at around 3%.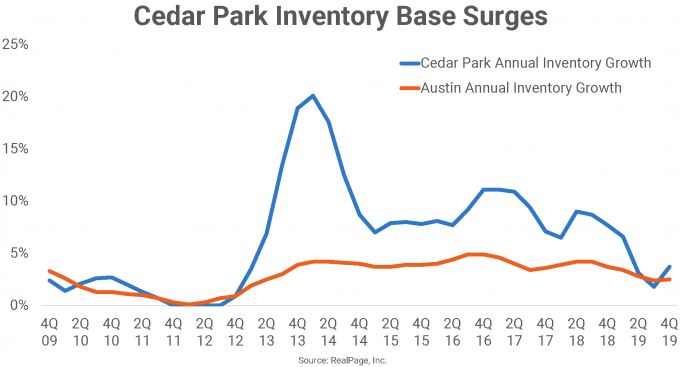 Demand drivers are strong in Cedar Park and have thus far supported big blocks of new supply. Located roughly 16 miles northwest of Austin, Cedar Park is one of the only major suburban areas in the market with a commuter rail line, Capital Metro's first and only rail line connecting to downtown. Additionally, the area boasts its own concentration of employers. Drawn by the employment options, people have been flocking to this area. The U.S. Census Bureau estimates that the Cedar Park population grew by 28,000 people, or 57%, between 2010 and 2018.
In the past five years, apartment occupancy in the Cedar Park submarket has run neck-in-neck with the overall market average, which has generally remained above other Sun Belt areas. At the end of 2019, the Cedar Park rate was strong, and a few ticks ahead of the Austin norm, at 95.8%. Despite significant completion volumes, rent growth in Cedar Park is quite a bit beyond the market average at 5.8%, where it has hovered for five consecutive quarters now.
Other Austin submarkets that have seen their existing base increase significantly during the current economic cycle are Pflugerville/Wells Branch, Southwest Austin and Southeast Austin, with growth of 54% to 63%. Southwest Austin accounted for the second-biggest portion of Austin supply, with 9.7% of total delivery volumes completed here in the cycle.
The other submarket to garner more than 9% supply was North Central Austin. New inventory increased the existing base in that neighborhood by 24.2%.
Looking ahead, scheduled deliveries will grow Cedar Park's existing base by another 23.8% in the next two years. This is the largest expected upturn by far in Austin. Other submarkets with double-digit increases expected by the end of 2021 are East Austin (15.5%) and Downtown/University (11.2%).
For more information on the Austin apartment market, watch the recent RealPage Asset Optimization webcast, Up Close and Local: Austin Market Update.