Apartments Remain Hot, But Peak Rent Growth Could Be in Rearview Mirror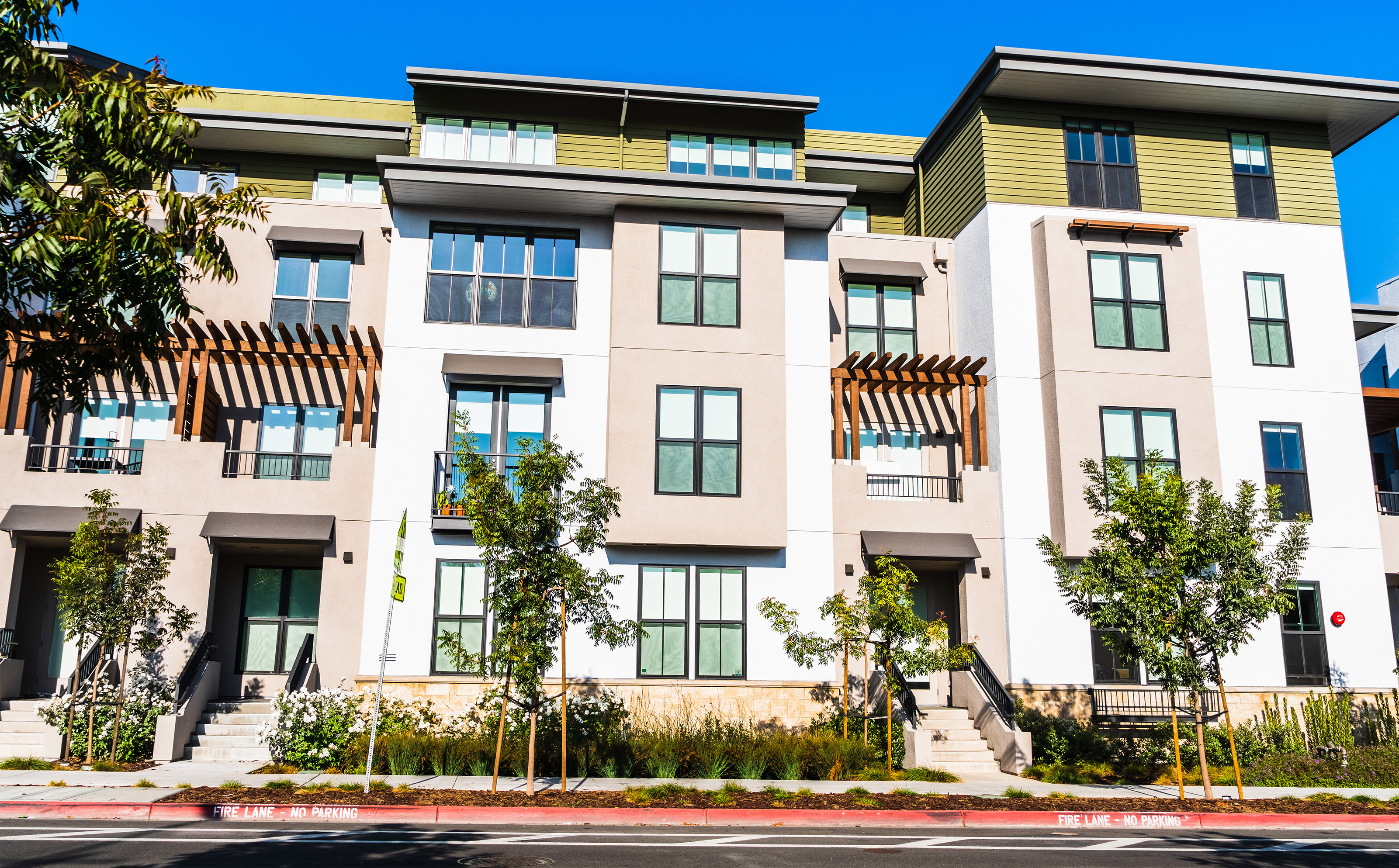 Numerous indicators suggest that conditions in the red-hot U.S. apartment sector are finally moderating. But is it a true slowdown similar to the magnitude seen in the for-sale housing market? Not yet. Rents are still growing substantially and vacancies remain few.
Renters signing a new lease in June paid 19.2% more than previous occupants of the same units. That's a tick above the previous high set one month earlier, and likely could end up as the peak growth rate – as it marked the first time in 2022 where trade-out rents didn't jump up significantly from one month to the next. More significantly: June numbers came in below numbers seen earlier this year in 26 of the nation's largest 50 metro areas.
It was a similar trend among renewal leases. Renters renewing leases in June paid 11.2% more per month compared to their previous lease – just a tick above the high set in May.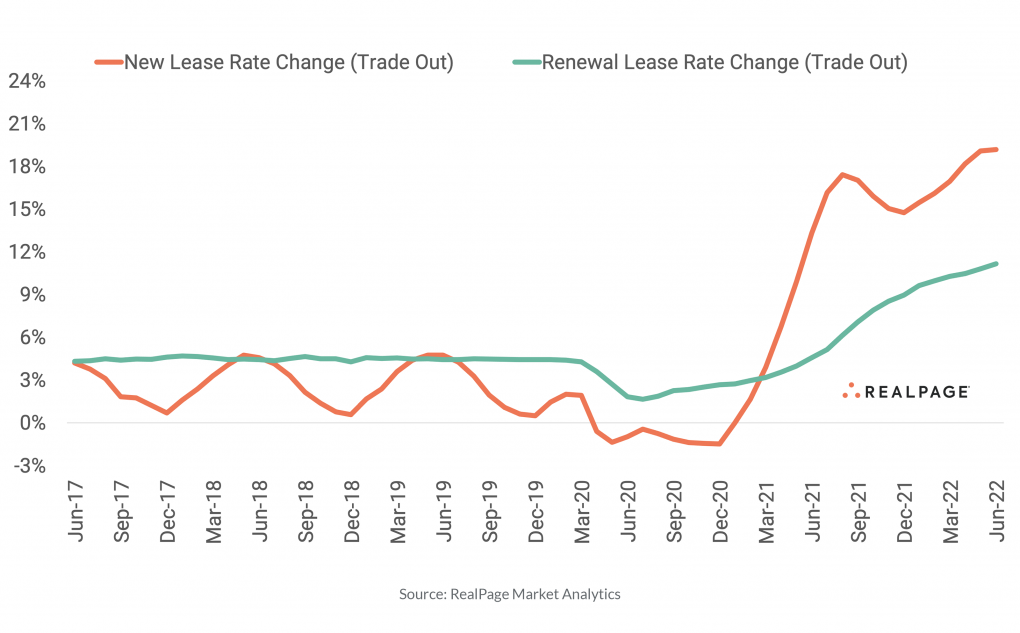 For both new and renewal leases, rent growth remains most significant in the pricier Class A and B sectors catering to higher-income renters. Rents continue to grow at a lesser pace in the lower-priced Class C segment. (In fact, renewal increases in Class C apartments continued to trail headline CPI.)
The leveling off in the pace of rent growth was widely expected, and doesn't yet translate to a renter's market. Vacancies remain limited at just 3.7%. While still well below the 5-6% levels typically considered balanced, vacancy ticked up 0.2 percentage points from the same time last year. It's not much, but it's first year-over-year vacancy increase in 14 months. Additionally, average days vacant (a measure similar but not identical to "days on market" in the for-sale sector) ticked up from an all-time low of 21 days in June 2021 to 22 days in June 2022.
Renters signing new leases in June 2022 had household incomes of more than $78,000, up 12.2% year-over-year.
Renter turnover remains low given the lack of alternative housing availability, but that trend is moderating, too. Among renters with a lease expiring in June, 56.1% chose to renew. That's well above the low 50% range typically seen in the summer months, but roughly flat with the levels seen in June 2020 and June 2021.
Rent Growth Levels Moderating in Key Markets
Looking at rent movements at the local level, rent growth (as measured by lease-over-lease change specific to new leases in June) remained hefty all across the country. But several red-hot markets are showing signs of moderating. Most notably, June's rent increases came in nearly 7 percentage points below the peaks set earlier this year in West Palm Beach and Phoenix. The latter saw rents far outpace the national average most of the last couple years, but has slightly tailed the average in each of the past two months.
Other key markets with June rent increases coming in well below prior months include much of Florida (led by Jacksonville, Fort Lauderdale, Miami and Tampa – while Orlando was an exception) as well as New York, Las Vegas, Memphis, Riverside, San Francisco, Austin and Seattle.
On the flip side, only a handful of metros are still seeing rent growth levels materially increase. That list includes predominantly Midwest and Northeast markets where rent growth typically trails the national averages – Pittsburgh, Philadelphia, Indianapolis, Northern New Jersey and Columbus.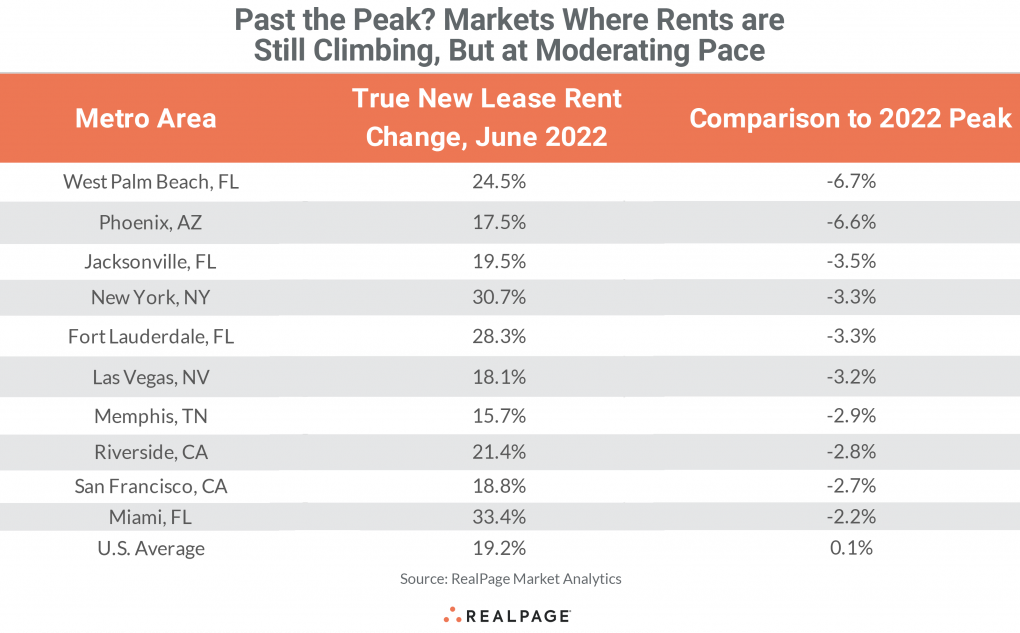 New Apartment Supply Remains Substantial
Supply marks one positive tailwind toward market balance. Unlike the single-family sector, apartment development was active pre-COVID. The pipeline froze only briefly when the pandemic hit before ramping up to 40-year highs in construction, with more than 857,000 units under way as of June.
Actual completions have been fairly flat, though, with 337,902 units completing in the last 12 months. That will change in 2023, when post-lockdown projects start to deliver in masse, with more than 527,000 units scheduled to complete construction.
Ongoing apartment construction as of June topped 40,000 units in both Dallas and Phoenix, and surpassed 30,000 units in New York, Austin, Northern New Jersey, Washington, DC and Atlanta.
Viewed relative to market size, a number of markets are seeing unprecedented expansion rates in apartment supply. The total numbers of apartments underway in Nashville, Charlotte, Salt Lake City, Austin, Colorado Springs, Raleigh/Durham, Huntsville, Boise, Provo and Phoenix will expand those markets by over 10%. Most of those spots have been big magnets for in-migration, but might see supply outpace demand in the short term within certain (primarily urban) neighborhoods with high concentration of construction.