Apartment Retention Hit Record High in April, But Revenue Growth Hit Nine-Year Low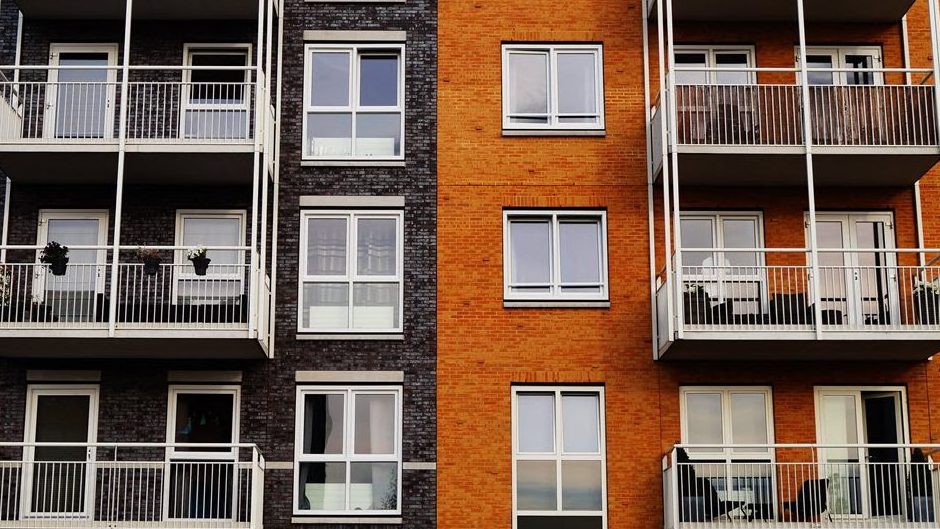 U.S. apartment retention hit a record high in April, as renters were unable or unwilling to relocate due to COVID-19. Among apartment renters with leases expiring, 57.9% elected to renew in the same unit, based on actual rent roll data sourced from millions of units running on the RealPage platform.
But ultra-high renewals didn't translate into a cash windfall for apartment owners and managers. Rental revenues grew just 2.73% year-over-year through April, the lowest rate since February 2011.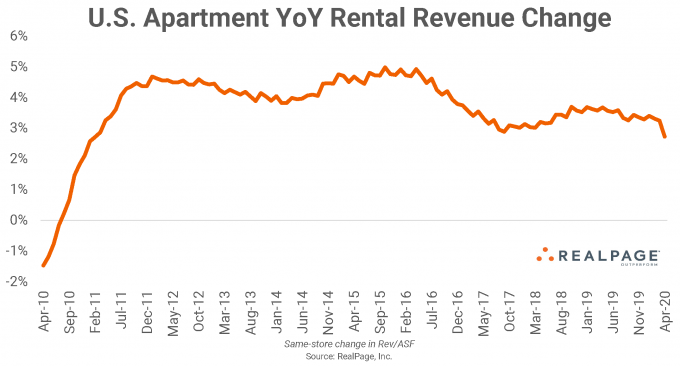 One big reason revenue growth eased is simply because many apartment operators prioritized the public good in April. Property owners and managers purposely did not capitalize on high renewal demand in April. In fact, renewal rent trade-out – which measures the change in rent for renters renewing leases in the same unit – came in at the lowest level since December 2010. (For a deeper look at April results, please see this article.)
The renewal spike was expected, but when we raised this topic a few weeks ago, we noted the good and bad impacts for apartment operators. To be sure, high retention is a win for apartment operators focused on preserving occupancy as the U.S economy spirals into a recession. And given better-than-expected rent collections and high occupancy rates, the apartment market continues to fare much better than other commercial real estate asset types.
But even the resilient apartment sector wasn't immune to slowing, in part because operators across the country went to unprecedented lengths to accommodate renters. Most apartment managers offered payment plans for the first time, waived many fees (including late fees), paused most evictions and kept renewal pricing flat.
Furthermore, apartment operators accommodated a surge of renters asking for month-to-month extensions or short-term renewals. Much of the retention spike in April came from renters requesting short-term extensions as they wait out the epidemic and shelter-in-place ordinances. We saw the average renewal term nationally drop to 11.3 months in April, a six-year low for renewals initiated in that month. (Renewal lease terms are highly seasonal as operators generally try to stack most lease expirations in the spring and summer when demand is stronger.)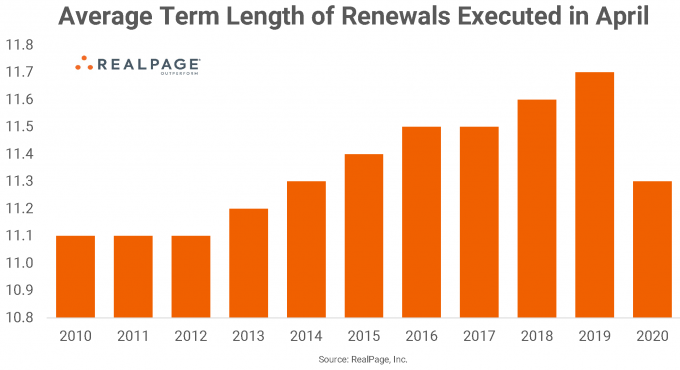 Additionally, operators in April waived the premiums typically charged for shorter lease terms. That's a significant accommodation, particularly since it'll likely lead into a glut of lease expirations in the summer months when new lease demand could still be weak. But given the economic backdrop, operators willingly sacrificed renewal rent growth to accommodate renters in a time of hardship. The National Multifamily Housing Council endorsed flat renewal increases going into April, and many operators followed suit.
Renewal rent trade-out came in at 3.84% in April, but much of that growth came from renewal offers for April that had been accepted by renters prior to the COVID-19 crisis. More recent renewal pricing trends have been flat. By comparison, renewal trade-out came in around 4.5% for the month of April in the three prior years.
At 57.9%, U.S. apartment retention surged 3.61 percentage points year-over-year and 2.4 points from the previous record high set just one month earlier. Prior to then, the previous retention peak came in February 2019 when 55.3% of renters with expiring leases chose to renew. Retention generally peaks in the winter months when few people tend to move around.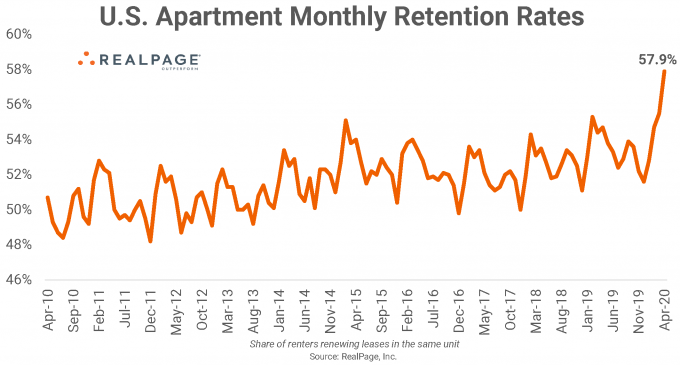 Lower-priced apartments tend to record the highest retention, and that carried into April. Class C properties renewed 59.7% of expiring leases, while Class B retained 56.4%. Class A came in much lower at 50.6%, but that still marked a record high for that group. Class A tends to see more turnover due to more competition from new supply at similar price points.
At a market level, Rust Belt markets typically see higher retention due to less transient populations and slower new lease demand. Those markets remained atop the retention leaderboard. Providence, Cleveland and Milwaukee all topped 70% retention in April. St. Louis, Northern New Jersey, Philadelphia and Baltimore all came close to that mark.
Retention in April topped 50% in all of the 50 largest markets. At the low end, six metros came below 53%: San Antonio, Phoenix, Los Angeles, Denver, Austin and San Diego.
Two major markets trended in opposite directions from the rest of the country with year-over-year declines in retention: Los Angeles (-4.3 percentage points) and San Francisco (-2.7 percentage points), which could point to unique dynamics in California's bigger metros. Those same two markets ranked at the bottom nationally for year-over-year rental revenue growth, both near 0.5%.
On the new lease side, average lease term lengths nationally hit a record high for the month of April at 12.2 months – reflecting that operators are offering lower pricing in exchange for longer commitments. New lease trade-out measured just 1.09%, the lowest growth rate since April 2010. Average executed new leases have come in even lower.
For a deeper discussion on the latest retention trends plus insights into payments, leasing traffic and rents, join us Tuesday at 10 a.m. CST for a live webcast.