Apartment Rents and Occupancy Soar in May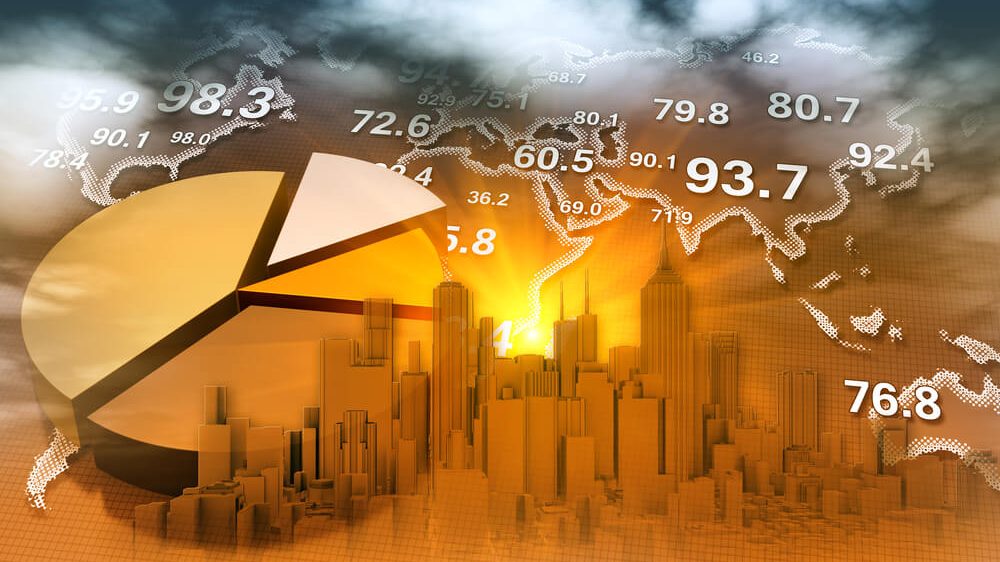 U.S. apartment rents and occupancy are climbing rapidly in 2021, and May's performance results show a continuing acceleration of momentum.
Effective asking rents for new leases jumped 1.7% during the month, taking annual change to 4.2%. The last time annual rent growth topped 4% was in the middle of 2016. It now wouldn't be surprising if rent increases this year surpass the last economic cycle's peak annual growth of 5.4% seen in 2015.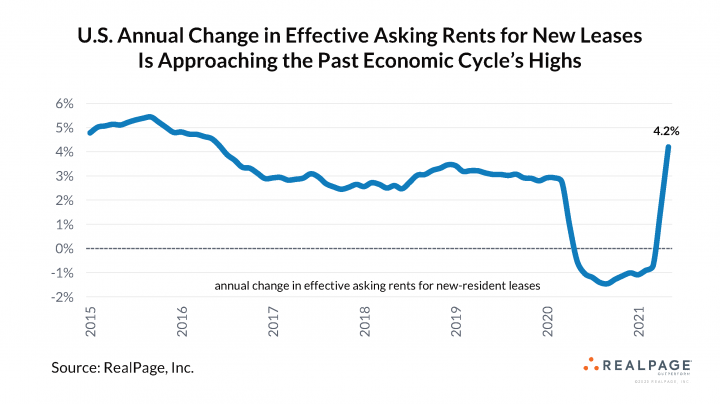 Occupancy statistics also are impressive. May's occupancy rate stood at 96.1%, up from 95.8% in April and from 95.2% in May 2020. Again, the past economic cycle's peak performance – 96.3% occupancy back in August 2019 – appears likely to be equaled or exceeded when leasing activity reaches its seasonal high during the summer months.
Driving the Performance Numbers
While the nation's job count still isn't fully back to pre-pandemic levels, employment totals are making lots of progress. There's sizable household formation among young adults who had a tendency to temporarily move in with their parents during the early days of the recession and who form such an important component of the apartment resident base.
Also, the job counts generally are looking great in the highest-paying industries that employ those who can afford the luxury apartments that account for so much of today's new product just coming on stream.
While loss of renters to purchase increased in some areas of the country during the past year, the drastic increase in for-sale home prices seen now is limiting the number of renters who can afford to buy.
Breaking Down the Rent Growth Stats
Effective asking rents for new leases are up 4.7% annually in Class A luxury properties and 4.8% year-over-year in middle-tier Class B product. Annual rent growth is more modest at 1.6% in bottom-end Class C properties. Those Class C communities are jam-packed full, but many of the residents in that sector of the product base face housing affordability challenges.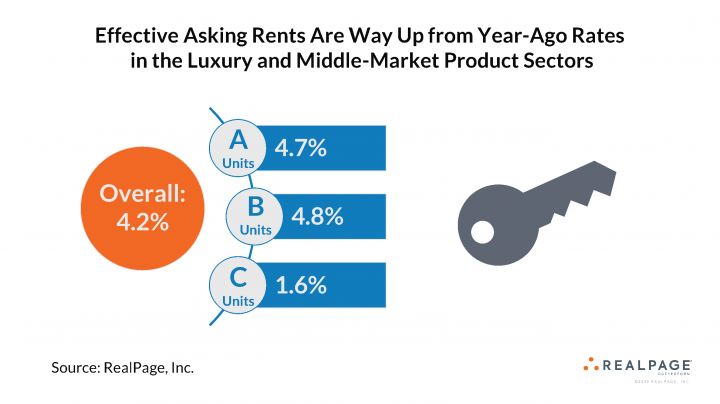 Sizable rent growth at the top of the product spectrum is one of the more interesting shifts in performance momentum. It runs counter to the typical pattern seen when there's lots of new product coming to market and offering rent discounts while initial resident bases are being established at the new buildings.
Robust overall leasing has relieved some of the pressure on Class A projects with stabilized occupancy. Fear of losing existing renters to the discounted newest product additions appears to be under control. Also, it's meaningful to consider that Class A developments were the ones that really took a pricing hit a year ago when the pandemic's impact on general market performance was at its most extreme.
Phoenix Is the Hottest Local Market
Among the nation's biggest local apartment markets with at least 100,000 existing units, a few spots now are experiencing double-digit annual growth in effective asking rents for new leases.
Phoenix leads the way, with pricing up 15.7% from May 2020's prices. Annual increases are at 14.8% in Riverside/San Bernardino, 13.6% in Las Vegas and 13.1% in Sacramento.
Metros with annual pricing growth in the range of 10% to 12% are Tampa, Jacksonville, Atlanta, West Palm Beach, Salt Lake City and Greensboro/Winston-Salem. Memphis' growth of 9.9% just misses the double-digit growth threshold.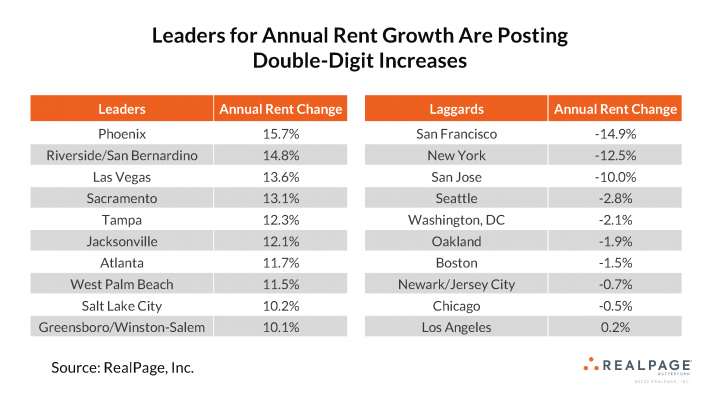 Moving to the other end of the performance spectrum, May's effective asking rents for new leases still were way below year-earlier levels in parts of the Bay Area and New York. Annual change stood at -14.9% in San Francisco, -12.5% in New York and -10% in San Jose.
Small negative changes persisted as of May in Seattle, Washington, DC, Oakland, Boston, Newark/Jersey City and Chicago.
However, all these spots with weak results for annual change are experiencing month-to-month increases during 2021. May's rents topped the April figures by more than 2% in San Jose, Seattle and Boston, while there was monthly growth between 1% and 1.5% in most of the other locations still recording negative annual change.