Apartment Rent Payments Trend Up in Mid-April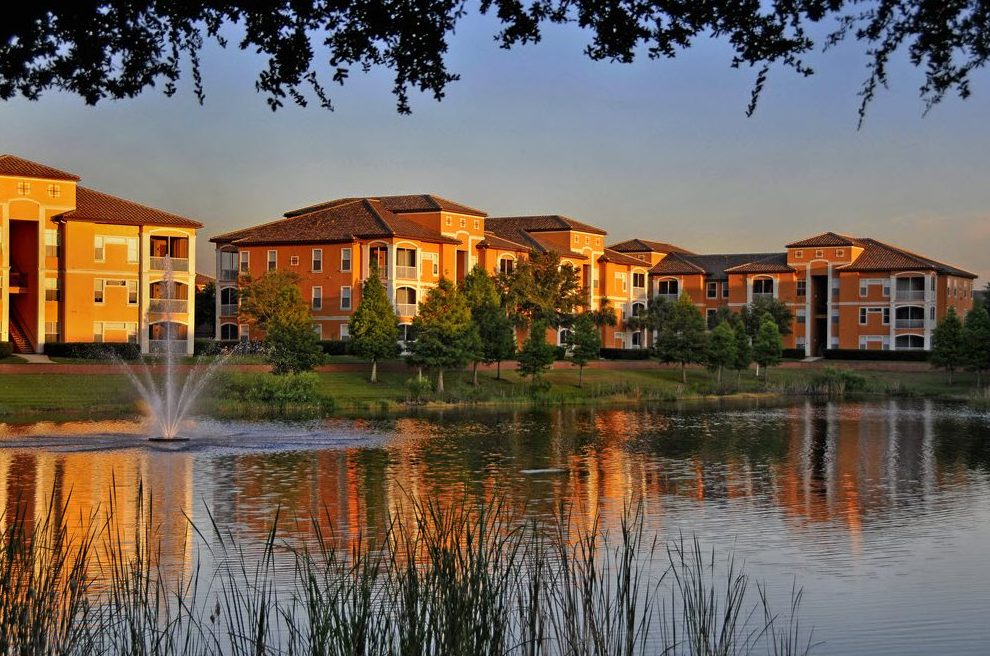 Continuing the progress seen during the first few days of April, there's a bump in the share of households meeting their rent obligations as of mid-month.
The share of households paying April rent through the 13th is up by 0.9 percentage points from the year-earlier level, according to RealPage statistics from multifamily community owners and operators using the company's property management software.
Influencing the rise in collections, accelerating job growth is boosting the number of workers earning paychecks. Also, stimulus payments that were authorized under the American Rescue Plan are improving the financial situations of struggling households.
The next set of Rent Payment Tracker data from the National Multifamily Housing Council, which combines information from five technology firms that include RealPage, will be published on May 10.
Previous Patterns Hold in Property Class Payments
As has been seen since the COVID-19 pandemic began, rent collections remain better in the upper-end and mid-range apartments than in the lower-tier properties. RealPage stats show payments for April through the 13th at 89.1% in the Class A block of product and at 88.6% in the Class B inventory.
Collection levels are lower at 81.6% in Class C projects. Renters in the Class C stock generally live paycheck to paycheck, lacking resources to rely on when employment is interrupted.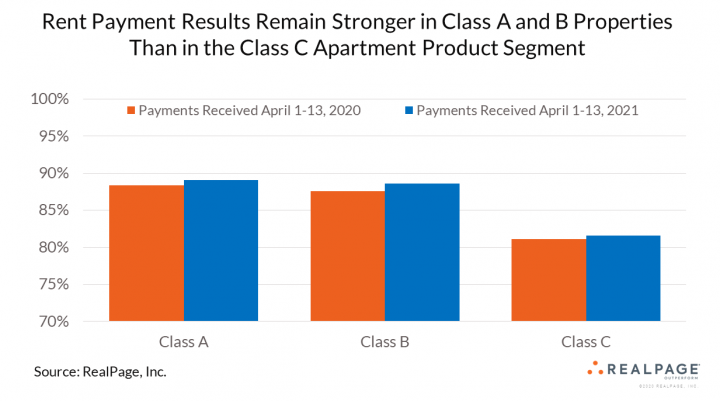 Florida Impresses
Rent payment levels generally are climbing fastest in the locations where the push to open the economy and get workers back on the job is the most aggressive. Florida markets stand out in a big way.
While the biggest share of households up to date on rent payments is in Providence at 95.2%, the next four metros on the list of top performers for collections are in Florida – Fort Lauderdale (95%), Miami (94.9%), West Palm Beach (93.9%) and Tampa (93.8%). The payment rates aren't far behind in Jacksonville (92.4%) and Orlando (92.2%).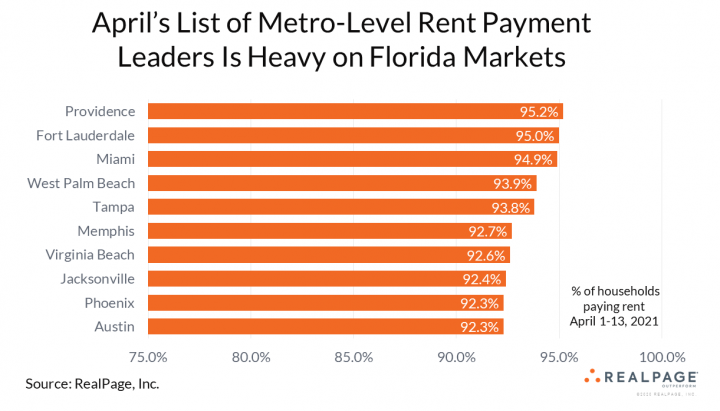 Metros with comparatively low payment performances for April through the 13th are New York (82.3%), Seattle (83.6%), New Orleans (83.6%) and Las Vegas (84.4%).
The share of households paying in Seattle is down 7.4 percentage points from the year-earlier level, by far the most substantial decline recorded anywhere.