Apartment Rent Payments Slip in Early September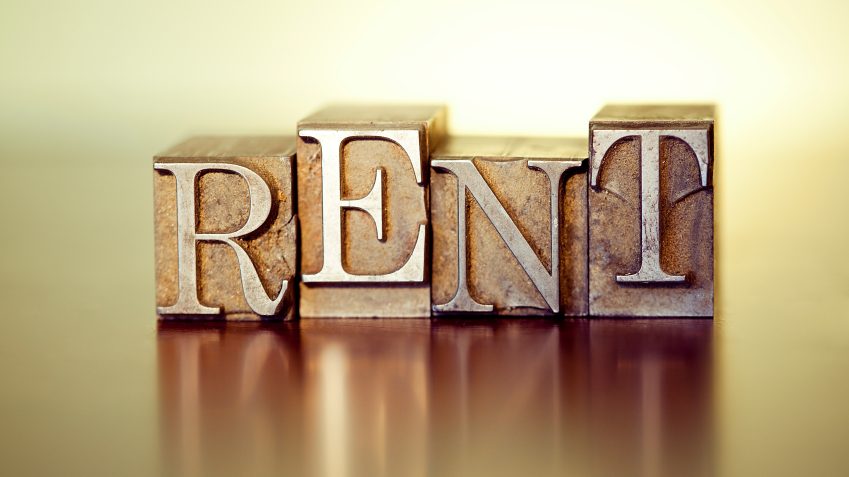 The National Multifamily Housing Council reports that 76.4% of households living in the country's stock of professionally-managed market-rate apartment properties have paid rent for September as of the 6th.
The latest results run 4.8 percentage points under the 81.2% payment level recorded through September 6, 2019.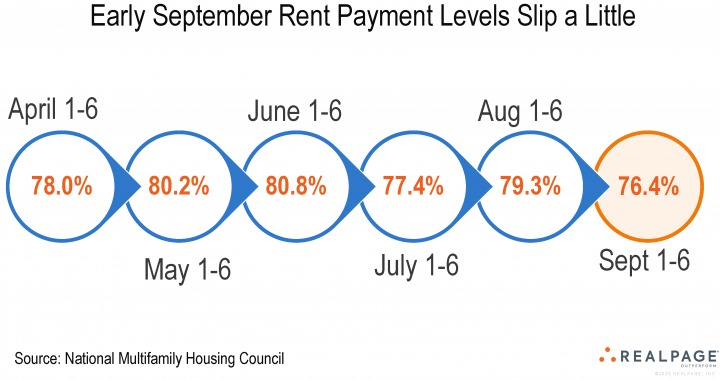 The findings come from the National Multifamily Housing Council's Rent Payment Tracker research, compiling information provided by five technology firms, including RealPage, Inc., for more than 11 million market-rate apartment units.
Financial Stress May Be Building
Holidays that occur around the time that rent is due tend to disrupt collections to some degree. Thus, some of the weakness in early September payments may reflect where Labor Day fell on the calendar.
However, increasing financial stress among renters also appears likely to have had some influence on the payment levels.
Most who are now unemployed only received state-level benefits that average between $300 and $400 per week. While additional federal payments of another $300 per week authorized under the Lost Wages Supplemental Payment Assistance Program have begun to kick in across some locations, the timing of distribution of those benefits varies widely from state to state.
Coming into September, RealPage analysts were most concerned about potential payment shortfalls in the country's lower-tier Class C properties, since residents of those communities tend to live paycheck to paycheck.
Early September payments were received from only 65.6% of the households living in those Class C properties, off 10.4 percentage points from the collections level for early September 2019.
Payments levels are much better at 82.6% in Class A product and 81% in Class B projects, with both of those numbers off 4.9 percentage points year-over-year.
Sizable Payment Declines Register in Several Metros
Collections are off more than 10 percentage points relative to early September 2019 results in New York, Los Angeles, Portland and New Orleans. Annual declines in payments also reach at least 9 percentage points in Newark-Jersey City, Las Vegas, Oakland, San Jose, Philadelphia, San Francisco and Seattle.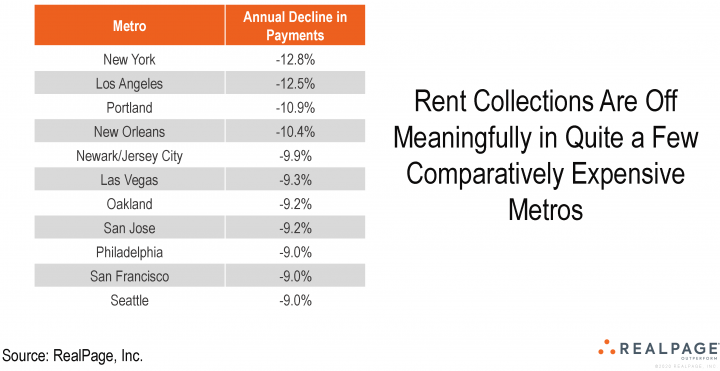 Note that most of those locations rank among the country's more expensive apartment markets. In some of the metros with significant missed payments, state-level unemployment benefits alone don't actually cover typical monthly rent.