Apartment Rent Payments Slide as of Mid-December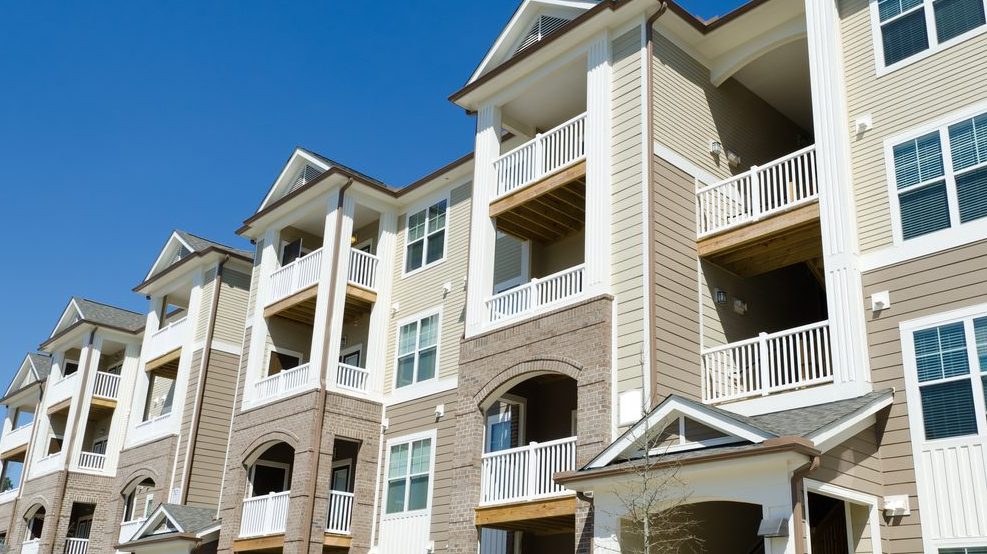 U.S. apartment rent collections are losing some steam, according to the latest statistics from RealPage, Inc.
Nationally, the share of households paying December's rent through the 13th is off by 4.2 percentage points year-over-year. That payment rate also is off from the collections results for the initial 13 days of last month, slipping by 2.5 percentage points.
Note that this information is limited to performances of professionally-managed properties using RealPage's property management software. The National Multifamily Housing Council is not publishing data from the organization's Rent Payment Tracker research this week. That Rent Payment Tracker research covers a larger set of properties, relying on info from not just RealPage but also another four property management software providers.
Payment results posted in December underline that there are many households in need of additional financial assistance from the U.S. government. Many who are without jobs have run through any savings they accrued when the CARES Act provided comparatively generous unemployment benefits through late July. Without quick action from Congress, additional assistance programs for those who are unemployed will run their course by the end of the year.
Previous Patterns Hold in Property Class Payments
As has been seen since the COVID-19 pandemic began, rent collections remain better in the upper-end and mid-range apartments than in the lower-tier properties. RealPage stats show payments for December through the 13th at 88.4% in the Class A block of product and 87.9% in the Class B inventory.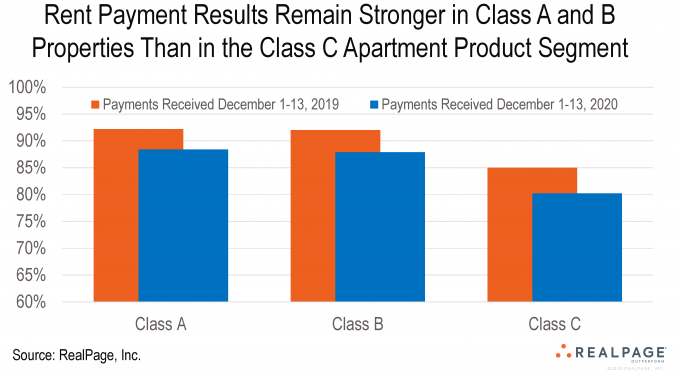 Collection levels are lower at 80.2% in Class C projects. Renters in the Class C stock generally live paycheck to paycheck, lacking resources to rely on when employment is interrupted.
Challenges Begin to Spread into Several Sun Belt Metros
Metros where payments already had been trailing year-earlier levels are continuing to post weakened results. For example, through the 13th, December collections are off year-ago collections by 9 percentage points in Portland, 6.7 points in Seattle, 5.8 points in Los Angeles and 5.5 points in Las Vegas.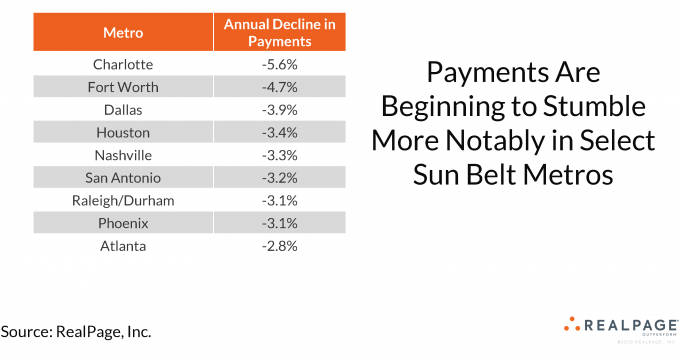 Adding additional concern to the December figures, the number of late payments is up quite a bit in several Sun Belt metros where collections since April generally had trailed year-earlier results by no more than 1 to 2 percentage points. As of the 13th, the share of households current on their rent obligations is now off 5.6 percentage points in Charlotte, 4.7 points in Fort Worth, and 3.1 to 3.9 points across Dallas, Houston, Nashville, San Antonio, Raleigh/Durham and Phoenix. The payment number for Atlanta is down 2.8 percentage points on an annual basis.