Apartment Rent Payments Off in Late December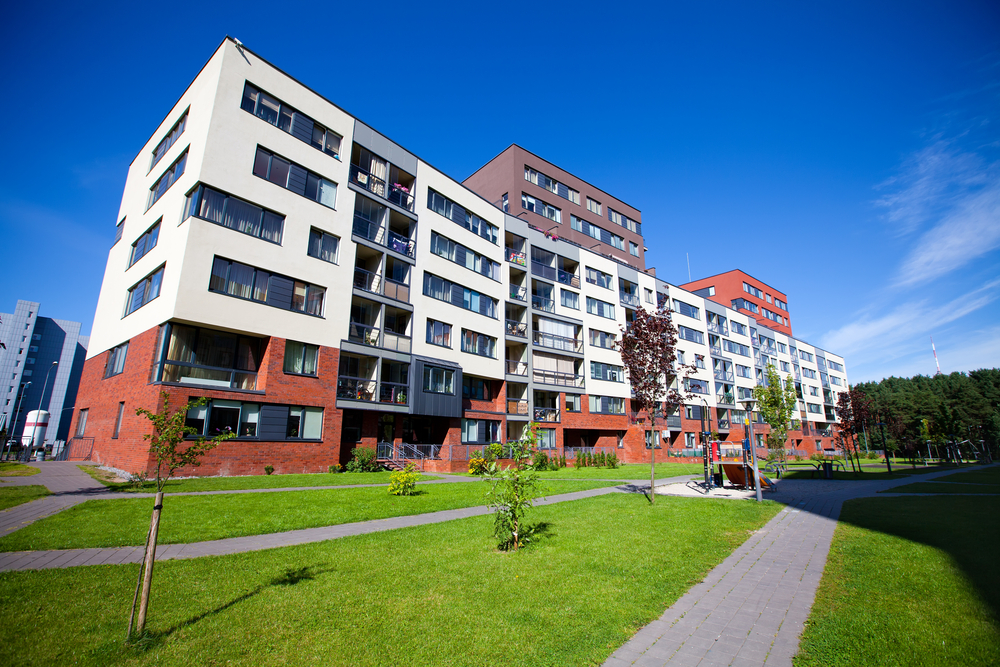 U.S. apartment rent collections have slipped moderately from earlier levels, according to the latest statistics from RealPage, Inc.
Nationally, the share of households paying December's rent through the 27th is off by 2.7 percentage points from year-earlier results. That payment rate also is below the collections pace recorded in November 2020 (again through the 27th), easing by 1.1 percentage points.
Note that this information is limited to performances of professionally managed properties using RealPage's property management software. The National Multifamily Housing Council is not publishing data from the organization's Rent Payment Tracker research this week. That Rent Payment Tracker research covers a larger set of properties, relying on info from not just RealPage but also another four property management software providers.
Payment results posted in December suggest that some unemployed renters who have relied on savings to meet their financial obligations during recent months are depleting those reserves. Thus, the short-term additional household assistance just approved by Congress and President Trump was needed. Key components of the just-agreed-to relief package include: one-time payments of $600 per adult and $600 per child for those with incomes under $75,000, enhanced unemployment benefits of $300 per week to supplement state-level funds, and $25 million targeted specifically for rental assistance.
In addition, extensions have been put in place for programs helping those who recently exhausted their state-level unemployment benefits and those who earlier were self-employed or who held gig positions not covered by state-level unemployment programs.
The slippage in collections for December also may be influenced by a shuffling in household spending priorities, with some perhaps missing rent payments to use the money for holiday-related expenditures.
Previous Patterns Hold in Property Class Payments
As has been seen since the COVID-19 pandemic began, rent collections remain better in the upper-end and mid-range apartments than in the lower-tier properties. RealPage stats show payments for December through the 27th at 93.3% in the Class A block of product and 93.2% in the Class B inventory.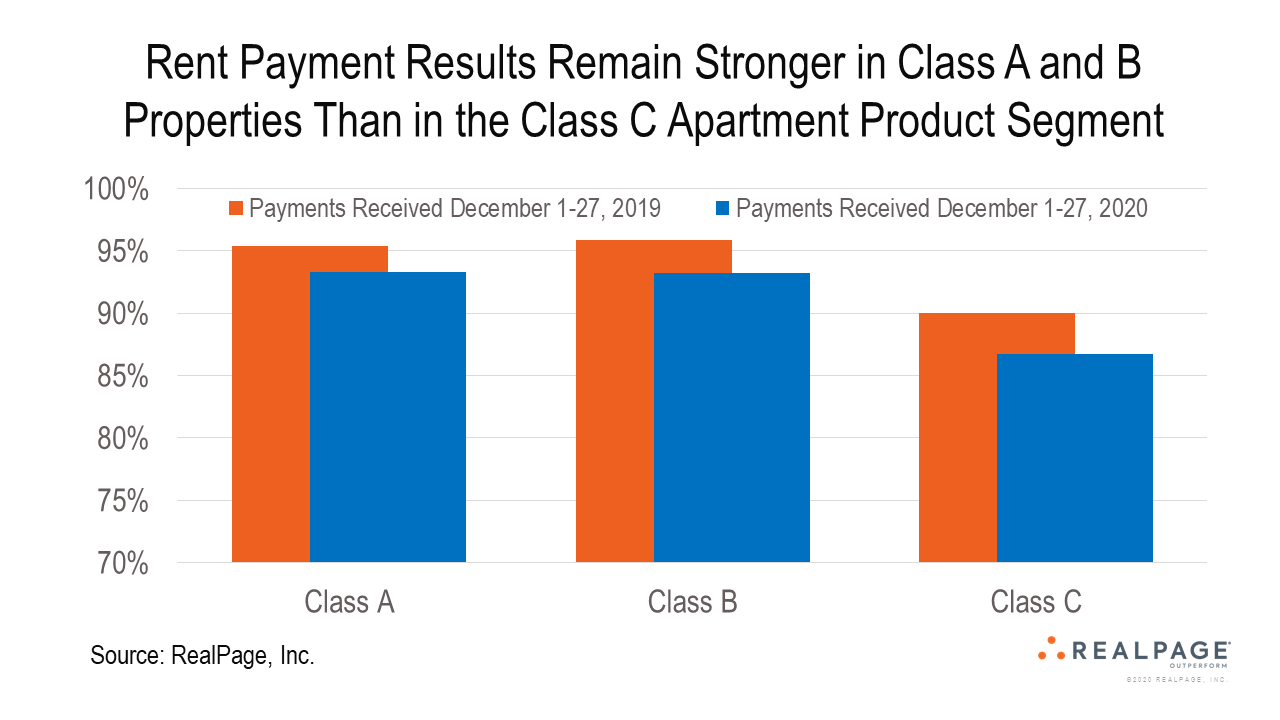 Collection levels are lower at 86.7% in Class C projects. Renters in the Class C stock generally live paycheck to paycheck, lacking resources to rely on when employment is interrupted.
Payments Rally in Some Sun Belt Metros
Metros where payments already had been trailing year-earlier levels are continuing to post weakened results. For example, through the 27th, December collections are off year-ago payments by 10.6 percentage points in New York, 6.5 to 6.6 points in Portland and Seattle, 5.3 points in Las Vegas and 4.4 to 4.5 points in San Jose, New Orleans and Los Angeles.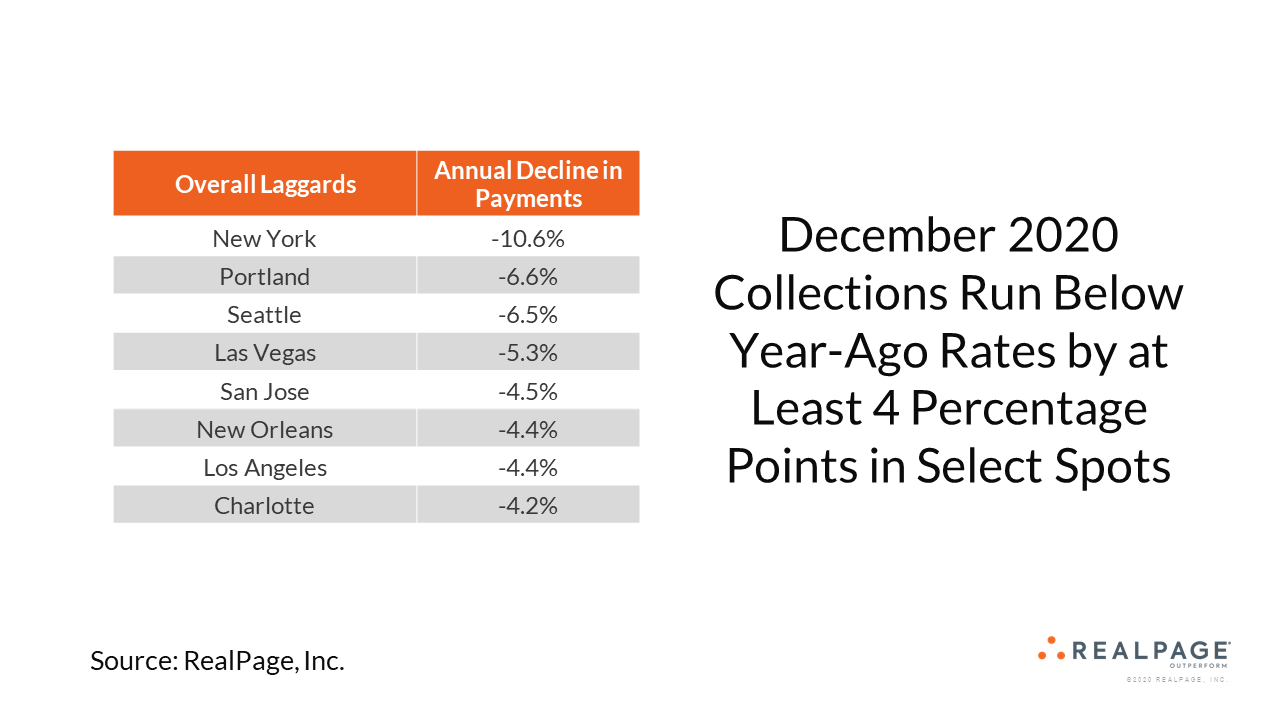 Most Sun Belt metros that had exhibited sluggish collections earlier in December registered a nice bump in payments right at the end of the month. Thus, while the share of households meeting their rent obligations was down, the decline wasn't as sharp as had appeared likely earlier in the month.
Payment levels through the 27th were down 1.8 percentage points year-over-year in Dallas and San Antonio, while the annual slide was at 2 to 2.5 percentage points across Austin, Houston, Fort Worth, Atlanta, Nashville and Phoenix.
Charlotte and Raleigh/Durham, however, didn't make the late-in-the-month comebacks seen in most other Sun Belt locations. Collections dropped by 4.2 percentage points on an annual basis in Charlotte and by 3.1 points in Raleigh/Durham.