Apartment Rent Payments as of Mid-June Match the Year-Earlier Pace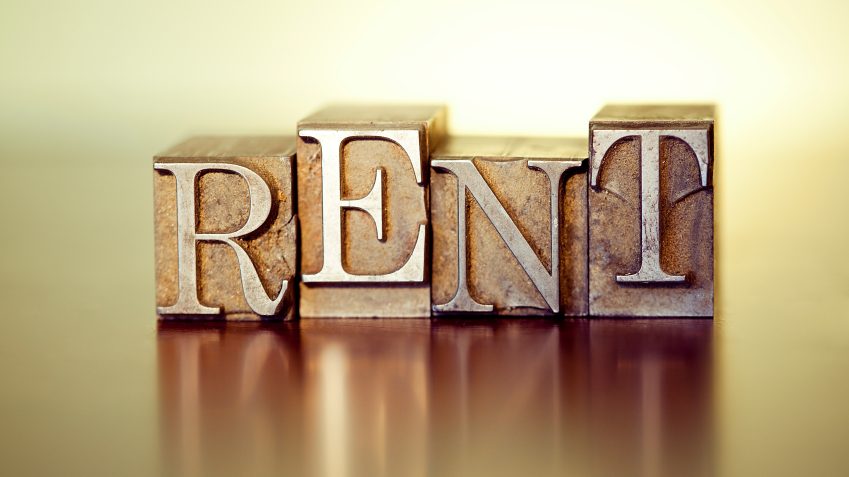 The National Multifamily Housing Council reports that 89% of the U.S renters living in professionally-managed apartments have paid this month's rent as of June 13. That figure is virtually identical to the 88.9% share up-to-date on payments at the same time a year ago.
Enhancements to unemployment benefits provided in the CARES Act appear to be working as intended, allowing those who have lost jobs to continue paying their bills for the short term.
Information compiled by the National Multifamily Housing Council (NMHC) comes from five key property management software providers, including RealPage. The data set covers more than 11 million market-rate units.
Class C Product Payments Trail, But Improve in the Past Week
According to the information that RealPage provided for the NMHC's research efforts, payments were received as of June 13 from 84% of the residents living in lower-priced Class C properties, compared to collection rates of 90.3% to 90.4% among those in luxury Class A projects and middle-market Class B communities.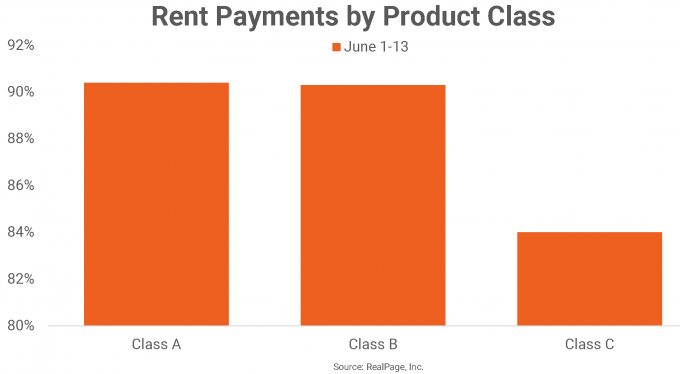 The shortfall of about 6 percentage points in the Class C sector returns to the results posted in April and May, after the difference in collections had grown to about 10 percentage points in data for the initial week of June.
Many Class C renters pay by check, rather than via electronic options, and delays in processing paper payments may have influenced the results.
Payments Are Ahead Year-Over-Year in Select Spots
For the first time since this research for the National Multifamily Housing Council was initiated, there's an annual bump in rent payments across a significant block of metros. Payments in the June 1-13, 2020 time frame top year-earlier levels at least a little bit in 20 of the 50 U.S. markets with the largest apartment inventories.
The biggest increase is a climb of 2.7 percentage points, seen in New Orleans – a previous poor performer – as well as in Pittsburgh. Current rent payments are up at least 1 percentage point year-over-year in another eight locations: Columbus, Cleveland, St. Louis, Detroit, Minneapolis-St. Paul, Baltimore, Greensboro/Winston-Salem and Memphis. Note that the list of markets with improving rent payments is heavy on cities in the Midwest.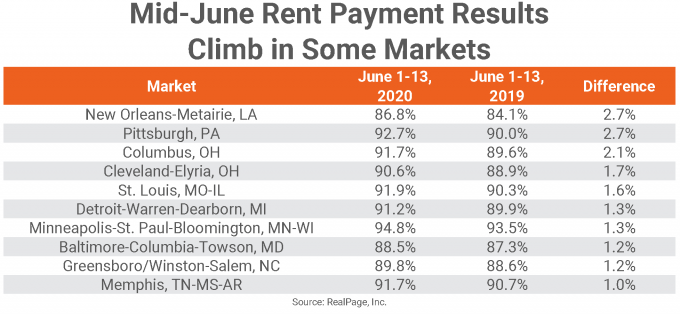 Continue to Watch California Results
In last week's initial report for the first week of June, RealPage noted that results across the state of California suggested that payment rates could falter this month. While there's improvement as of mid-month, the June 13 findings still aren't ideal. The collections rate is off 5.6 percentage points in Los Angeles and 2.4 to 2.5 percentage points in San Francisco and San Jose.
Las Vegas also continues to be a laggard. Payments as of the middle of June 2020 are off 4.7 percentage points from results for the same time in June 2019.