Apartment Rent Payments Follow a Normal Pattern for Recession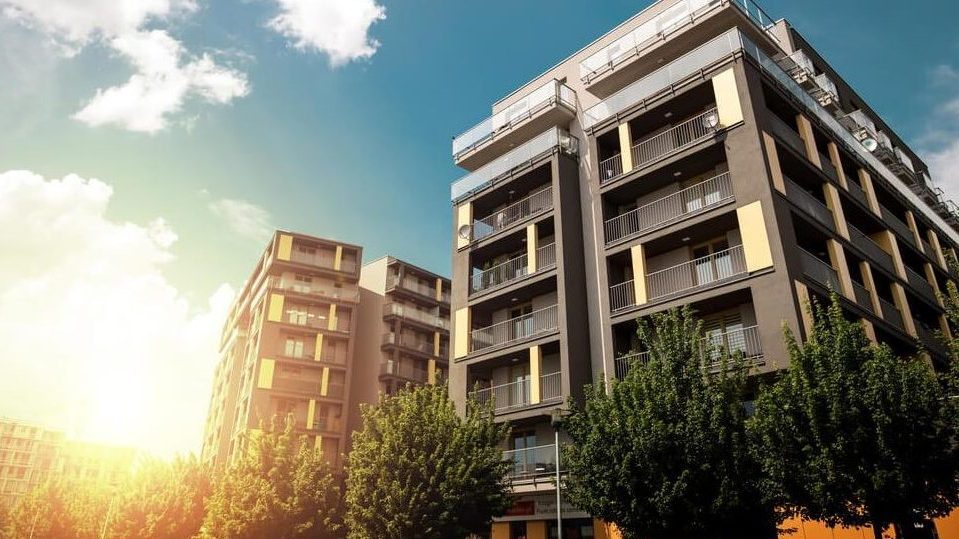 Posted September 16, 2020
The National Multifamily Housing Council reports that 86.2% of households living in the country's stock of professionally-managed market-rate apartment properties have paid rent for September as of the 13th.
The latest results run 2.5 percentage points under the 88.7% payment level recorded through September 13, 2019.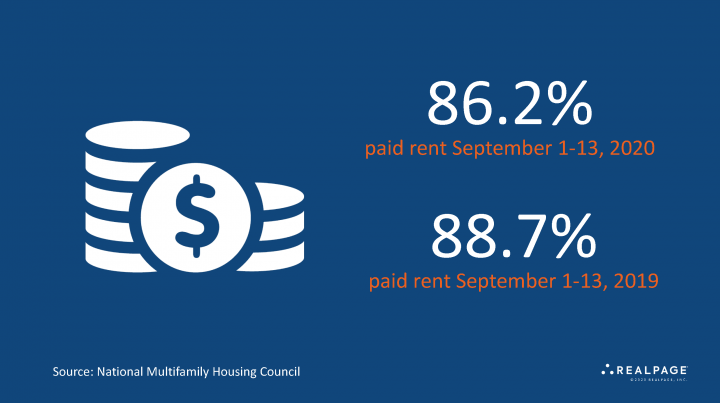 The findings come from the National Multifamily Housing Council's Rent Payment Tracker research, compiling information provided by five technology firms, including RealPage, Inc., for more than 11 million market-rate apartment units.
Declining Occupancy, Rather Than Rent Payments, May Become a Concern
While there's a little deterioration in rent payments from typical levels, the shortfall continues to be small viewed relative to the number of households suffering income interruptions. Furthermore, the September payment figures come as those who have lost jobs are getting limited financial assistance beyond state-level unemployment benefits.
RealPage analysts think that September's rent payment results suggest that most residents of professionally-managed apartments are going to behave in the near term largely as they have in past recessions. Those who can't meet their rent obligations will tend to seek other housing options, moving in with family or friends. Few seem apt to stay in place without making rent payments for an extended period. They don't want to run up sizable debts that would be due once short-term eviction moratoriums expire.
Influencing this pattern of behavior, the resident base of professionally-managed apartments is heavy on young single people. RealPage analysis shows that about half of the households living in professionally-managed market-rate apartments are singles in their 20s or early 30s. Unemployed young singles have a tendency to return to live with parents or to turn to their still employed friends for temporary accommodations.
This pattern of behavior suggests that the key performance vulnerability for professionally-managed apartments over the near term probably isn't missed rent payments. Instead, it's likely to be a decline in occupancy.
National occupancy still is in good shape at 95.7% in the latest RealPage results. However, occupancy has begun to backtrack in some locations, especially the high-priced gateway metros where high rents make it tough for unemployed renters to meet their financial obligations. Digging deeper, occupancy is off the most notably within the most expensive neighborhoods of these gateway metros.
Occupancy is already down 2 to 3 percentage points from year-ago levels in the priciest submarkets across New York, Los Angeles, Chicago, Boston and Miami. In the nation's most extreme performance shift, occupancy is down about 10 percentage points in downtown San Francisco and roughly 6 percentage points in the adjacent SoMa submarket.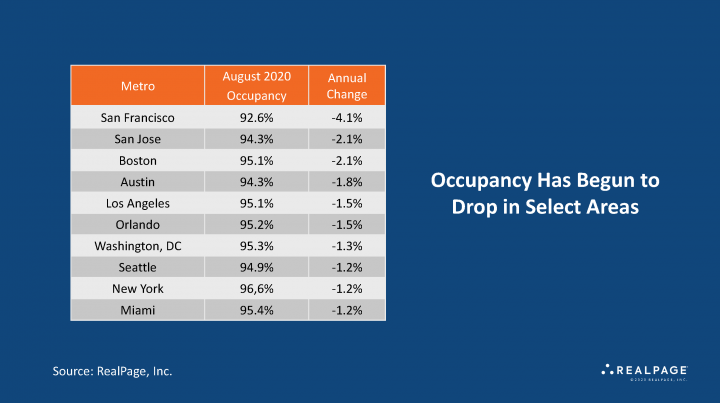 Occupancy loss in these neighborhoods isn't just about households moving to the suburbs or to less expensive metros. It's also about destruction of young adult renter households in these areas.
Previous Patterns Hold in Segmented Rent Payment Results
As has been seen since the COVID pandemic began, rent collections remain better in the upper-end and mid-range apartments than in the lower-tier properties. RealPage stats show mid-September payment rates in at roughly 89% in both the Class A block of product and the Class B inventory. Collection levels are lower at 81.5% in Class C projects.
Big metros where the most payments have been missed continue to include Las Vegas, New York, San Jose, Los Angeles, Seattle and Milwaukee. The share of households current on their rent payments runs 5 to 7 percentage points under year-ago levels in each area.