Apartment Rent Payments at 76.6% in Early January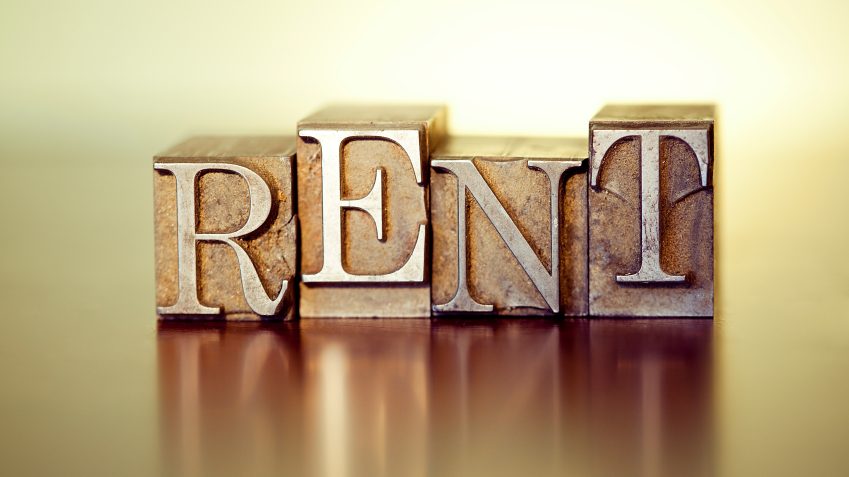 The National Multifamily Housing Council reports that 76.6% of households living in the country's stock of professionally-managed market-rate apartment properties have paid rent for January as of the 6th.
The latest results are off by 1.7 percentage points from the 78.3% share of households making payments through January 6, 2020.
The findings come from the National Multifamily Housing Council's Rent Payment Tracker research, compiling information provided by five technology firms, including RealPage, Inc., for more than 11 million market-rate apartment units.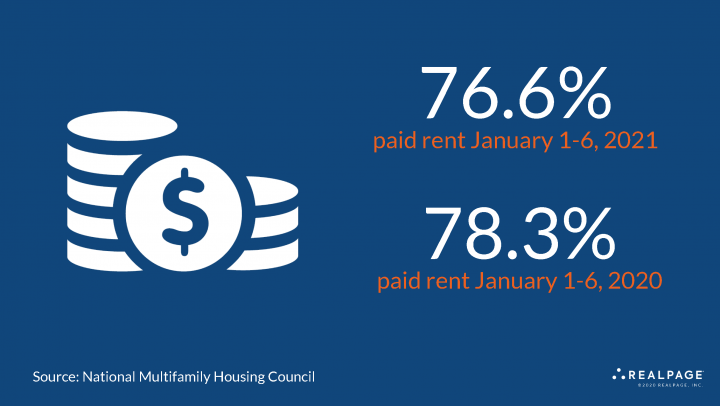 Early January payment results are a little better than the collection levels seen in early December, when the holiday season may have led some households to make adjustments in their spending priorities.
However, RealPage analysts still see a gradual erosion of payment frequency since the government's comparatively generous enhancements to unemployment assistance expired at the end of July. Unemployed renters who have relied on savings to meet their financial obligations during recent months are depleting those reserves.
Moving ahead, the short-term additional household assistance just approved by Congress and President Trump may help the rent collection levels in the immediate future, but it's likely that the need for yet another round of funding will be discussed.
Previous Patterns Hold in Property Class Payments
As has been seen since the COVID-19 pandemic began, rent collections remain better in the upper-end and mid-range apartments than in the lower-tier properties. RealPage stats show payments for January through the 6th at 81.4% in the Class A block of product and 80.4% in the Class B inventory.
Collection levels are lower at 68.7% in Class C projects. It's normal for payment activity in Class C communities to trail by an especially big margin in the initial week of a month. Many renters in these less-expensive apartments pay their bills by check rather than electronically, and there can be delays in processing check payments.
Payments Again Trail in Expensive Metros
Early January rent collections proved especially weak in New Orleans, with the share of households meeting their rent obligations down 16.4 percentage points from the year-earlier level.
Most other metros where payments are lagging by a notable margin are expensive markets where unemployment benefits or other forms of financial assistance won't go far in covering the typical rent bill. Payments are off by roughly 11 percentage points year-over-year in both New York and Seattle, 8.5 points in Portland and 6.7 to 7.7 points across Los Angeles, Boston, San Jose, Baltimore, Anaheim and San Francisco.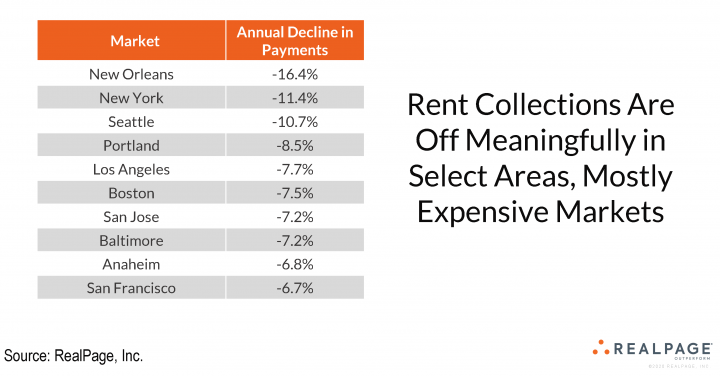 It's worth noting that Massachusetts state law gives renters an unusually long period to make payments before any late fees can be assessed. In turn, payments in metro Boston routinely begin slowly in the initial week of a month.
RealPage's rent payment blog for late December pointed out that we would direct special attention to collections in the Carolinas during January, given December's results pointed to more payment deterioration in Carolinas markets than in the most other Sun Belt locations. There's good news. It now looks like the results for December were a one-month blip in the data. State-level payment results for both North and South Carolina are better than the national norm. The numbers are especially encouraging in Raleigh/Durham and Greensboro/Winston-Salem, where the shares of households paying rent as of early January match the year-earlier levels.