Apartment Rent Payments at 79.8% in Early April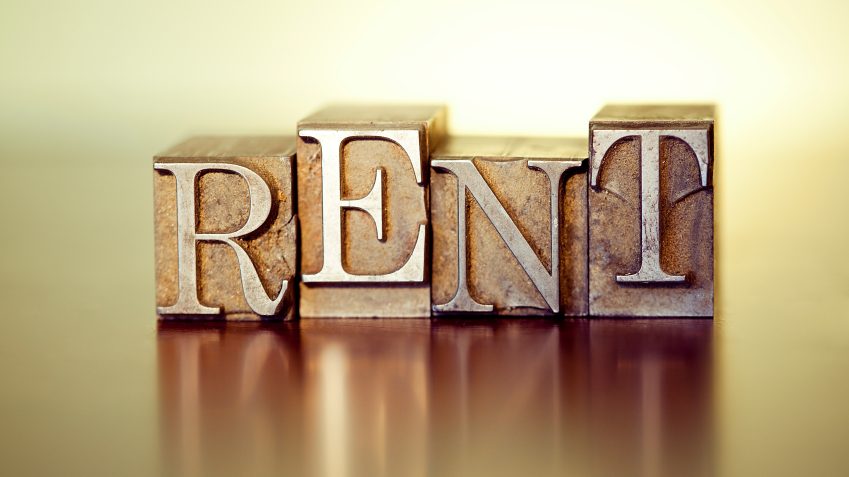 The National Multifamily Housing Council reports that 79.8% of households living in the country's stock of professionally managed market-rate apartment properties have paid rent for April as of the 6th.
The latest results are up by 1.8 percentage points from the 78% share of households making payments through April 6, 2020. However, collections have started off a bit slower in April than a month ago in March, when 80.4% of households paid in the initial week of the month.
The findings come from the National Multifamily Housing Council's Rent Payment Tracker research, compiling information provided by five technology firms, including RealPage, Inc., for more than 11 million market-rate apartment units.
It's not surprising that payments in early April 2021 are running a bit ahead of the early 2020 figures. A year ago, many apartment owners and operators had just shut down property business offices, making payment in person more difficult. Also, while many renters adopted electronic payment methods after the COVID-19 pandemic emerged, some of those payment set-ups were just being put in place in early April 2020.
With employment growth kicking into higher gear over the past couple of months, an increase in households receiving paychecks may mean that fewer missed rent payments lie ahead. Also, some households now have more funds given that stimulus checks approved under American Rescue Plan legislation are beginning to arrive.
Previous Patterns Hold in Property Class Payments
As has been seen since the COVID pandemic began, rent collections remain better in the upper-end and mid-range apartments than in the lower-tier properties. RealPage stats show payments for April through the 6th at 83.4% in the Class A block of product and 82.7% in the Class B inventory.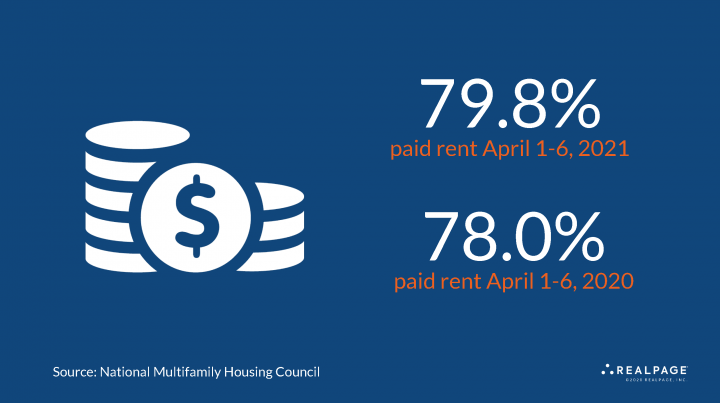 Collection levels are lower at 71% in Class C projects. It's normal for payment activity in Class C communities to trail by an especially big margin in the initial week of a month. Many renters in these less-expensive apartments pay their bills by check, rather than electronic payment, and there can be delays in processing check payments.
Payment Results by Metro Reflect Job Recovery
Rent collections are on the rise in many locations, with the best results generally seen in states where there are fewer restrictions on business operations and more people are headed back to work.
Looking at the 10 individual metros posting the largest share of households meeting their rent obligations so far in April, half of them are Florida markets. Miami, West Palm Beach and Fort Lauderdale grab the first three positions on the list, while Tampa and Orlando also are doing well on collections. Given Florida's hospitality job sector took a beating a year ago, the annual upturn in payments is stunning in these locations.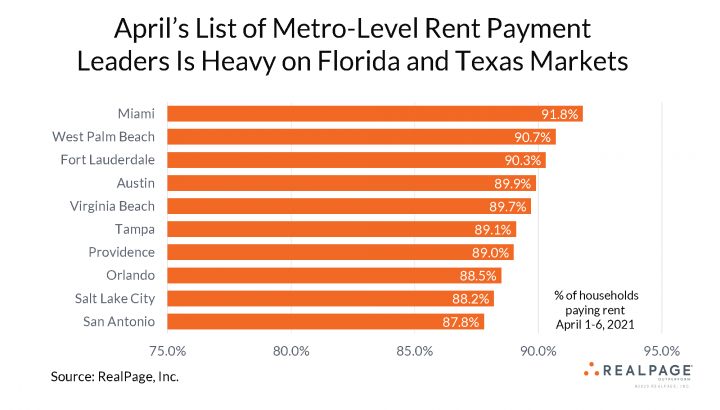 Payments levels also are especially strong in a couple of Texas markets – Austin and San Antonio. Other top performers are Virginia Beach, Providence and Salt Lake City, three metros where collections never really faltered to a significant degree.
The lowest payment rates for April through the 6th are in New Orleans, New York, Seattle, Los Angeles and Las Vegas, all spots where collections have been a struggle for much of the past year. Boston's early April figures also are weak, but collections there tend to always come in comparatively late in the month.