Apartment Rent Payments at 88.6% as of January 20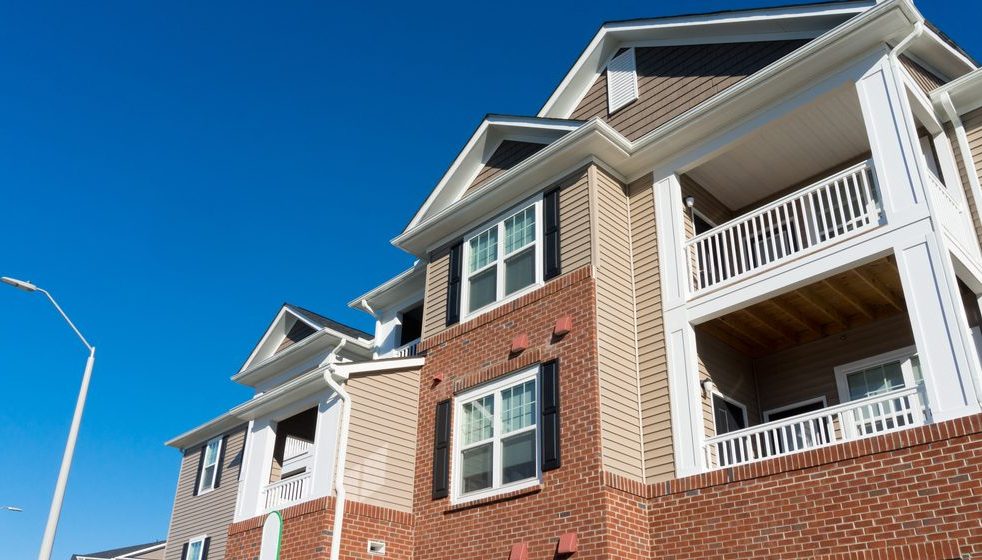 The National Multifamily Housing Council reports that 88.6% of households living in the country's stock of professionally managed market-rate apartment properties have paid rent for January as of the 20th.
The latest results are off by 2.5 percentage points from the 91.1% share of households making payments through January 20, 2020. The year-over-year deterioration in rent collections continues to get gradually more pronounced, after only a small number of households in this data set missed monthly rent payments back when unemployment benefit enhancements were at their most generous in late spring and early summer 2020.
The findings come from the National Multifamily Housing Council's Rent Payment Tracker research, compiling information provided by five technology firms, including RealPage, Inc., for more than 11 million market-rate apartment units.
Some further backtracking in rent collections is certainly a possibility over the near term, now that accelerating spread of COVID-19 is triggering additional net job cuts for the first time since April. Even as we begin to again shore up the value of unemployment benefits provided to the country's jobless households, the absolute number of households facing difficulties is again on the rise.
 Previous Patterns Hold in Property Class Payments
As has been seen since the COVID pandemic began, rent collections remain better in the upper-end and mid-range apartments than in the lower-tier properties. RealPage stats show January payments through the 20th at 90.6% in the Class A block of product and an essentially identical rate of 90.5% in the Class B inventory.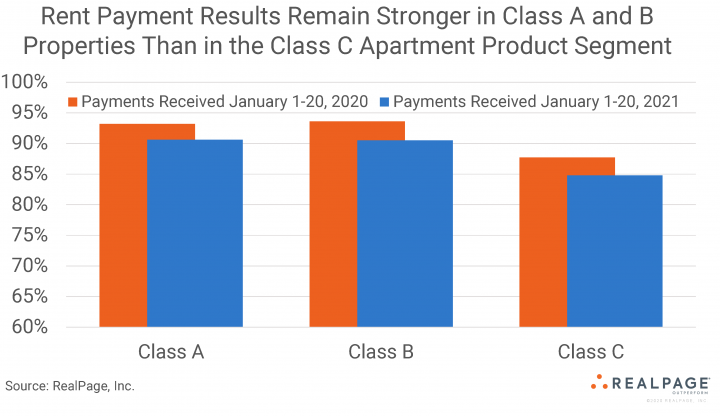 Collection levels are lower at 84.8% in Class C projects, where a larger share of the residents live paycheck to paycheck.
A Variety of Metros Register Some Payment Distress
RealPage payment results by metro show that collections are off most notably in the Pacific Northwest. The share of households up to date on their rent obligations is down by 8.4 percentage points from the year-ago level in Portland and by 6.3 percentage points in Seattle.
Other locations where there's a year-over-year decline of at least 4 percentage points in the share of households making their rent payments include Charlotte, Milwaukee, Las Vegas, Kansas City, Indianapolis, San Francisco, Riverside and San Jose.
The list of markets exhibiting some payment difficulties is comparatively more diverse than it has tended to be in previous months, when the areas registering considerable blocks of missed rent payments were very heavy on expensive coastal cities. During December, it took longer than typical for rent collections to come in across some Sun Belt and Midwest markets, but most of that rent was captured by the end of the month. It remains to be seen whether that same late catch-up in payments will occur in January.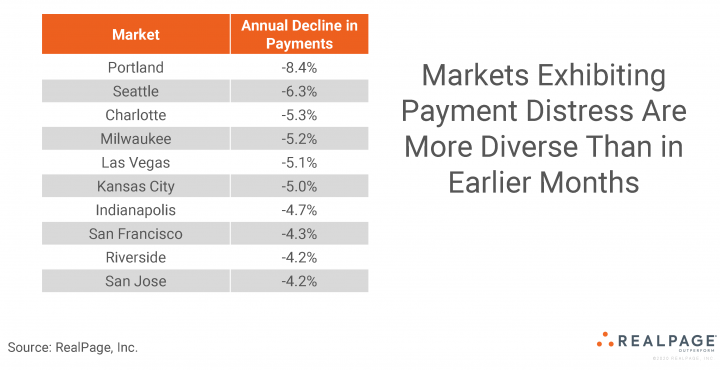 In two metro-specific results worth highlighting, the share of households making rent payments as of the 20th was off by 3.6 percentage points year-over-year in Los Angeles and by 3.1 percentage points in New York. While those are meaningful misses, this is the first time in quite a while that Los Angeles and New York haven't been in the bottom tier of markets in terms of rent collection deterioration.