Apartment Rent Payments at 80% in Early May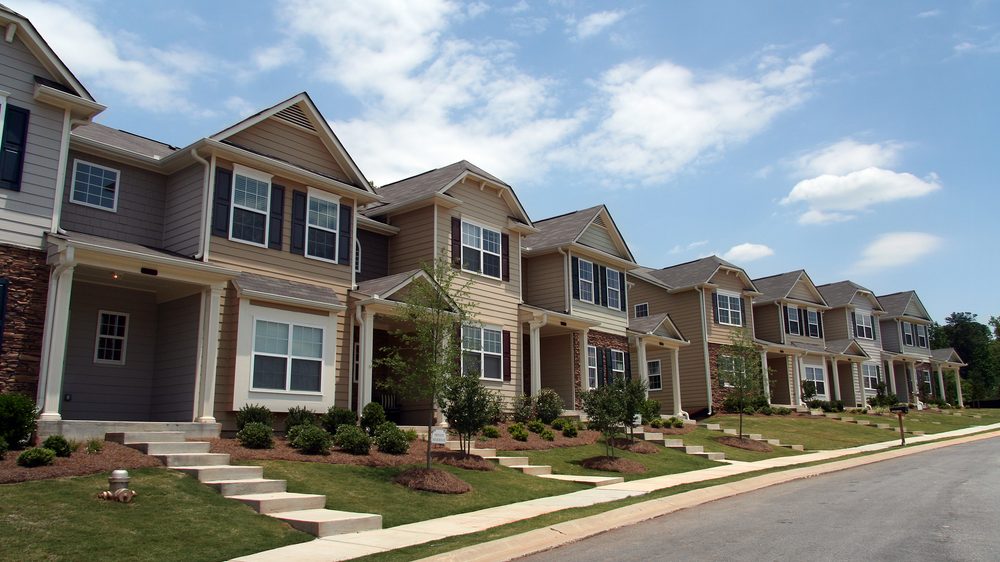 The National Multifamily Housing Council reports that 80% of households living in the country's stock of professionally managed market-rate apartment properties have paid rent for May as of the 6th.
The latest results essentially match the 80.2% share of households making payments through May 6, 2020. Collections this month also have started about in line with the rate that was seen last month, when 79.8% of households paid in the initial week of April 2021.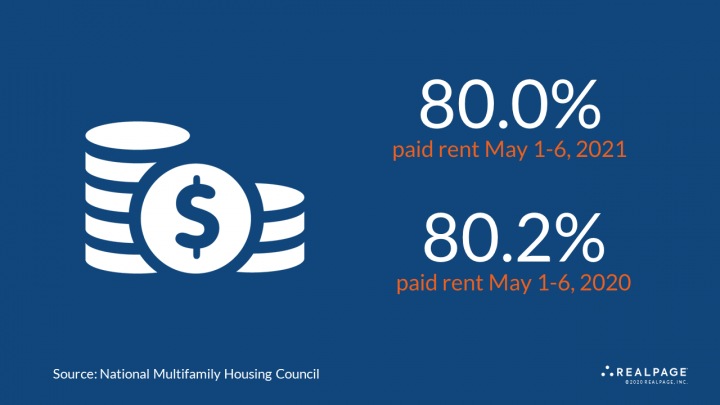 The findings come from the National Multifamily Housing Council's Rent Payment Tracker research, compiling information provided by five technology firms, including RealPage, Inc., for more than 11 million market-rate apartment units.
Rent payment rates now have stabilized for the most part. There's a block of households who have taken a big hit from COVID-19 directly or from its impact on segments of the economy, and those households continue to struggle to pay for housing. However, we appear to be past the point where the hole is likely to get any bigger.
Despite the generally disappointing jobs report for last month, more workers are now earning paychecks, especially those working in employment sectors like hospitality, which had suffered earlier downsizing. Also, stimulus payments and other government benefits have helped the financial status of many households.
Previous Patterns Hold in Property Class Payments
As has been seen since the COVID-19 pandemic began, rent collections remain better in the upper-end and mid-range apartments than in the lower-tier properties. RealPage stats show payments for May through the 6th at 84.5% in the Class A block of product and 83.2% in the Class B inventory.
Collection levels are lower at 73.2% in Class C projects. It's normal for payment activity in Class C communities to trail by an especially big margin in the initial week of a month. Many renters in these less-expensive apartments pay their bills by check, rather than electronic payment, and there can be delays in processing check payments.
Payment Results by Metro Reflect Job Recovery
Rent collections are on the rise in many locations, with the best results generally seen in states where there are fewer restrictions on business operations and more people are headed back to work.
Looking at the 10 individual metros posting the largest share of households meeting their rent obligations so far in May, half of them are Florida markets. Miami, Fort Lauderdale, Tampa and West Palm Beach grab four of the top five positions on the list, while Orlando also makes the cut for the leaderboard.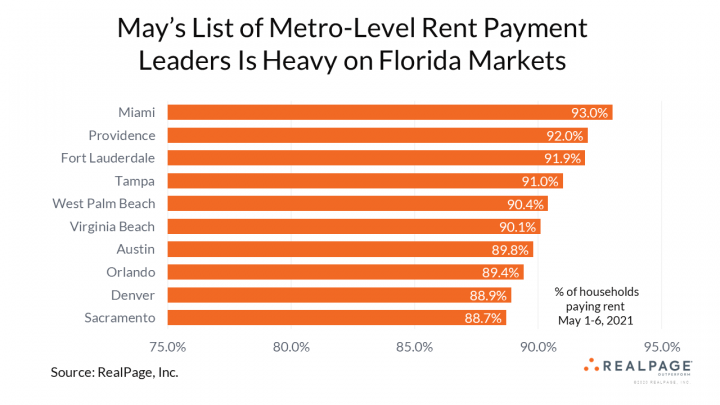 Payments levels also are healthy in Texas. While Austin is the state's only top 10 rent payment market, collections run only a hair below that level across Dallas, Fort Worth, San Antonio and Houston.
Among the metros tracked individually, New Orleans has the lowest rent payment rate for the initial week of May, with 78.2% of households up to date on their rent obligations. Early May payment levels also are sluggish in Seattle, Baltimore and Milwaukee. Boston's early May figures likewise are weak, but collections there tend to always come in comparatively later in the month.