Has Apartment Rent Payment Deterioration Moved Past Bottom?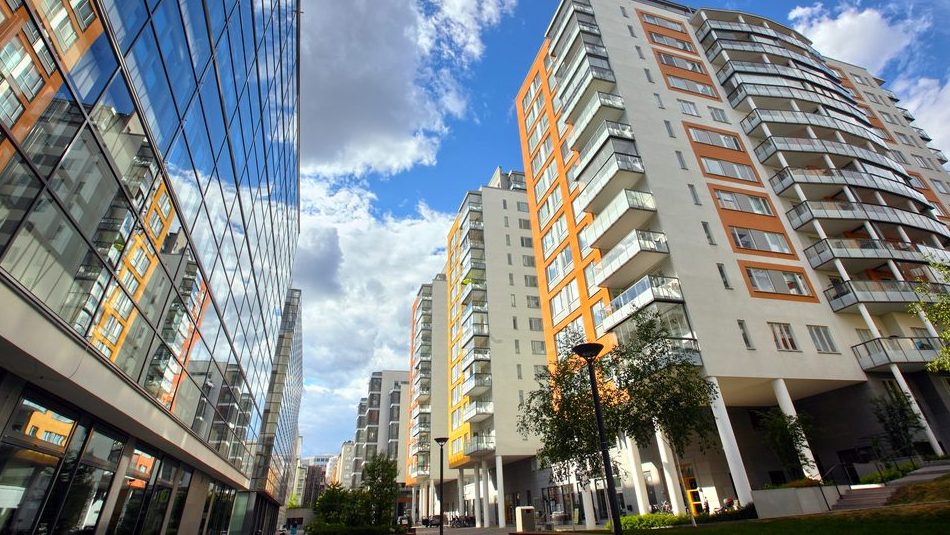 While U.S. apartment rent collections did not get off to a great start in March, payment levels achieved by the end of the month proved encouraging.
Among properties where RealPage property management software is used, the share of households paying rent in March climbed 2.6 percentage points from the February result. That month-to-month improvement still left March 2021's payment level 1.5 percentage points off the March 2020 figure, but the earlier pattern of deepening annual deterioration in collections has been reversed.
Fewer individual metros register notable annual declines in payments, and even the worst performances tend to be a little better than the collection levels posted in the previous few months.
Influencing this shift in momentum, funds provided by the Biden Administration's American Rescue Plan are putting some money in the hands of households facing financial struggles. Also, job production is beginning to pick up again, according to the latest data from the Bureau of Labor Statistics. Stated simply, more workers are receiving paychecks.
The next set of Rent Payment Tracker data from the National Multifamily Housing Council, which combines information from five technology firms that include RealPage, will be published on April 8.
Previous Patterns Hold in Property Class Payments
As has been seen since the COVID-19 pandemic began, rent collections remain better in the upper-end and mid-range apartments than in the lower-tier properties. RealPage stats show payments for March through the 27th at 95.2% in the Class B block of product and 94.9% in the Class A inventory.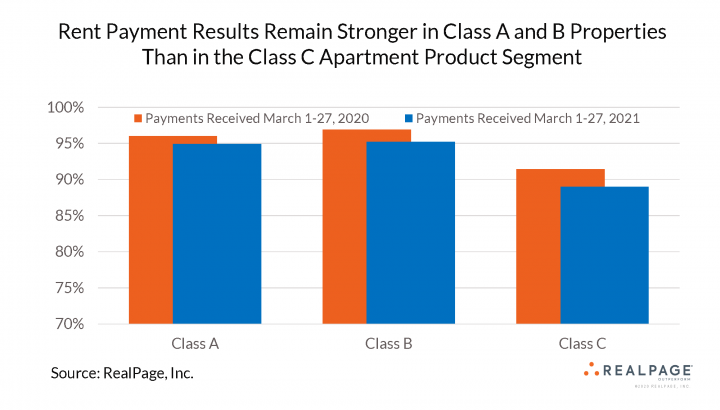 Collection levels are lower at 89% in Class C projects. Renters in the Class C stock generally live paycheck to paycheck, lacking resources to rely on when employment is interrupted.
A Few Spots Register Meaningful Challenges
Portland and Seattle register the country's biggest annual decline in collections for March, as the share of households paying rent is 5.9 percentage points under the year-ago results. Even in these two markets, however, some improvement in payment levels has occurred over the past month. Annual deterioration was at roughly 7 to 8 percentage points in Portland and Seattle during February.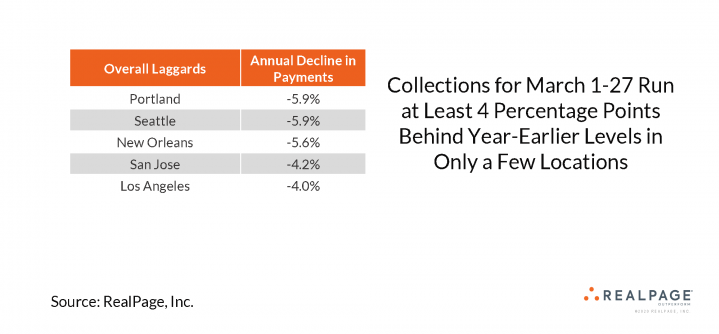 Other metros with year-over-year payment declines of 4 percentage points or more are New Orleans (-5.6 points), San Jose (-4.2 points) and Los Angeles (-4 points).
Payments in March actually top year-earlier levels in some metros, with the biggest upturns registering in Columbus, Tampa, Fort Lauderdale, Phoenix and West Palm Beach.