Apartment Rent Movement Varies Drastically Across Metros in August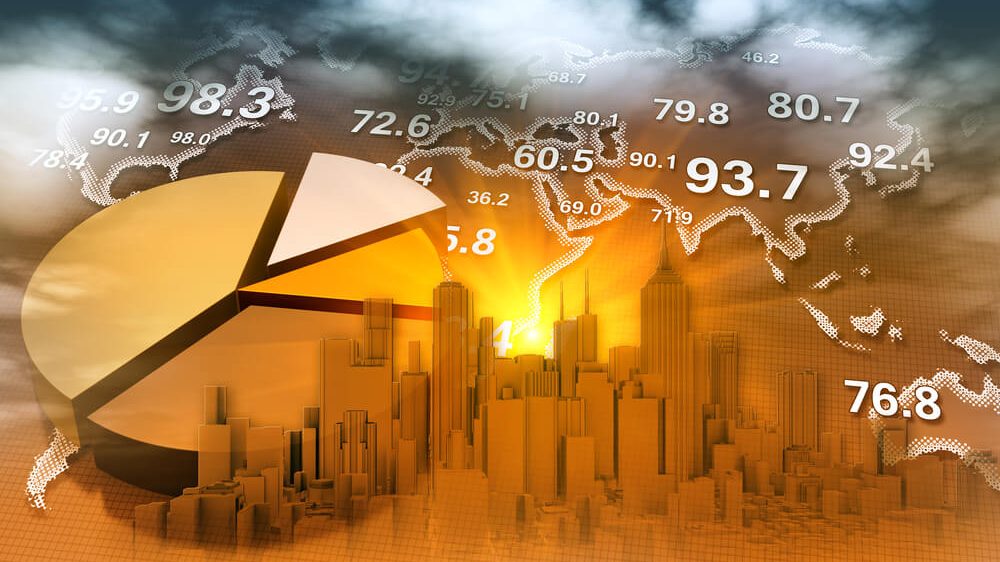 The country's average apartment rents are slipping a little. For the country as a whole, effective asking rents as of August are off 1.4% from the pricing seen a year earlier. Typical monthly rent now stands at $1,420.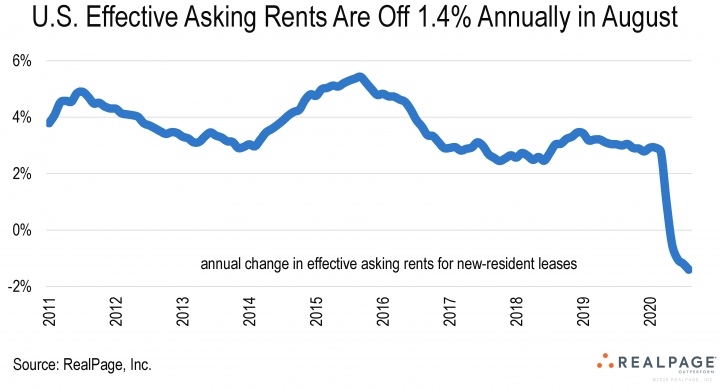 The bigger-picture story is how much performances vary from one location to another. Looking specifically at the nation's 50 biggest markets, significant rent declines register in 21 locations, while prices are basically stable in 10 markets and meaningful upturns are occurring in 19 spots.
Gateway Metros Are Struggling
Markets suffering big price cuts tend to be the coastal Gateway locations. In the worst performances, asking effective rents are down 12.7% in San Francisco, 11.4% in San Jose and 10.1% in New York. Declines in the 5% to 6% range occur in Boston and Los Angeles.
The key characteristic shared by these locations is that they are among the nation's most expensive living environments. The relationship between where people live and where they work now isn't as strong as it was before so many began working from home. That shift encourages households to opt for more affordable accommodations, pushing those in the nation's most expensive downtown locations toward the suburbs or to other areas of the country offering lower costs.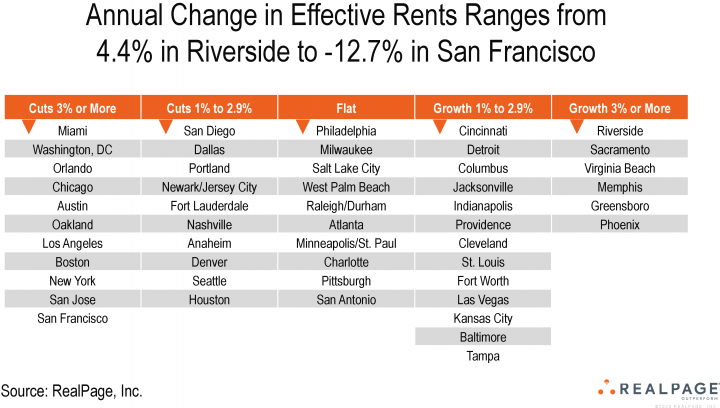 Looking beyond Gateway markets, more modest rent cuts are seen in areas where sizable numbers of new properties moving through initial lease-up are encouraging discounts at top-tier developments. Key examples include most of the Texas markets plus locations like Nashville, Denver and Seattle.
Traditionally Sluggish Performers Now Top the Charts
Markets posting the best growth in effective asking rents are heavy on areas that tend to rank among the slow and steady performers. They're comparatively affordable. Their economies are light on the hospitality sector, which has suffered notable downsizing. And most don't have significant blocks of new supply just coming on stream.
Riverside/San Bernardino is in the best shape, with effective asking rents up 4.4% annually. Pricing is up 3.7% in Sacramento, 3.4% in both Memphis and Virginia Beach and 3.2% in Greensboro/Winston-Salem.
Occupancy Remains in Good Shape
Apartment demand proved solid in August, even exceeding the levels seen a year earlier in most places.
That encouraging monthly demand allowed occupancy to bump up 30 basis points (bps) from the July reading, reaching 95.7%. While August occupancy is down 60 bps from the year-earlier figure, occupancy approached all-time highs throughout 2019.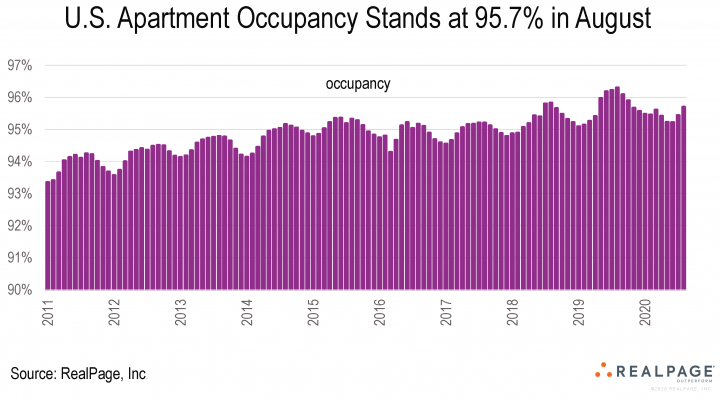 In contrast to that solid occupancy performance posted on the national level, the Gateway metros are struggling in this key measure too. San Francisco occupancy has dropped 410 bps since August 2019, and the resulting rate of 92.6% is the lowest across the country's 50 biggest metros. Annual occupancy declines reach 230 bps (to 94.3%) in San Jose, 210 bps (to 95.1%) in Boston, 150 bps (to 95.1%) in Los Angeles and 120 bps (to 96.6%) in New York.