Apartment Rent Growth Surges in Tucson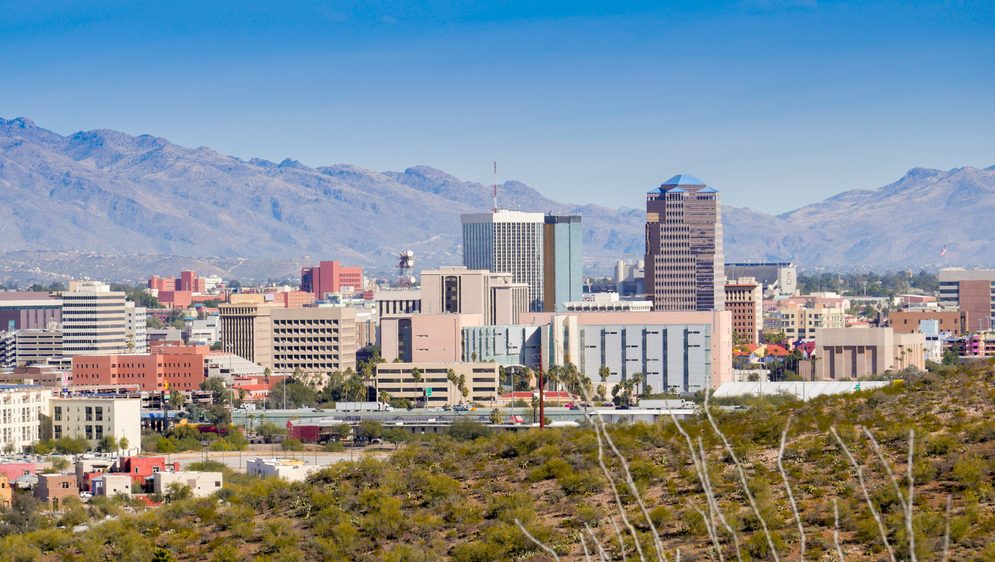 Tucson is one of the nation's top rent growth performers, with price increases that more than double the national average.
Apartment rents in Tucson have been growing quickly over the last two years. In 2018, prices were up 7%, more than twice the national norm of 3.3%. Among the nation's secondary markets, Midland/Odessa, TX (21.3%), Gainesville, FL (7.9%), Eugene, OR (7.6%) and Reno, NV (7.3%) saw the most rent growth in 2018, followed closely by Tucson. Nearby Phoenix tied Las Vegas as the nation's rent growth leader among the largest 50 markets, with a 7.4% increase in 2018.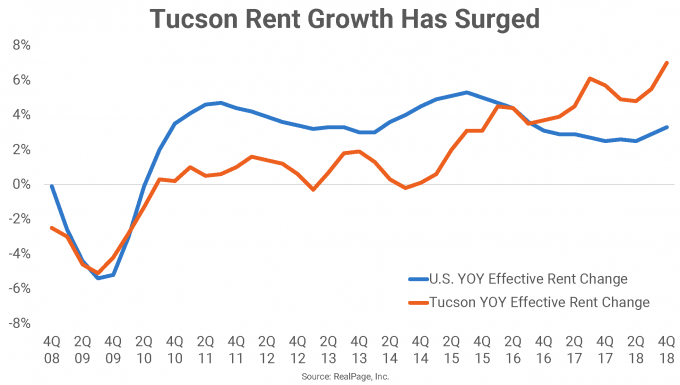 Traditionally, Tucson rent growth trails the national average. It wasn't until the final quarter of 2016 that annual price increases here started registering ahead of the U.S. norm. After that, as the national average hovered close to the 3% threshold, rent growth in Tucson quickly gained upward momentum.
While all of Tucson's product lines saw upward momentum in prices recently, rents in the Class A units are growing faster than prices in their Class B and C counterparts. The more expensive Class A stock logged rent growth of 8.7% in 2018, while price hikes were at 7% in the Class B product. Rent growth was quite a bit lower at 4.9% in the Class C units, which have proven to be relatively stagnant for the last few years.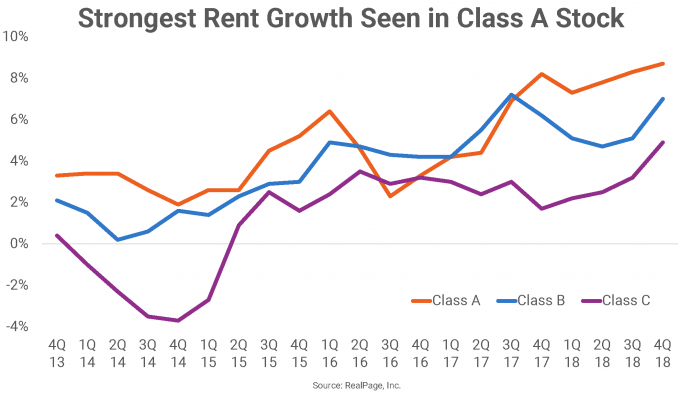 Class A outperformance in Tucson bucks the national trend, as many markets are seeing performance of luxury product lag that of middle- and lower-tier units. But Tucson hasn't seen the ramp-up in new supply levels that many other markets have. In fact, deliveries in Tucson have remained below 800 units on an annual basis since 1st quarter 2017, and inventory expansion has come in below 1% over that time.
By submarket, the Casas Adobes/Oro Valley area is Tucson's all-star rent growth performer, with a price increase of 8.4% in 2018. Southeast Tucson also saw notable progress recently, as year-over-year price hikes went from 4.9% in 3rd quarter 2018 to 8.2% in 4th quarter 2018. Even Central Tucson/University, which is the market's laggard at 4% rent growth, is still easily outpacing the national average.
Helping foster rent increases, Tucson job growth is at a 13-year high. A textbook late-recovery market, Tucson climbed slowly out of the recession and didn't stop losing jobs until fall 2011. After that, job growth was slow and steady, hovering around the 1% mark through 2016. Job growth in Tucson topped the 2% mark for the first time this cycle in 1st quarter 2017 and ended 2018 with expansion at 3.1%, with the addition of 12,000 jobs. The last time employment growth was this strong was back in late 2006, when additions topped 13,000 jobs. Many employment sectors – particularly Professional and Business Services and Education and Health Services – are seeing job gains.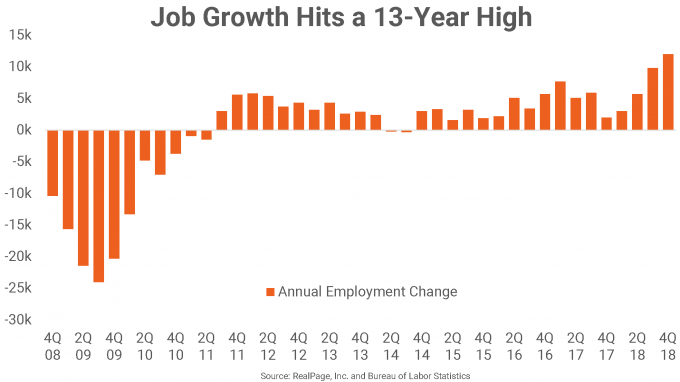 All that job growth in Tucson is creating demand, which has consistently outpaced supply since 2015. While that supply/demand relationship inverted when developers were completing more units than renters were leasing in the first half of 2018, that imbalance proved mild and short lived as demand picked up in the 3rd and 4th quarters.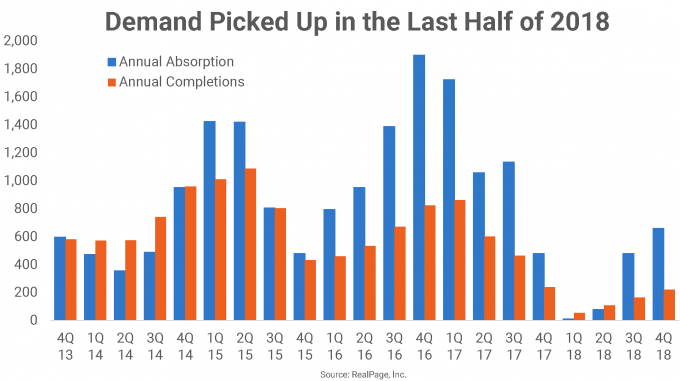 Looking ahead, Tucson should see about the same level of supply in 2019 as what was delivered in 2018 – just over 200 units. Virtually all those apartments are coming online in Catalina Foothills, with a few units scheduled for Casa Adobes/Oro Valley. The healthy supply and demand relationship that Tucson saw in the latter half of 2018 should continue into the first couple quarters of 2019, as demand is expected to remain solid.