Apartment Performance Ramps Up Across North Carolina and Tennessee Markets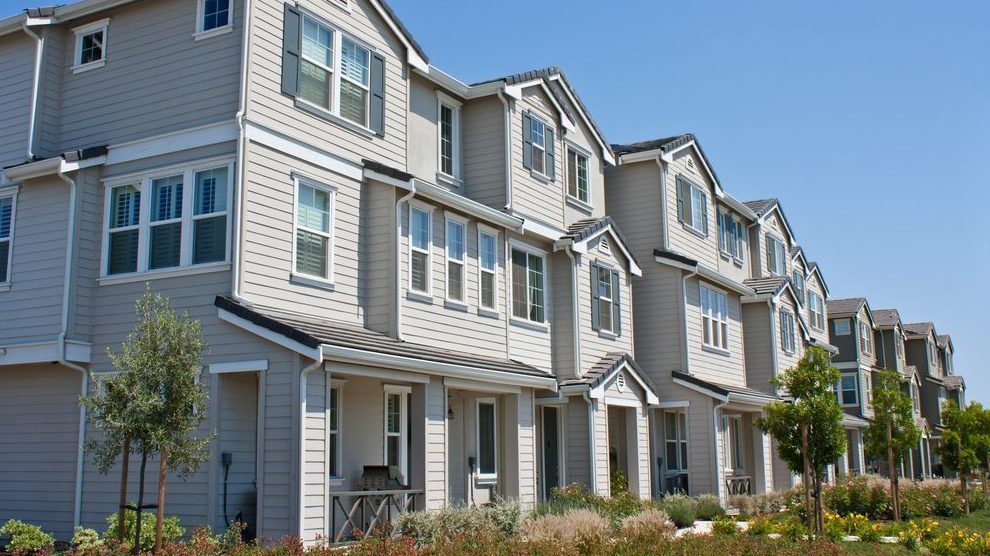 The largest apartment markets in Tennessee and North Carolina have progressed notably in the past year, with performances fueled by sizable employment growth and slowing supply.
Rent performances have accelerated an average of 207 basis points (bps) across the five major markets in these neighboring states. Increases were strong enough to place most markets in the nation's top 10 for annual rent growth in 3rd quarter 2019. Only Memphis missed out.
Rents were up 5.3% in both Raleigh/Durham and Greensboro/Winston Salem, which tied for the #3 performance nationwide. Among the largest 50 U.S. markets, better rent growth rates were seen only in Phoenix (8.2%) and Las Vegas (7.5%).
Two other Tennessee and North Carolina markets made the top 10 leader board for year-over-year rent change. Nashville logged price increases of 4.8%, while Charlotte tied with Austin in the #6 spot, with rent growth of 4.7%.
Though Memphis missed out on the top 10, it wasn't far out. Memphis tied with the 3.9% showing in Cincinnati at #12 nationwide.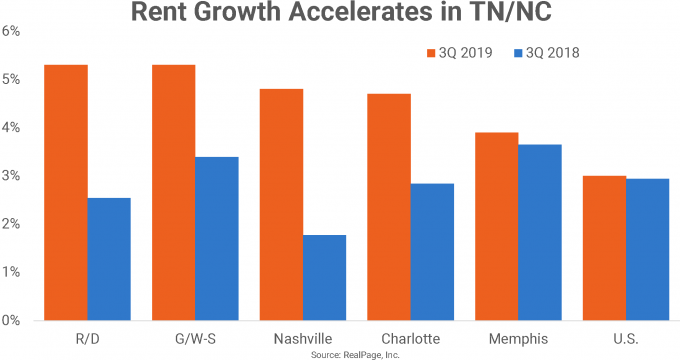 The most acceleration was seen in Nashville, where annual rent growth climbed 306 bps year-over-year. Raleigh/Durham's 271 bps increase was the second highest, followed by the increases of 188 bps in Greensboro/Winston-Salem and 185 bps in Charlotte. Memphis logged the smallest increase of 26 bps.
Nashville and Raleigh/Durham also ranked #1 and #2, respectively, for rent growth acceleration nationally.
Alongside rent growth, occupancy in these Tennessee and North Carolina also jumped over the past year.
Greensboro/Winston-Salem recorded the most progress out of all the nation's top 50 apartment markets, with occupancy climbing 140 bps in the year-ending 3rd quarter. Nashville tied with Cleveland and San Antonio for the #5 ranking, with occupancy up 90 bps since fall 2018.
Memphis tied for the #9 spot with 70 bps of occupancy improvement, along with five other markets: Austin, New York, Phoenix, West Palm Beach and Washington, DC.
Raleigh/Durham and Charlotte logged occupancy increases closer to the U.S. norm, at 60 bps and 50 bps, respectively.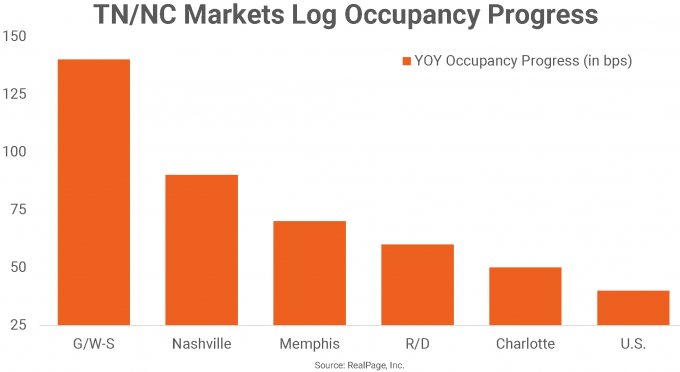 Performances across these markets were bolstered by robust job growth that has driven apartment demand. While not all Tennessee and North Carolina markets have seen notable employment increases in the past year, most have logged considerable employment expansion during the current economic cycle. In fact, Nashville and Charlotte have been job growth leaders during the cycle, with the employment base in both markets swelling between 30% and 35% since the beginning of 2010, according to data from the Bureau of Labor Statistics. Raleigh/Durham has grown its employment base by nearly a quarter (24.8%).
Nashville's job market remains solid, after one of the most prosperous employment expansions in its history. Bolstering demand for the luxury product, the higher-paying Professional and Business Services job sector has swelled by 72.6% in Nashville during the current cycle – one of the most significant upturns in the nation in this employment segment. Only Austin grew it's Professional and Business Services sector more significantly in the past nine years.
Professional and Business Service jobs have also grown notably in Charlotte and Raleigh/Durham at 52.8% and 41.7% growth, respectively.
The late-recovery markets of Memphis and Greensboro/Winston-Salem experienced significant upturns in job growth recently. Annual additions in both markets hit two-year highs in 3rd quarter.
But job growth is only part of what's benefiting performances of late. These high-demand markets of Charlotte, Nashville and Raleigh/Durham have boasted strong structural drivers through much of this cycle, but elevated supply levels has tamped down apartment performance in recent years. New supply volumes in each market have come down a bit recently.
Having generally weaker demand drivers than there in-state counterparts, Memphis and Greensboro/Winston-Salem haven't seen the same levels of new supply as Charlotte, Nashville and Raleigh/Durham have. Still, completions are at or below the already modest levels a year ago in both late-recovery markets.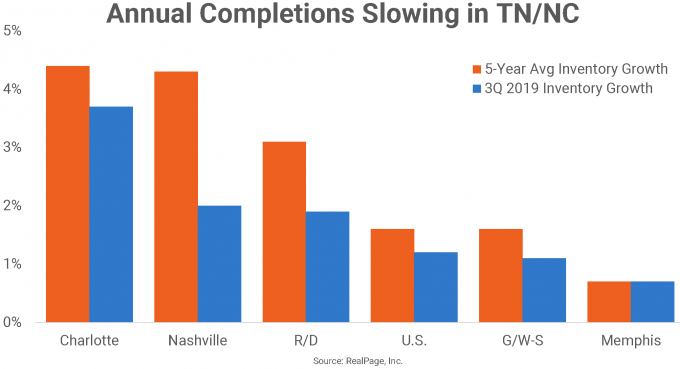 Charlotte saw the nation's biggest inventory increase in the past year, with an upturn of 3.7%, but that hike was a bit behind the five-year norm of 4.4%. Delivery volumes in Charlotte peaked in early 2018 with over 8,900 units delivered, but supply has now come down to annual tally of about 6,800 units. Permits in Charlotte hit a 30-year peak in 2018, so more is set to come for Charlotte, but right now, activity has eased a bit before the next big wave comes through.
Nashville tied with Phoenix for the nation's #10 inventory increase in the past year, with additions swelling the existing base here by 2%. However, Nashville has also seen the Tennessee-North Carolina area's steepest decline in delivered units from its recent pace. While completions here remain elevated compared to long-term historical standards, especially in the market's urban core, the inventory base in Nashville increased by 2% in the year-ending 3rd quarter, which was less than half the market's five-year average of 4.3%.
Raleigh/Durham has been an active construction area since 2013 and still ranks in the #11 national spot, with an inventory increase of 1.9% in the past year. However, delivery volumes have come down a bit, and are now well below the 3.1% average from the past five years.
In the coming five years, Nashville and Charlotte are expected to experience the strongest fundamentals. Occupancy across all the Tennessee/North Carolina markets is expected to ease marginally by mid-2024, though rates should to remain solid. Occupancy is projected fall to around 95.5% in Nashville and Charlotte – still the tightest in the region.
Rent growth is forecasted to slow by 2021 for all these markets, but should begin to recover by mid-2024. With forecasted rent growth hovering between 3% and 4%, Nashville and Charlotte will claim the best performances by the end of the five-year forecast. Greensboro/Winston-Salem will be the laggard for this trend, with annual rent growth easing to a modest 1.8% by mid-2024.