After Strong 2018, Performance Across Florida's Major Markets Slows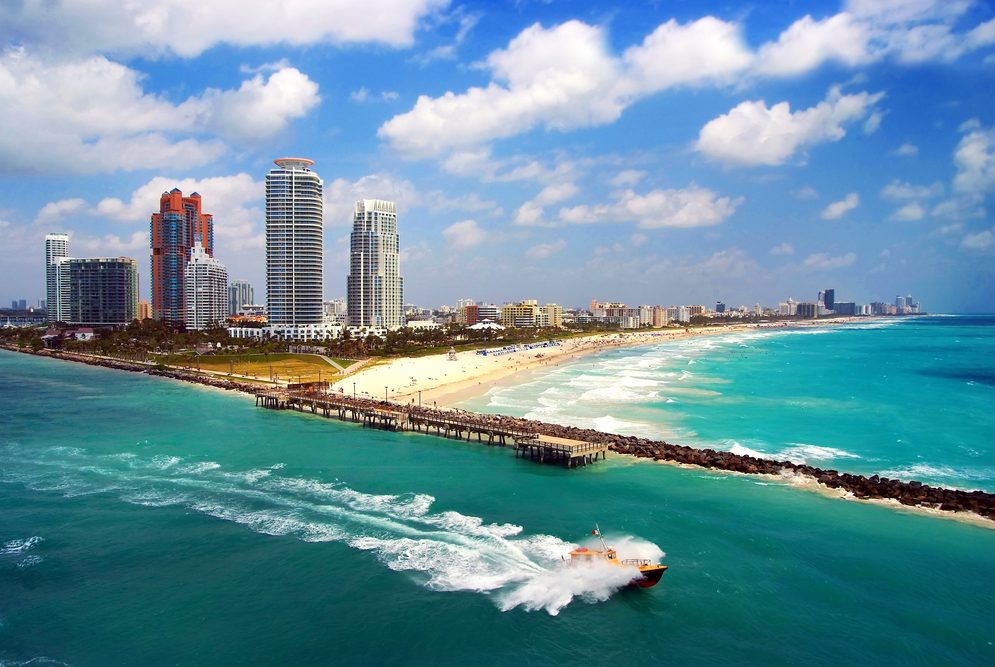 Thus far in 2019, five of Florida's six major apartment markets have seen softening rent growth performances.
As of 3rd quarter 2019, West Palm Beach was the only major Florida market still breaking the 3% national average, with annual rent growth at 3.4%. That was up 100 basis points (bps) year-over-year.  Reporting performances below the U.S. norm were Fort Lauderdale (2.3%), Jacksonville (2.6%), Miami (2.1%), Orlando (2.7%) and Tampa (2.6%).
And in Jacksonville, Orlando and Tampa, annual rent growth dipped to five-year lows in 3rd quarter 2019. Meanwhile, operators in Fort Lauderdale and Miami raised rents a bit behind the price increases seen a year ago, but the performances there were still stronger than the recent lows those markets hit toward the end of 2017.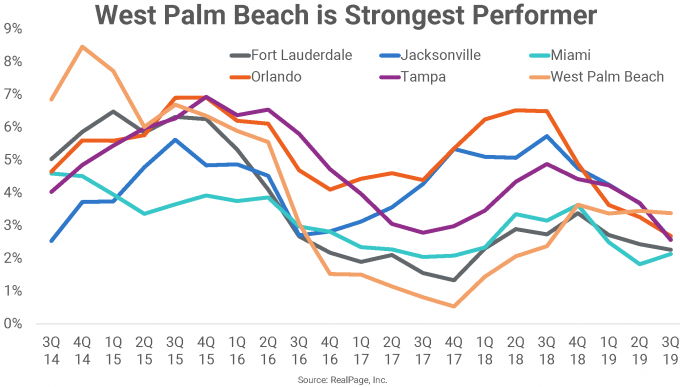 Across these six markets, annual rent growth slowed to an average of 2.5% in 3rd quarter 2019, down from 4.3% a year ago.
Rent growth softening has been most pronounced in Class A and Class B product, particularly in Orlando, Fort Lauderdale, Tampa, Jacksonville and Miami.
In Orlando, where the existing base has swelled by a substantial 21% in the current economic cycle, rent growth in the luxury stock is growing at its slowest rate in nine years. Class B units are in the same shape, with annual price increases reaching a nine-year low. Class C rent growth, on the other hand, had been averaging a predictable 2.5% for nearly four years until growth spiked in the second half of 2018. Orlando's Class C rent growth has topped 5% in the last four quarters and stands at a whopping 6.7% in 3rd quarter 2019.
In Miami, Class A and Class B rent growth have also slid, though increases in luxury product are stronger than they are in middle-market apartments. Meanwhile, Miami's Class C prices have been steadily climbing.
In every major Florida market except West Palm Beach, Class C rents are now growing faster than the price hikes in Class A and Class B counterparts. In West Palm Beach, asset class performance was tightly clustered, as all classes were performing at around 3.4% annual rent growth.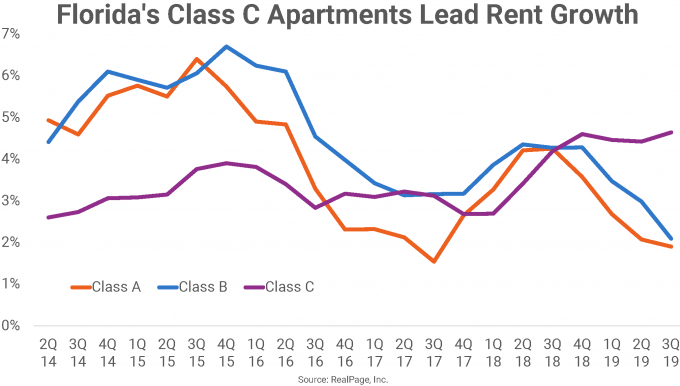 Much of the slowing momentum can attributed to the aftereffects of Hurricane Irma dissipating. Hurricane Irma made landfall in southwest Florida in September 2017 and traveled northward through the state. Most major metros were affected by the storm, and each major market experienced a performance boost and subsequent let down which typically follow natural disasters.
Apartment demand accelerated across these major Florida markets in the year after Hurricane Irma, only to drop off beginning in late 2018. Demand in the state is now reaching an equilibrium that appears to align with average levels from 2014 to 2016.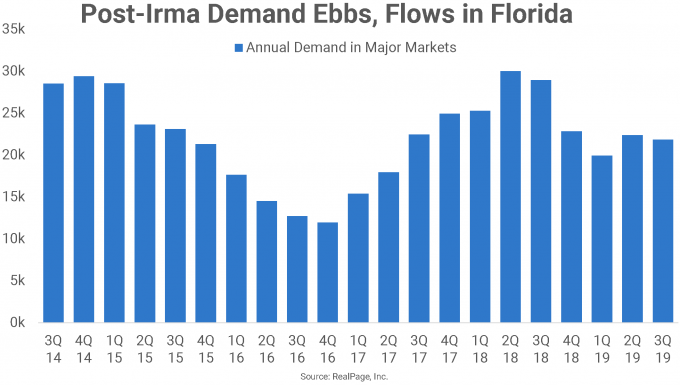 Driving this demand, job creation has been consistently solid across Florida's major markets. In South Florida, which includes Miami, Fort Lauderdale and West Palm Beach, employment isn't hitting the highs it saw in 2016, but job creation is healthy. In the year-ending 3rd quarter 2019, South Florida created 38,600 jobs, growing total employment by about 1.5%.
In Orlando, job growth has softened to its lowest point in two years, with an annual increase of 38,200 jobs, or 3% growth, as of 3rd quarter 2019. Even with the slowdown, however, this was still one of the healthiest job growth rates in the nation.
After three quarters of minimal employment expansion in Jacksonville, job growth cleared the 2% threshold in the year-ending 3rd quarter. With an average of about 18,600 jobs added annually for the last three years, the economy has remained sturdy, even with the smaller increases.
Apartment construction is ramping up across the state of Florida. In fact, except for Orlando, every major Florida market has more units under construction today than it did a year ago. Additionally, every major Florida market, including Orlando, will see more new inventory delivered in the next four quarters than it saw in the previous four. In Miami specifically, roughly 8,100 new units are scheduled for delivery in the next 12 months, compared to 4,700 units in the previous year.