U.S. Apartment Occupancy Tightens in February, Rent Growth Remains Solid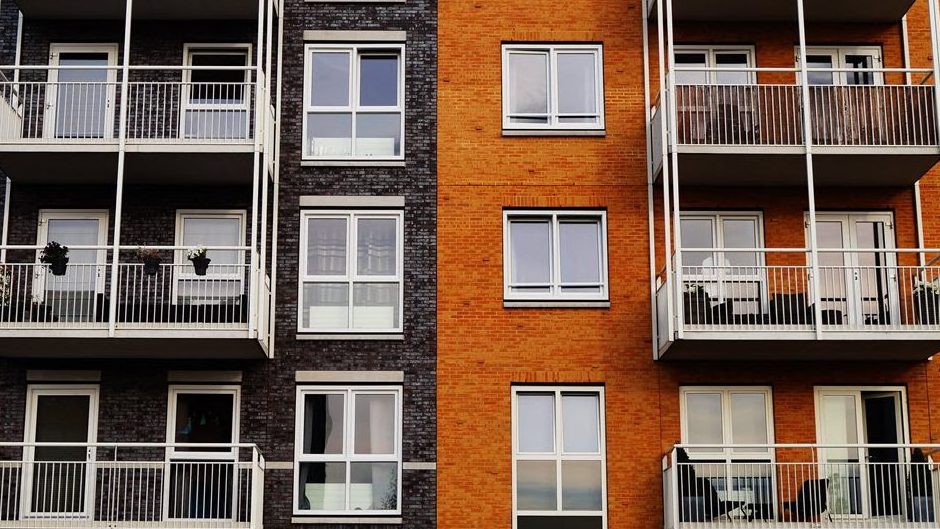 Rent growth across the U.S. remained strong in February, while occupancy ticked up for the first time since last year's peak leasing season.
Annual rent growth across the 150 largest apartment markets landed at 3.2% in February, up from the 2.7% rate seen 12 months earlier. Annual increases have remained above 3% in each of the past seven months after landing below that mark for 13 consecutive months.
Across the nation, average apartment rents stood at $1,362.
Occupancy is now moving upward after falling for five straight months. Occupancy finally ticked up 10 basis points (bps) in February as the nation neared the end of its seasonally slow leasing season. That one-month increase was enough to make the subsequent rate of 95.2% the strongest February occupancy showing on record in the current economic cycle.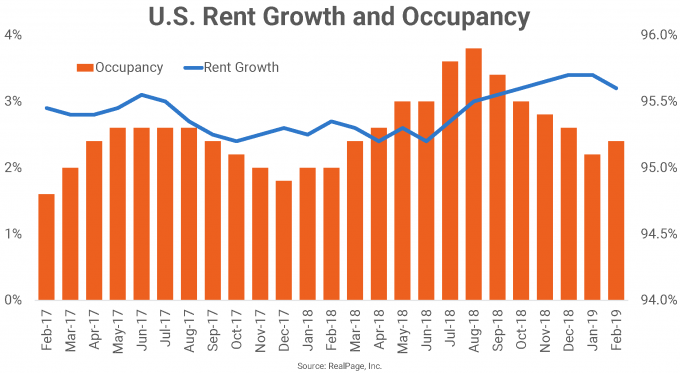 All but the South region saw occupancy increase 10 bps month-over-month. Occupancy held steady at 94.4% in the South, the lowest rate among the four regions. The Northeast continues to see the highest occupancy rate, at 96.1% in February.
Meanwhile, the West continues to post the strongest rent growth, with a 3.6% annual increase in February. The remaining three regions posted growth closer to 3%.
As has been the case for several months, Phoenix and Las Vegas have been playing a game of leapfrog to take the top spot nationally for annual price increases. As of February, both markets recorded annual rent growth of 8.1%. Austin continued its comeback from negative rent change in late 2017 and early 2018 to stand at 4.9% growth in the year-ending February 2019. Some relative newcomers to the rent growth leaderboard include Providence, Charlotte and Tampa, which all tied with Salt Lake City to take the #9 spot with price hikes of 4.2%.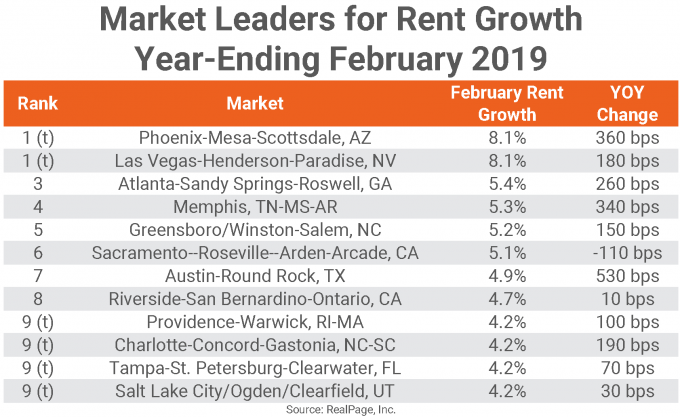 Besides Houston, which managed to retain barely positive rent growth at a mere 0.1%, all major U.S. markets stood at or above 1.6% annual rent growth in February.
In addition to Austin, markets with the most significant improvement in performance from February 2018 to February 2018 included Phoenix (up 360 bps, to 8.1%), Memphis (up 340 bps, to 3.4%) and Nashville (up 310 bps, to 3.8%). Meanwhile, rent growth in Houston fell 420 bps year-over-year, the largest decline nationally. Large declines were also seen in Orlando (-240 bps, to 3.9%) and Orange County (-200 bps, to 1.6%).
Helping to lift U.S. occupancy, annual absorption across the nation was up more than 10,000 units in February, coming in at 293,000 units. Annual completions nationwide ticked up a hair from January to February to stand at about 288,000 units. U.S. completion volumes have remained in 300,000-unit territory since mid-2016.
While the units under construction and completing within 12 months ratio nationwide remained unchanged at 1.9%, an additional 10,000 units entered the pipeline in February. In total, the U.S. should see about 336,400 new units come online over the next year. That figure accounts for a 5% increase from September 2017's 320,000 units, which is the largest annual completion rate during this economic cycle.