Occupancy High, Retention Low in Salt Lake City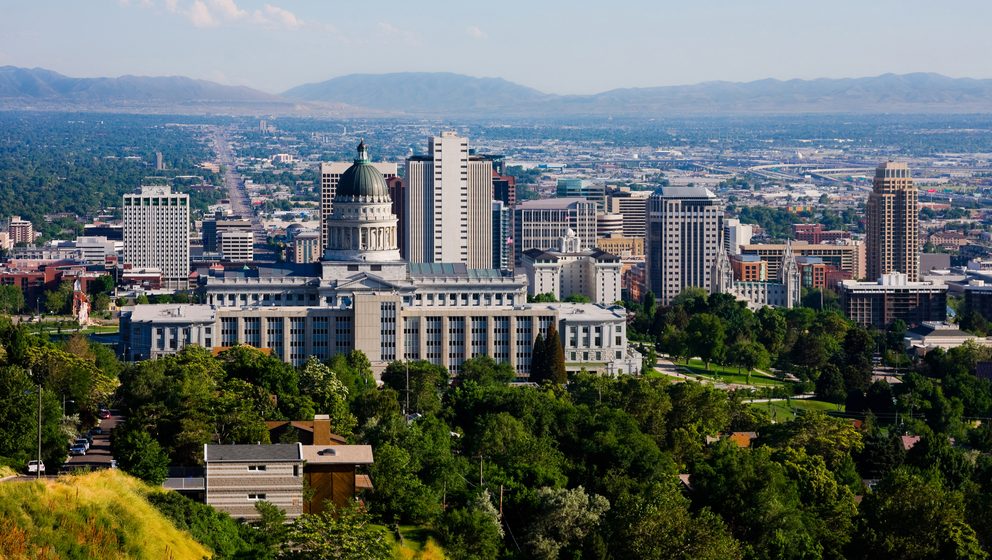 While apartment occupancy is solid in Salt Lake City, it's tough to hang on to individual renter households in this young, on-the-move market, resulting in one of the lowest resident retention rates in the country.
Apartment occupancy in Salt Lake City was solid at 95.8% in 1st quarter, registering 60 basis points (bps) above the national average. It's normal for occupancy in this Western market to run ahead of the U.S. norm. In the past five years, the performance gap placed Salt Lake City out front by an average of roughly 70 bps.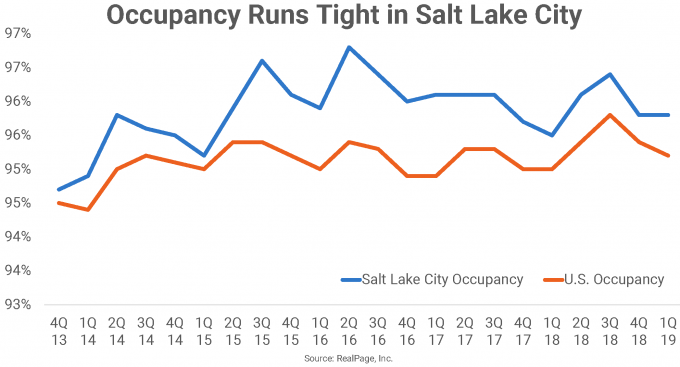 Helping to strengthen occupancy, economic and population growth have inspired strong apartment demand in recent years, making it easier for this market to absorb supply volumes, even at elevated levels. Salt Lake City's inventory base has grown by a sizable 26.2% during the current economic cycle. That's one of the strongest growth rates in the country, amounting to nearly 23,000 new units. Apartment deliveries are slowing, however, which points to similarly strong occupancy rates moving ahead.
Despite solid demand and occupancy conditions, resident retention in Salt Lake City was low at 48% in the year-ending 1st quarter 2019. Among the largest 50 apartment markets, only San Antonio posted a lower rate, with only 47.7% of expiring leases being renewed. The U.S. average was much stronger at 53.2%. Comparing occupancy rates in these low-retention markets, most recorded 1st quarter occupancy at or above the national norm. The only exceptions were San Antonio, Denver, Charlotte and Austin, where occupancy was a bit lower.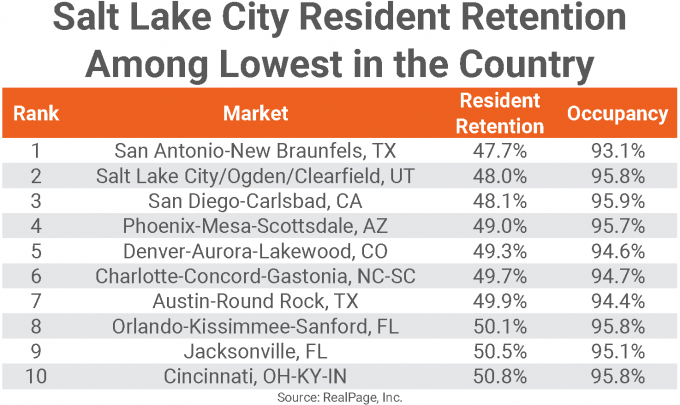 Contributing to low retention in Salt Lake City, many of the renters are comparatively young. More than half of the market's population was under 35 in 2017, according to the U.S. Census Bureau. The median age here is 32.5, well below the national norm of 38.1.
Solid job growth also provides more opportunity for residents to move around the metro. The market has seen average annual growth of 2.9%, or about 26,000 jobs, over the past seven years, resulting in one of the lowest unemployment rates in the nation at just 3%.
Exit for home purchase is also a factor in Salt Lake City, though low inventory and rising prices are limiting the typically strong single-family housing market right now. Average wages in Salt Lake City are about 19% above the national average, making it easier for residents to afford single-family homes, but home prices have grown roughly 14% annually over the past five years, boosting average home prices to over $300,000, well ahead of the pre-recession peak of about $200,000 recorded in 2007.
For more information on Salt Lake City, watch the latest RealPage Asset Optimization webcast.