U.S. Apartment Occupancy Continues Upward in July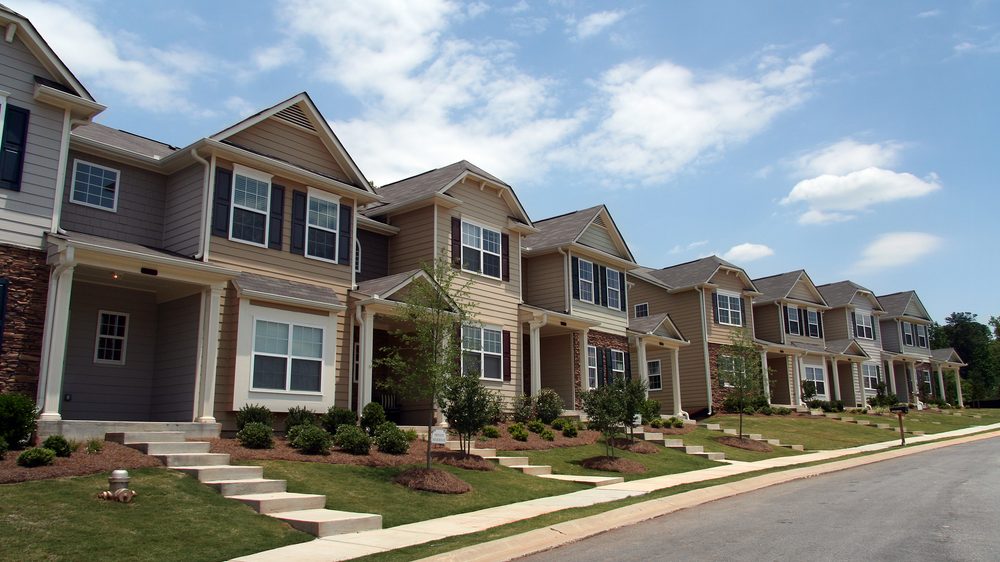 After reaching a two-decade high in May, U.S. apartment occupancy has continued to climb.
Strong leasing activity in this year's peak season has continued to cause apartment vacancies to drop, with July's occupancy rate reaching 96.2%. That rate, the highest rate since 2000, was up 0.4 points year-over-year.
As usual, occupancy was tightest in the Northeast region, at 97%. The West and Midwest were 96.5% and 96.4% occupied, respectively. Occupancy landed at 95.7% in the South. Those rates were up 0.2 points to 0.5 points from a year ago.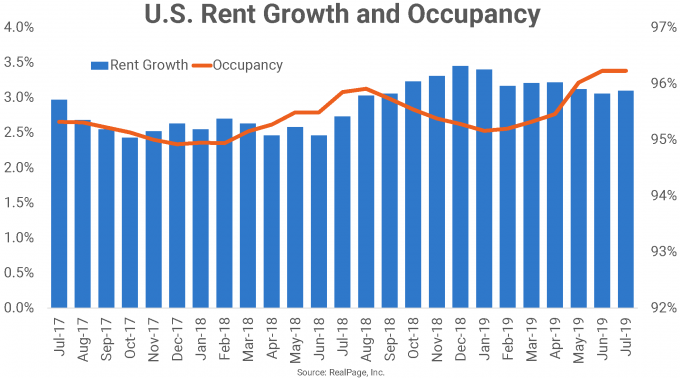 Of the nation's 150 largest apartment markets, 91 meet or exceed the national norm for occupancy and 135 hit the effectively full mark of 95%. Only four markets register occupancy below 94%, including some supply challenged Texas markets like College Station and Lubbock.
Several of the nation's largest markets have seen significant improvement in occupancy over the last year, including many Midwest and South markets. A few of the most improved markets for occupancy also register big improvements for rent growth as well, such as Nashville, Austin and Greensboro/Winston-Salem. In total, 80% of the nation's 50 largest apartment markets logged occupancy improvement in year-ending July 2019.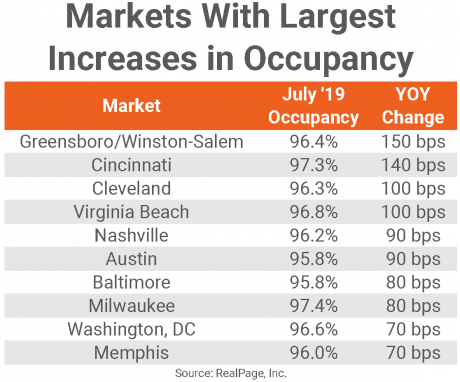 In addition to strong demand, rent growth held firm at 3.1%. Annual rent growth is about 40 basis points (bps) higher than July 2018. Across the U.S., apartment rents average $1,414.
The leaderboard of rent growth leaders shuffled slightly, but the markets remained about the same. Las Vegas took the top spot for annual rent growth in July at 8.4%. Phoenix (8.3%), Sacramento (5.2%), Raleigh/Durham (5.1%) and Greensboro/Winston-Salem (5.0%) rounded out the top five. Austin, Nashville, Riverside, Charlotte, Atlanta, Milwaukee and Cincinnati all saw between 4.0% and 4.8% annual rent growth.
Of the nation's 50 largest apartment markets, all saw at least 1.0% rent growth in year-ending July 2019. The two markets that grew at a mere 1.0% were Houston and San Jose. Oakland (1.8%) and Columbus (1.9%) rounded out the only markets that failed to break the 2.0% mark.