Against the Grain: Apartment Markets with Supply Hikes in 2018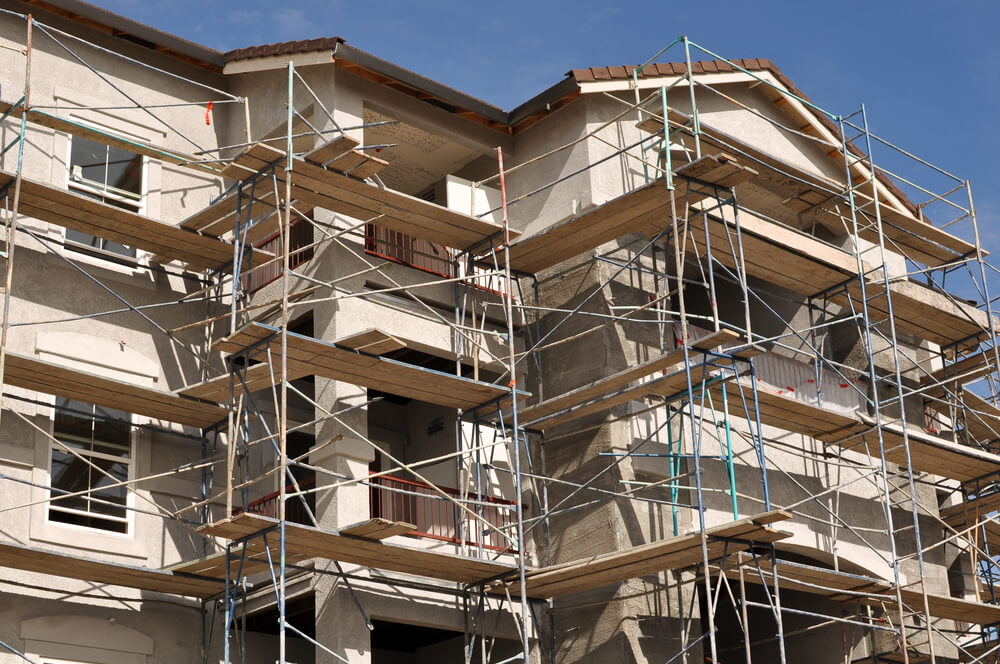 Out of the nation's 50 largest markets, a little over half are expected to see apartment completions ease in 2018. There are some metros, however, that are expecting the opposite. In 10 large markets, supply in 2018 is expected to increase roughly 40% or more from the 2017 levels.
In two California markets – Sacramento and Los Angeles – 2018 deliveries are expected to come in at more than double the volumes seen in 2017. Both of these metros have enjoyed especially tight occupancy and healthy rent growth in recent years. In fact, Sacramento held onto the top rent growth spot among the nation's largest metros for much of 2017. Limited apartment supply over the past decade contributed to recent strong performances in both Sacramento and Los Angeles.
Another high-performing market in the current cycle, Denver, is expected to see nearly 13,000 units come online in 2018, an 80% increase from the roughly 6,500 units completed in 2017. These upcoming deliveries should swell the metro's existing inventory base 4.1%, the most significant expansion expected among the nation's biggest markets. Denver has shown great tolerance for elevated supply volumes, as the metro ranked among the nation's leaders for both construction activity and rent growth during the current cycle. But occupancy started to show signs of weakness late in 2015 and now registers about a half-point below the national norm.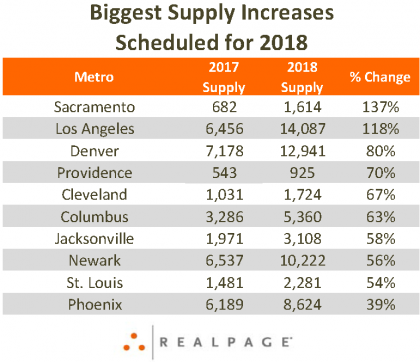 Supply activity in Providence and Cleveland in 2018 is expected to surpass 2017 volumes by about 70%. Over the past decade, new supply in Providence has remained minimal, averaging about 350 units annually. The 925 units expected to deliver in 2018 will be the most significant this market has seen since 2005. As of 1st quarter 2018, Providence ranks among the nation's leaders for occupancy and rent growth. But rates in the metro's Class A stock clocks in about 2 points lower than occupancy in other product segments.
Likewise, Cleveland has seen limited completion volumes over the past two decades. The 1,700 or so units scheduled for completion in Cleveland in 2018 will be the steepest delivery volume the metro has seen since RealPage started tracking the market. Annual completion volumes in Cleveland have come in between 700 units and 1,500 units in the past three years. Occupancy during this time frame has shown some volatility as operators worked through increased product volumes, but Cleveland's current vacancy rate is essentially in line with the national average and a bit below the metro's 10-year norm.
Anticipating 2018 supply volumes roughly 50% to 60% higher than 2017 levels are Columbus, Jacksonville, Newark and St. Louis. In each of these markets, 2018 completions will be at least twice the volume of long-term local averages. All of these metros are already seeing elevated deliveries, and all but one have registered relatively healthy occupancy showings in spite of those additions. The only exception is St. Louis, where occupancy is about in line with local long-term norms, but well below the national average.
Phoenix is scheduled to see new supply of about 8,600 units in 2018, 39% above the 2017 volume. This market is not a stranger to hefty construction activity. And while recent development has been prominent, it hasn't yet reached the peaks seen in 2002, when deliveries topped out at about 12,000 units. Occupancy is now about 3 points ahead of where it was back then. And with rent growth ranking the market among the nation's leaders, this metro looks well positioned to handle another year of substantial supply.