Apartment Lease Renewals Continue to Climb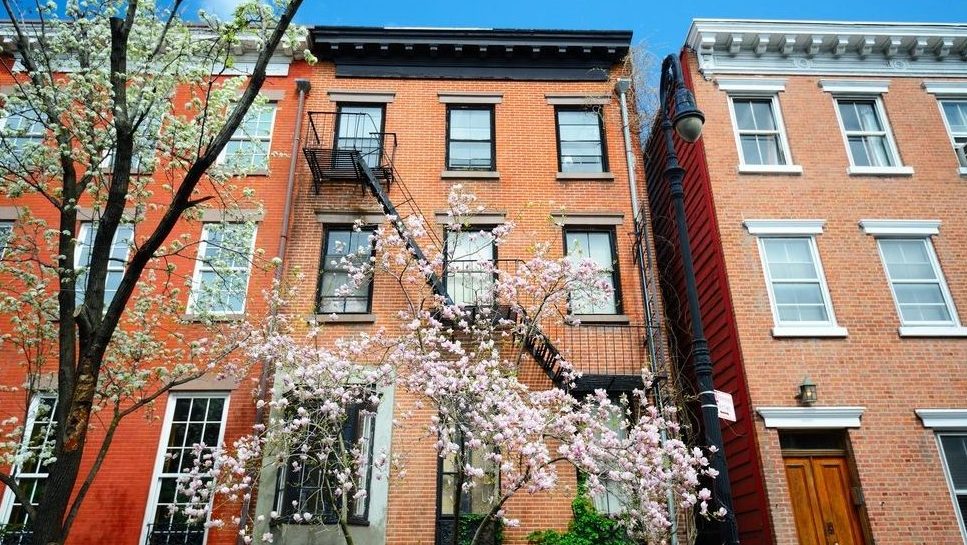 As the adage goes, a bird in the hand is worth two in the bush. That is precisely the approach that many apartment operators are following now as they increasingly hold onto current renters instead of chasing new ones upon lease expiration.
The percentage of expiring leases that were renewed in the year-ending 3rd quarter 2019 rose to 53.3%. That continues a general uptrend that began shortly after the period known as the Great Recession, when the lease renewal rate dropped as low as 46.8% in 2009. Over the past decade, the annual renewal rate has averaged 51.6%.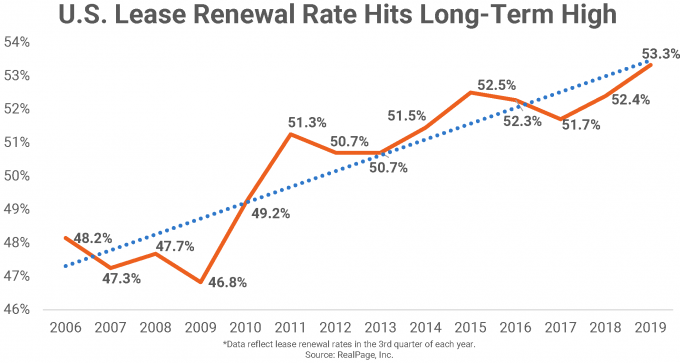 By default, renters in some markets have a higher propensity to renew leases than in others. Nine of the 10 markets with the highest renewal rates over the past the year are in the Northeast and Midwest regions, with Milwaukee leading the pack at 66.1%. Compared to last year, the Wisconsin market's retention rate jumped 330 basis points (bps).
The biggest increases in retention over the past year were seen in Providence (480 bps) and Cleveland (400 bps).
The lease renewal rate surpasses 57% in each of the top retention markets.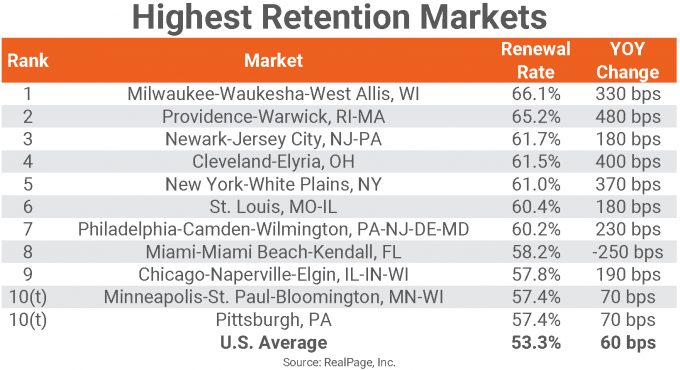 At the other end of the spectrum, the majority of the 10 markets with the lowest renewal rates are in the West and South regions, with San Diego at the bottom of the list with a 47.5% renewal rate.
Among the highest turnover markets, Tampa saw the largest decline in renewal rate, as it slid 160 bps from the year-ago rate. Only one U.S. market saw a larger decline year-over-year: Miami, where retention dropped 250 bps.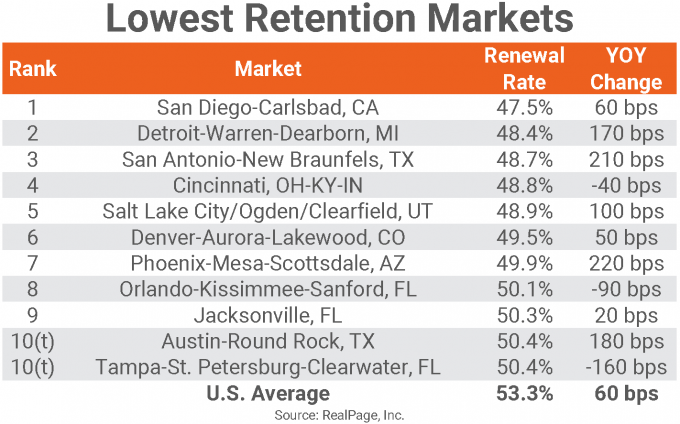 Helping to explain the latest renewal trends, markets with higher resident turnover also tend to have more new supply, stronger job growth and younger populations. While these market characteristics influence retention, terms of individual leases themselves also make a difference.
Take lease length, for example. The longer a renter has leased an apartment, the higher the likelihood that they will renew the lease at the end of the term. Likewise, lease expiration month plays a role in the overall renewal rate. Leases that end during the winter have a higher chance of renewal than those that expire in summer months. Moving to a new apartment in the middle of a cold and snowy January is not as convenient as moving in June when weather is a lot more favorable. Additionally, operators are incentivized to renew leases in the colder months when demand is usually softer.