U.S. Apartment Lease Renewal Rates Hit a 10-Year High
U.S. apartment lease renewal rates reached a 10-year high in February 2016, as more renters with expiring leases choose to sign another lease rather than move.
Increasing renewal rates come even as rents march higher and apartment inventory grows.
Of all expiring leases in February 2016, 55.1% were renewed, according to an MPF Research analysis of lease-transaction data from Richardson, Texas-based parent company RealPage, Inc. That rate, a 10-year high, was up 10 basis points from February 2015 and marked the 33rd year-over-year increase in the past 34 months.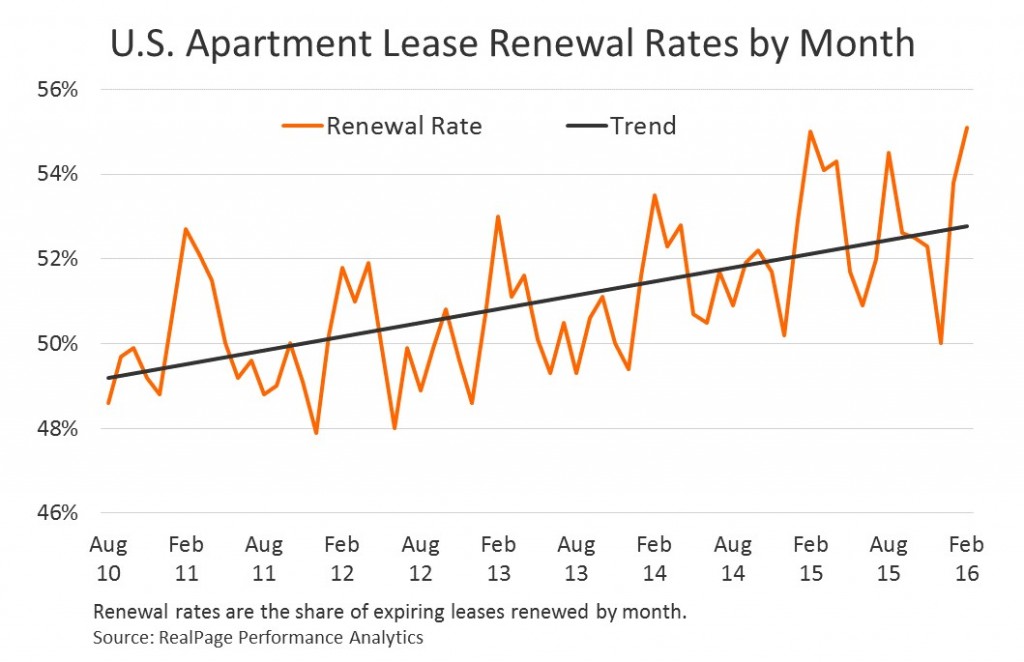 Leases renewed in February 2016 included, on average, a 5.0% increase in monthly rent. Renewed leases have come with rent increases of 5.0% to 5.5% in seven of the past eight months. The exception was December 2015, a typically slow leasing period for the U.S. apartment market due to cold weather and holidays.
"We continue to see no evidence of affordability concerns among renters of market-rate, professionally managed apartments," said Jay Parsons, vice president of MPF Research. "Renters are increasingly choosing to renew their leases and are paying a premium to do so."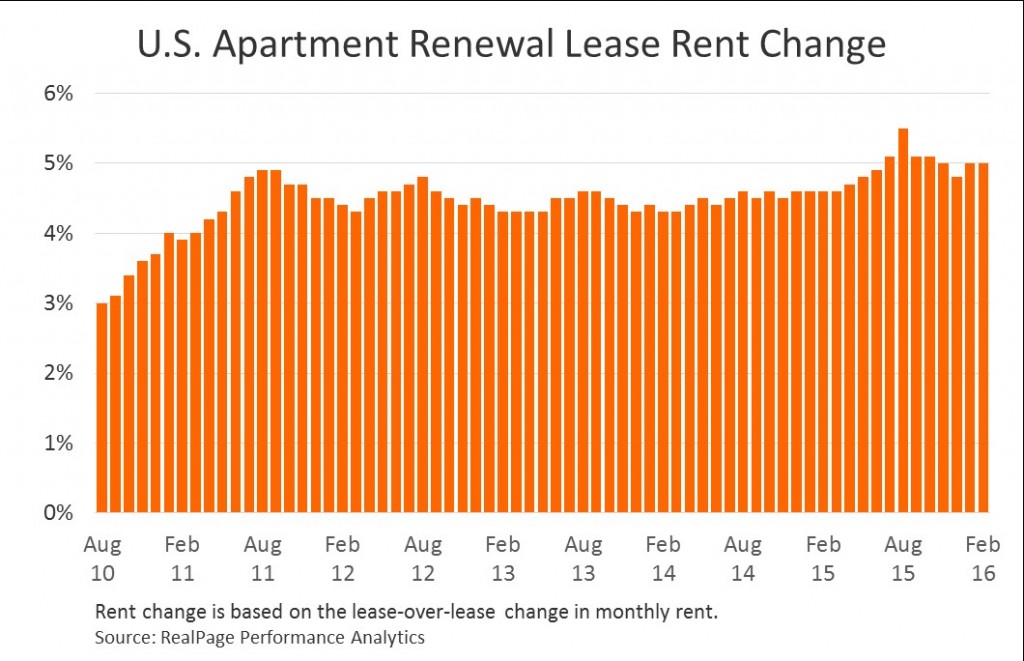 More than 50% of renters with expiring leases have renewed in each of the past 26 months. By comparison, renewal rates typically hovered in the mid to upper 40s prior to 2010. Over the past 26 months, the average rent increase for a lease renewal was 4.7%, marginally higher than the mid-2000s norms.
Those figures are based on a same-store set of apartment units utilizing RealPage software products between February 2011 and February 2016. (RealPage services 10 million units domestically.) Apartments in the dataset are professionally managed and tend to be of institutional quality.
A separate MPF Research study concluded that the average household in a conventional apartment unit spends between 20% and 25% of income on rent. The study shows that very few low-income households live in conventional apartments. The dataset on retention rates and rent growth also excludes designated low-income housing.
The Joint Center for Housing Studies at Harvard University, in their 2015 report, estimated that for every 100 very low-income renters in the U.S., there are only 58 affordable units available.
"The problem isn't rent growth in market-rate apartments," Parsons said. "The problem is the lack of income-restricted rental units for households that couldn't afford a market-rate apartment even prior to the recent run-up in rents."
While U.S. apartment construction is at three-decade highs, most of the new units are of the luxury, high-rent variety. That means that even for the bulk of the households in market-rate apartments, it's much cheaper to pay a 5.2% renewal rent hike than to move into a newly built property.
A total of 226,790 apartment units were built in 2015, a completion volume that was among the largest since 2000. At the end of 2016, more than 450,000 units were under construction, many of which were in pre-leasing stages.
Between regions of the country, there is some variation in lease renewal rates. The Northeast and Midwest tended to see higher retention rates than the South and West.
Similarly, the Northeast and Midwest claimed most of the major U.S. metro areas with the highest apartment retention rates in February 2016. Conversely, lower retention – or higher turnover – occurred in South and West region metros.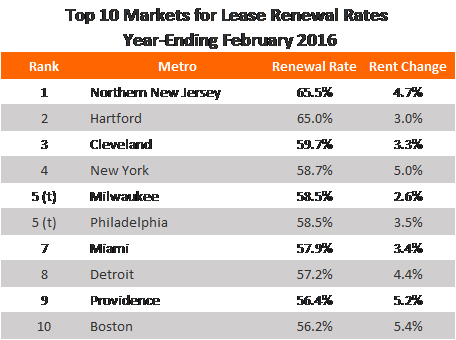 "The South and West regions tend to benefit from stronger job growth and in-migration of young adults," Parsons said. "Younger population plus more job growth tends to equal more mobility, which in turn means higher turnover or lower retention."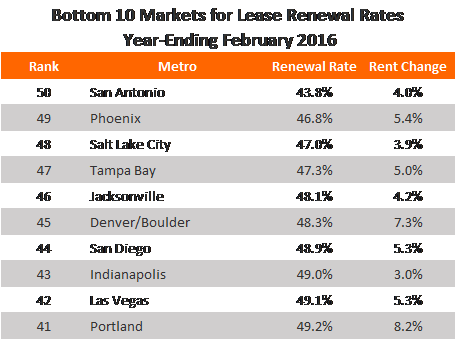 Many of the markets seeing the largest hikes for renters renewing their leases are, not surprisingly, markets where new-lease rent growth is also high. Metros in the Bay Area and Pacific Northwest claimed the top five spots nationally, followed by Denver/Boulder. Rounding out the top 10 were Sacramento, Riverside/San Bernardino, Atlanta and Nashville.