Apartment Development Trends Toward Taller, Denser Buildings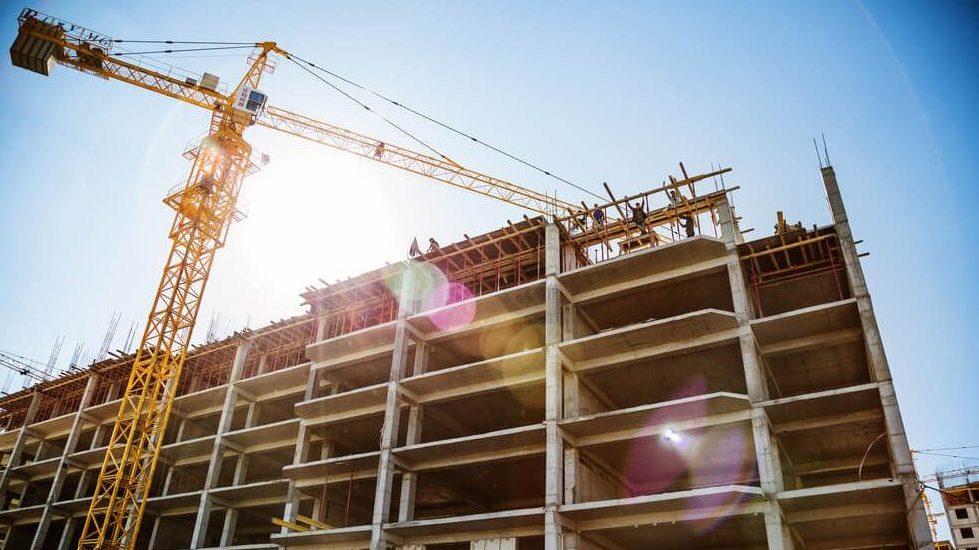 Apartment construction has trended upward since the cycle began in 2010, but developers aren't just building more of the same product.
Developers have changed the landscape – literally – by changing the composition of new supply. Rather than building in the remote suburban sprawl, builders have shifted focus toward taller, urbanized, infill locations with higher density.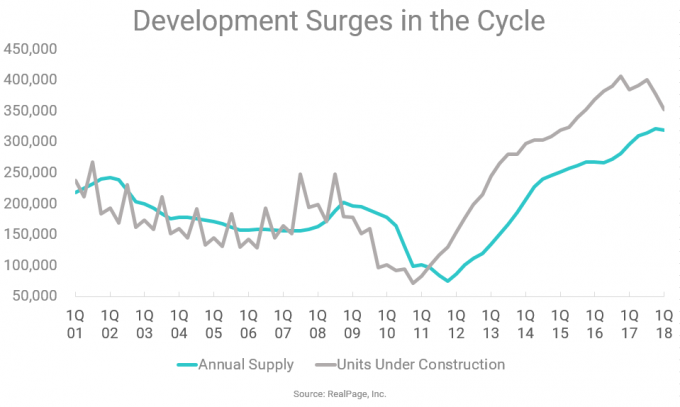 Following the lull of construction and supply in 2010 and 2011, developers have become more likely to build projects in downtown and inner-suburban locations near employment and transit hubs. While these locations are associated with higher upfront costs and strict permitting processes, they offer the sense of sustainable long-term tailwinds, leveraging existing infrastructure and proximate workforce capacity.
Tracking the Shifting Trends
Back in 2001, new apartment supply was overwhelmingly garden-style units. Of all new deliveries that year, roughly 84% were one to three stories tall. The remaining 16% were four stories or taller.
Coming out of the financial crisis a decade later, that trend had slowly begun to turn. By 2011, new supply had bottomed out at a 15-year low of roughly 75,000 units nationally. Construction activity, however, had accelerated to nearly twice the year-earlier pace. What drove that acceleration were starts on taller, denser projects. By 2013, garden-style units comprised less than half of new inventory for the first time. The shift away from low-rise, garden-style projects has only accelerated since.
The share of garden-style new supply has fallen below 40% each year since 2015, dropping as low as 33% in 2017. At the same time, completions of mid-rise and high-rise units have increased. Mid-rise units, those in projects with four to six stories, have accounted for the bulk of completions, around 45% of all new supply over the past three years. Meanwhile, high-rise units, those in properties with seven or more stories, accounted for nearly 20% of completions.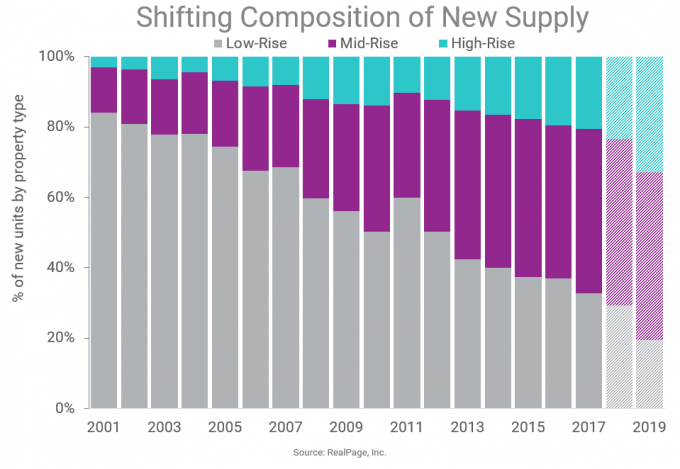 The trend toward taller and denser development is largely borne from economic and business considerations. Upfront development costs such as land prices and construction costs are increasing. Those two expenses, in particular, are the cited as the most important issue related to real estate development, according to ULI's Emerging Trends survey from 2018. As they continue to rise, developers' margins become more strained, so denser projects with more revenue-generating units on smaller sites in optimum locations strengthen potential returns.
For more on these and other construction trends, view the latest RealPage Asset Optimization webcast New Supply: What, Where and How Much to Expect.
Supply Leaders by Building Height
Not surprisingly, the low-rise supply leaders tended to be markets in the South with fewer construction regulations, cheaper land costs and greater abundance of labor. The four largest Texas markets – Houston, Dallas, Austin and San Antonio – have added more garden-style units than any other U.S. market since 2010.
Meanwhile, Dallas topped the list for the most mid-rise completions since 2010. Three of the six Gateway markets made the cut as mid-rise delivery leaders: Washington DC, Los Angeles and Boston. The bulk of the new supply for these metros came in 2014 through 2016.
High-rise units are the most expensive to build and require the longest lead time. Not surprisingly, five of the Gateway markets made the top 10: Washington, DC, New York, Chicago, Los Angeles and Boston. San Francisco was further down the list due in part to smaller market size. These high barrier-to-entry markets have historically offered superior growth and higher liquidity.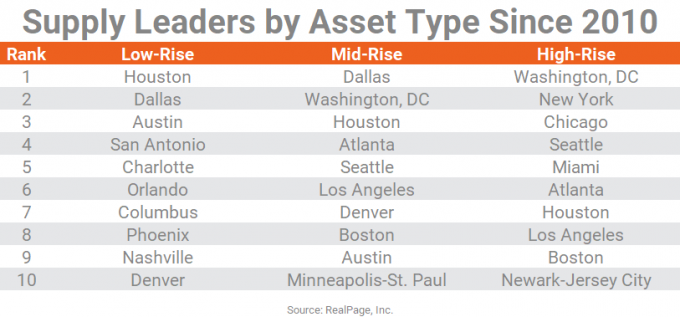 Going forward, the mix of new units is likely to continue to be more concentrated in taller, denser development. Less than 30% of scheduled deliveries in 2018 are the garden-style variety. That percentage drops below 20% in 2019. As low-rise units shrink in proportion, high-rise units grow. Units in projects with seven or more stories are expected to make up 23% of all completions in 2018 and 33% in 2019.