U.S. Apartment Demand Proves Solid in Early 2021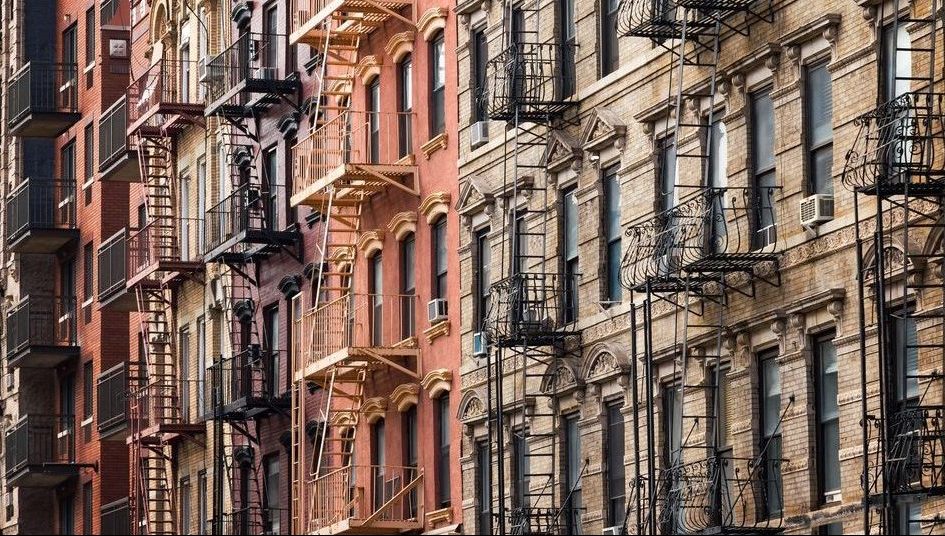 Renter demand for U.S. apartments proved solid in 1st quarter 2021, exceeding typical results for what's normally a slow leasing period.
Total Leasing Looks Good
Demand for 52,661 apartments registered across the country's 150 largest metros during 1st quarter. That's a solid performance given that leasing activity tends to be limited in the cold weather months.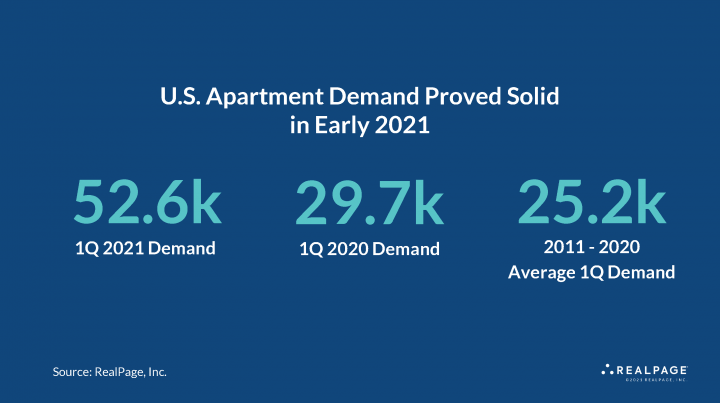 Product absorption in 1st quarter 2021 topped the year-earlier volume of 29,657 units by a sizable margin. Early 2021 demand more than doubled the average 1st quarter demand of about 25,000 units recorded over the previous 10 years.
Boosting apartment demand, employment growth has accelerated once again, helping to spur household formation and housing absorption. Last Friday's report from the Bureau of Labor Statistics showed 916,000 job additions for the month of March. That's the best monthly result recorded since last August, coming after economic recovery had stalled in late 2020.
Sun Belt Metros Lead
Leading the way among individual markets, Dallas/Fort Worth recorded demand for 3,566 apartments. North Texas has been the country's top apartment absorption center throughout the past several years.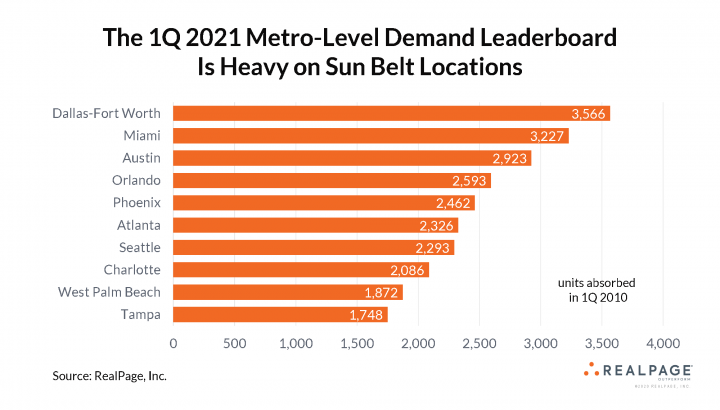 Most other demand leaders for 1st quarter also were Sun Belt markets. The number of occupied apartments climbed notably in Miami, Austin, Orlando, Phoenix, Atlanta, Charlotte, West Palm Beach and Tampa.
Seattle registered demand for 2,293 apartments in 1st quarter 2021, posting the strongest absorption seen in a coastal gateway metro since the pandemic began. Boston did well too, with the occupied apartment count rising by 1,680 units for the quarter.
Quarterly demand was mild, but encouragingly positive, in most other gateway settings, including all three Bay Area metros, Newark-Jersey City, Washington, DC, Chicago and Los Angeles.
In New York, however, renter losses remained sizable. The New York properties tracked by RealPage are experiencing a big jump in leasing velocity, but that activity mostly stems from existing renters moving around to take advantage of discounted rents. Thus, there's no net gain in the number of occupied units.
Gateway metros have been losing households to other parts of the country for decades. Their big-picture housing demand growth is very dependent on international immigration, which has been interrupted by the pandemic.
Building Activity Remains Substantial
While apartment absorption in 1st quarter 2021 was notable, it did not manage to keep pace with property completions. New supply finished during the quarter totaled 84,794 units.
This is a pattern that appears likely to be repeated throughout the remainder of the year.
We now seem to be on a path toward huge job production this year. Job growth should climb when COVID-19 vaccinations allow more hospitality and retail workers to get back on the job and when big-time consumer savings amassed over the past year are unleashed by the return of more entertainment and travel spending opportunities.
Household formation among young adults appears poised to surge, and that translates to robust demand for apartments.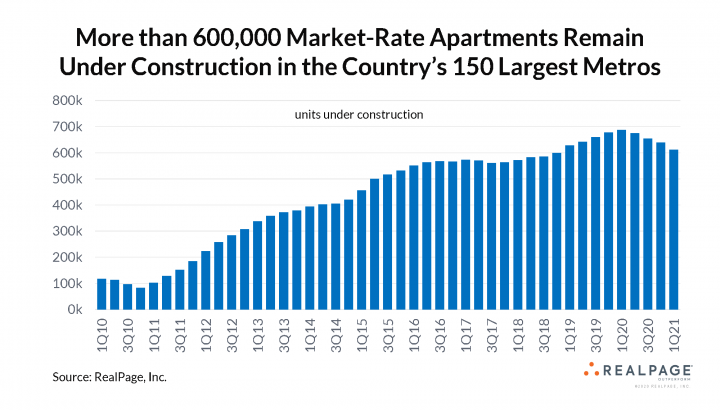 However, we're also going to get lots and lots of apartment deliveries in the near term, pointing to a still competitive leasing environment for luxury properties.
Ongoing construction stands at 611,202 units. While that's down from peak recent building activity, it's only down a little.
So much additional product moving through lease-up could make it tough to burn off the rent concessions that have been implemented over the past year, which dampens the prospects for acceleration of rent growth in the busiest building zones.