Apartment Demand, Occupancy and Rents Jump to New Highs Again in 1st Quarter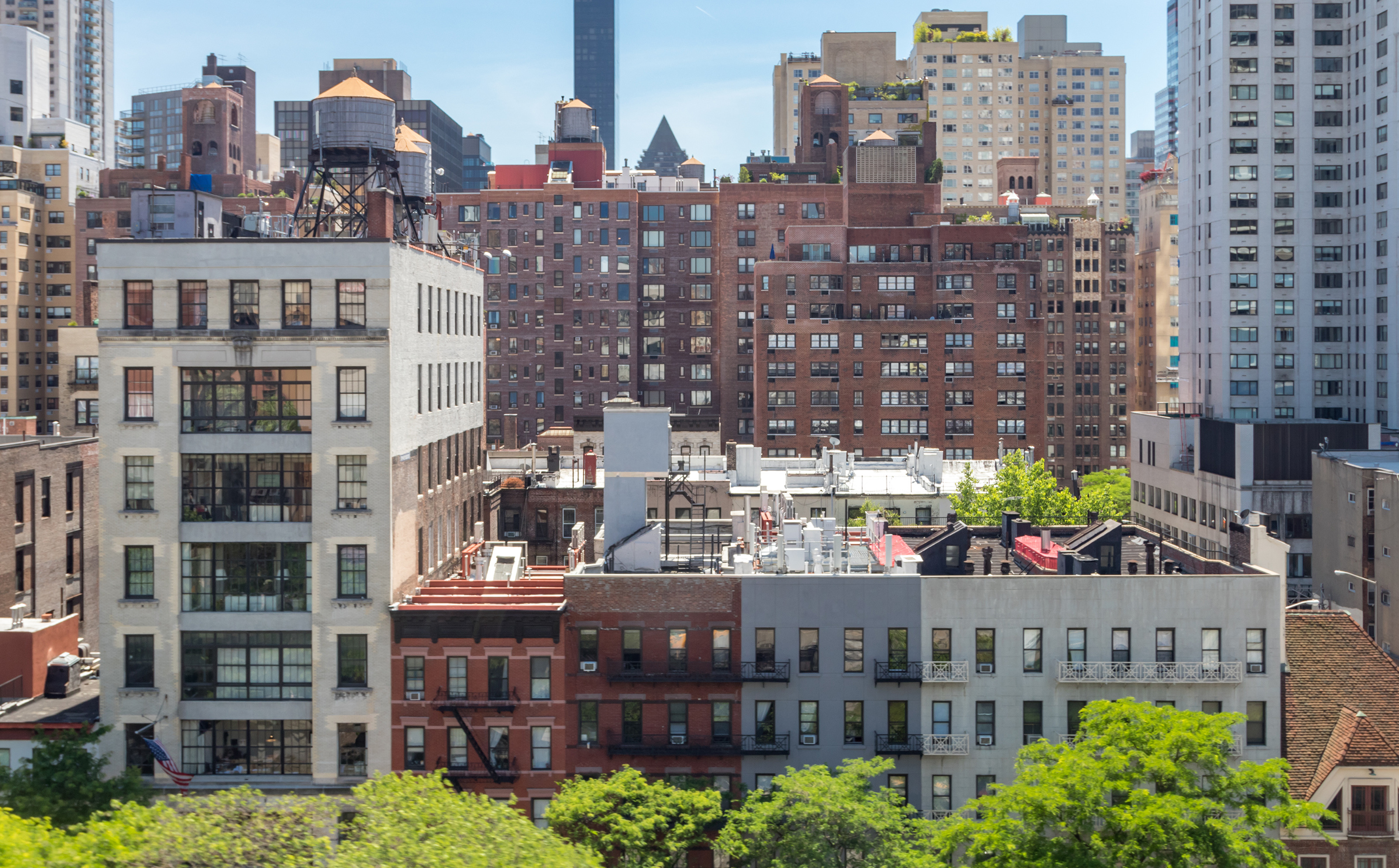 In what's becoming a recurring storyline, the U.S. apartment market set record highs for demand, occupancy and rent growth in 2022's 1st quarter – toppling previous multi-decade peaks set just one quarter earlier.
Huge appetite for housing continues to power unprecedented market conditions. Net demand for market-rate apartments totaled a remarkable 712,899 units nationally in the year-ending 1st quarter 2022. That's 8% more than the previous high set one quarter earlier, and 76% higher than the pre-COVID-era peak set back in 2000.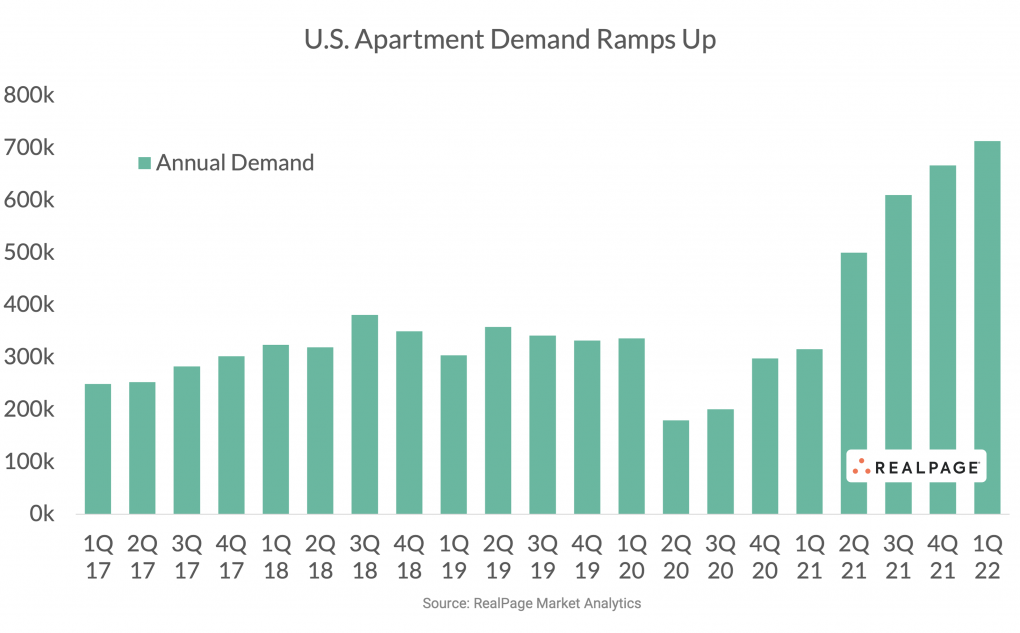 Strong demand helped apartment occupancy buck the normal trend of seasonal cooling in 1st quarter, as occupancy ticked up 0.1 percentage point to 97.6%. In turn, rent growth hit another all-time high. New lease effective asking rents increased 15.2% year-over-year through March.
Young adults benefiting from a tight labor market and unprecedented wage growth are flooding the apartment market. Normally, you'd expect rent growth of this magnitude to stifle demand, but instead the opposite is occurring. There's a severe shortage of rental housing at all price points and in essentially every city across the country.
Apartment developers remain well ahead of single-family builders in adding supply, but the brief pause in starts from 2020 plus supply chain and labor challenges have slowed down construction somewhat. Nearly 350,000 market-rate apartment units completed over the last 12 months ending in March 2022 – elevated by long-term standards but on par with the norms since 2020. However, the pace will soon accelerate. Apartment construction post-COVID has surged to the highest levels since the 1970s, with more than 750,000 units under way.
Construction costs are way up – land, materials, labor – but developers are able to move forward due to big wage growth among renters. We wouldn't see this huge surge in apartment construction if not for wage growth empowering renters to absorb the cost increases through higher rents. Ultimately, rents and home prices are both surging right now primarily due to housing shortages, and we need more housing of all types to support long-term affordability and availability.
Occupancy rates remain ultra-high in every metropolitan area across the country. Every major market recorded occupancy above 96% in March, and only a handful of small metros came in under 95% – which is usually considered the "essentially full" mark to account for normal turnover.
On rent growth, only five of the nation's 150 largest metro areas recorded new lease rent increases below 6%. The largest hikes continue to come in Florida and in the desert region of the country – which together claimed the top 10 spots nationally.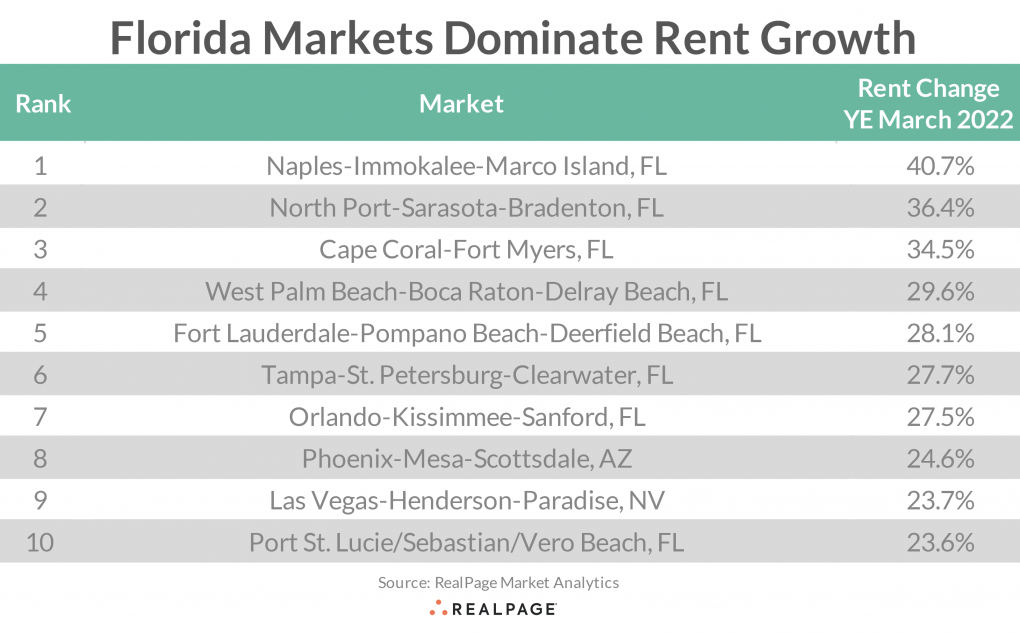 Three Florida beach markets of Naples, Sarasota and Fort Myers led the way with year-over-year increases of 40.7%, 36.4% and 34.5%, respectively. Ten other Florida metros recorded gains of at least 10%. Top non-Florida markets continue to be Phoenix (24.6%), Las Vegas (23.7%) and Austin (23.3%).
Outside the Sun Belt, the big story is New York City. The Big Apple saw a resurgence in apartment demand over the last 12 months, leapfrogging Dallas/Fort Worth into the No. 1 spot for net demand nationally with nearly 65,000 units absorbed. After seeing drastic rent cuts of more than 20% during the pandemic, New York's demand resurgence is fueling a big bounce in rents. New lease effective asking rents jumped 22.9% year-over-year.
The rebound was expected, but not to that magnitude. Similar trends were seen to a lesser degree in other big coastal markets like San Jose, San Francisco, Oakland, Los Angeles, Seattle, Northern New Jersey and Washington, DC.
Apartment owners in big coastal cities like New York and California's Bay Area relied heavily on rental concessions to stir up demand that just wasn't there during the lockdown era. There was some concern that might lure in renters unable to afford normal rents. But we've been encouraged to see that hasn't been the case.
It's also interesting to see many big city renters aren't necessarily moving back due to return-to-work policies. It appears many came to the cities due to the returning-to-normal city life, with a big chunk still working at home from their apartment.
Another encouraging sign: The return of apartment demand in coastal cities has not come at the expense of the Sun Belt, which benefited from accelerated in-migration in 2020 and 2021. Most Sun Belt cities continue to see their highest occupancy rates on record, with more demand than available supply.
Supply/demand conditions should improve over the next 18 months or so as new apartment completion volumes accelerate. Construction tops 20,000 units in 14 different metro areas, led by Phoenix, Austin, New York, Dallas and Washington, DC. Total apartment stock is on pace to balloon by more than 7% in 20 different metro areas, with especially big expansion rates in Huntsville (16.1%), Nashville (13.9%), Austin (12.1%), Salt Lake City (11.8%), Colorado Springs (11.0%) and Charlotte (10.3%).
The vast majority of the new supply is targeted to the top end of the market. While that's definitely needed, there's an even greater needed for lower-income affordable housing – but that can only happen with substantially more public funding. Cities and states concerned about housing affordability must get serious about adequately supporting affordable housing development.
Earlier this year, Harvard's Joint Center for Housing Studies issued its America's Rental Housing 2022 report, which highlighted two stark realities: While most new demand for rentals is coming from high-income households, there is also a severe shortage of housing targeted to lower-income households.