U.S. Apartment Construction Remains Substantial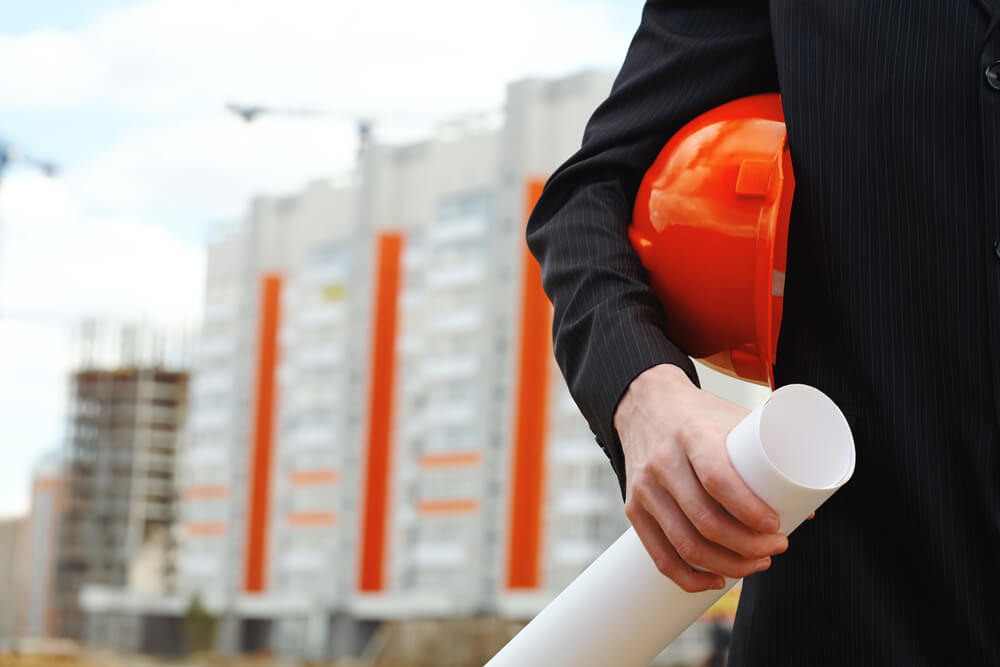 Record demand for U.S. apartments in 2021 has pushed occupancy in the rental stock to all-time highs, leaving many places starved for more multifamily product.
Going into the final quarter of the year, ongoing construction of market-rate apartments stands at 654,686 units. The volume of product on the way has been basically holding steady between 650,000 and 700,000 units for the past two and a half years.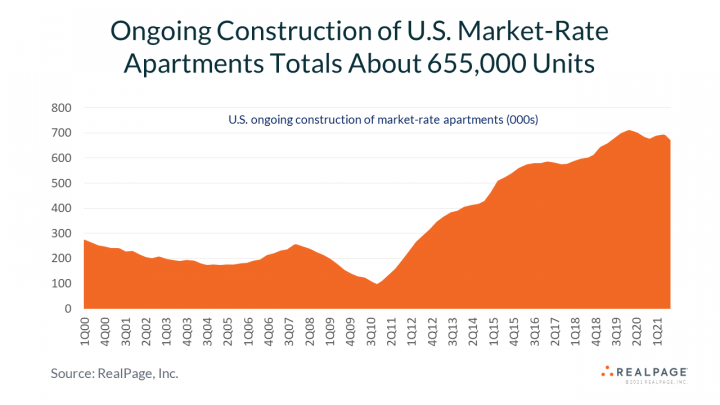 D/FW Stays on Top … Barely
Combining the activity volume in metro Dallas and adjacent metro Fort Worth, 38,589 market-rate apartments are under construction in North Texas. That total is still the biggest block of product on the way anywhere across the country, but D/FW's premium over some other locations is shrinking. Ongoing construction is down about a fifth from its pre-pandemic high.
After a decade or so of aggressive building, desirable multifamily sites are scarce in many parts of D/FW, and in some cases suburban officials are putting up more roadblocks to construction. Also, select apartment developers that were very active in the past now have shifted some of their attention to the launch of build-to-rent single-family home product lines. Still, quite a few apartment developers are trying to get more multifamily units underway in North Texas, and local multifamily permit numbers did just begin to move up a little for the first time in quite a while.
The Gateway Metro Story
Ongoing market-rate apartment construction totals 183,252 units in the 10 markets that generally are categorized as gateway metros. East Coast gateway spots are New York, the adjacent Newark and Jersey City area in Northern New Jersey, Boston and the Washington, DC area. Los Angeles, Seattle and the Bay Area trio of metro San Francisco, metro Oakland and metro San Jose make up the West Coast gateway metros, and Chicago is the only gateway metro in the middle of the country.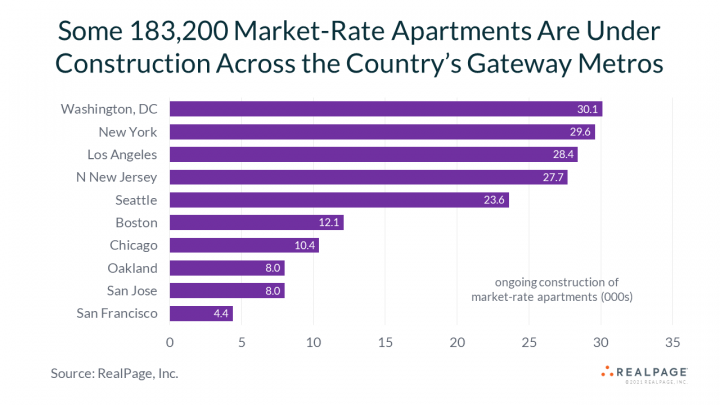 While ongoing construction in gateway metros is down about 5% from the early 2020 volume, that's a smaller decline than many would have expected when COVID-19 first emerged. Furthermore, the drops in gateway development activity are focused in the Bay Area, Boston and Chicago, all spots where pre-pandemic building was unusually robust by local standards. Today's reduced construction in the Bay Area, Boston and Chicago is just a return to building levels that were more typical historically.
A Trio Vulnerable to Overheating?
Construction of market-rate apartments is surging across Phoenix, Austin and Nashville. All three metros register great occupancy and rent growth performances now, and demand for apartments is anticipated to be huge moving ahead. Still, if there are spots across the country where apartment construction is getting too aggressive, these metros are key candidates to consider, especially when single-family construction also is substantial in these locations.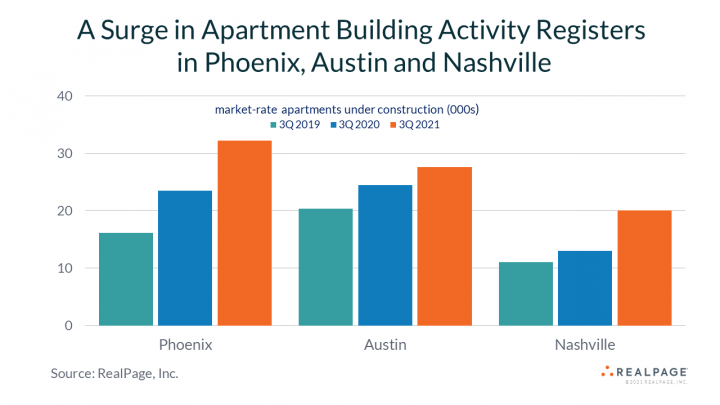 In Phoenix, 32,168 units are under construction, the most nationally if you split the North Texas tally into separate figures for Dallas and Fort Worth. Ongoing building in Phoenix has climbed by more than one-third during the past year, and today's sum of product on the way doubles the count of units under construction two years ago.
Austin has 27,604 market-rate apartments under construction. That total that has moved past Houston's volume, even though Austin's population is only one-third of Houston's count. The construction pace in Austin is up 12% year-over-year and up 36% from the total recorded two years ago.
In Nashville, the 20,074 market-rate apartments on the way will grow the local inventory by more than 12% in the next 18 to 24 months. Today's ongoing construction compares to totals that were around 13,000 units a year ago and 11,000 units two years ago.
Elsewhere in the Sun Belt and the Mountain/Desert Region
Ongoing construction of market-rate apartments totals 24,216 units in Houston (down 26% from the year-ago total) and 21,312 units in Atlanta (up 5% year over year).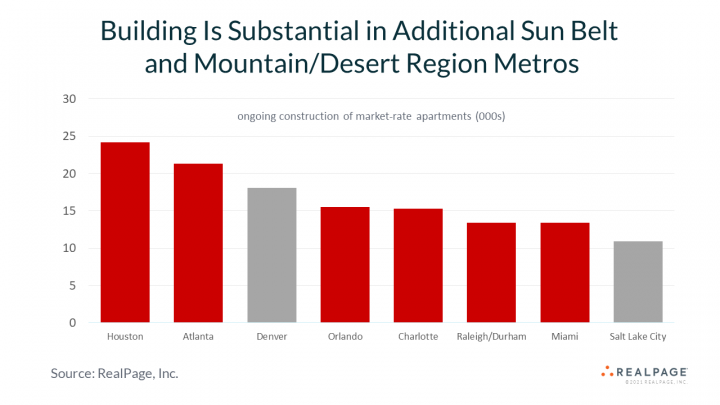 Building activity comes in at 18,093 units in Denver (up 25%), 16,552 units in Orlando (flat) and 15,310 units in Charlotte (down 8%).
Totals stand at 13,442 units in Raleigh/Durham (up 32%), 13,400 units in Miami (flat) and 10,932 units in Salt Lake City (up 21%).
Two More For You
There's been some momentum in Philadelphia's apartment building volume over the past couple of years, in part reflecting that the metro's occupancy and rent achievement performance has proved more consistent than the results posted by East Coast gateway metros. Ongoing market-rate apartment building is now up to 13,595 units, rising 10% year over year.
Minneapolis/St. Paul has moved a little ahead of Chicago to rank as the busiest apartment construction center in the Midwest. Ongoing building of market-rate apartments totals 12,513 units, down 15% year over year.
Small Markets to Watch
While small metros have fewer units on the way than you see in the country's large markets, near-term inventory growth rates are set to reach substantial levels in a few locations.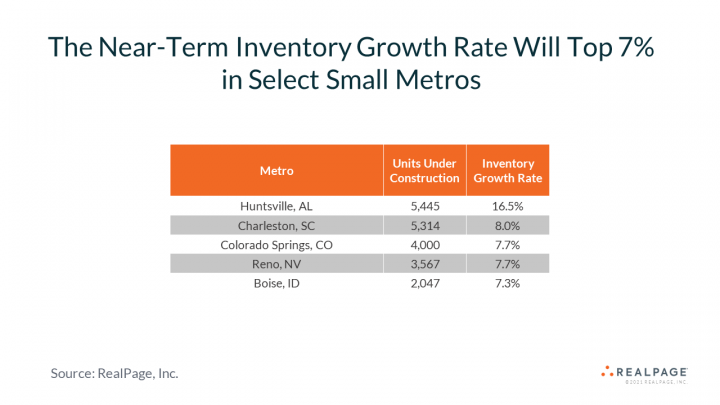 Most notably, the 5,445 market-rate apartments under construction in Huntsville, AL, will grow that area's stock by a whopping 16.5%.
Near-term inventory growth between 7% and 8% is on the way for Charleston, SC, Colorado Springs, CO, Reno, NV and Boise, ID.