Apartment Construction is Remarkably Spread Out in Austin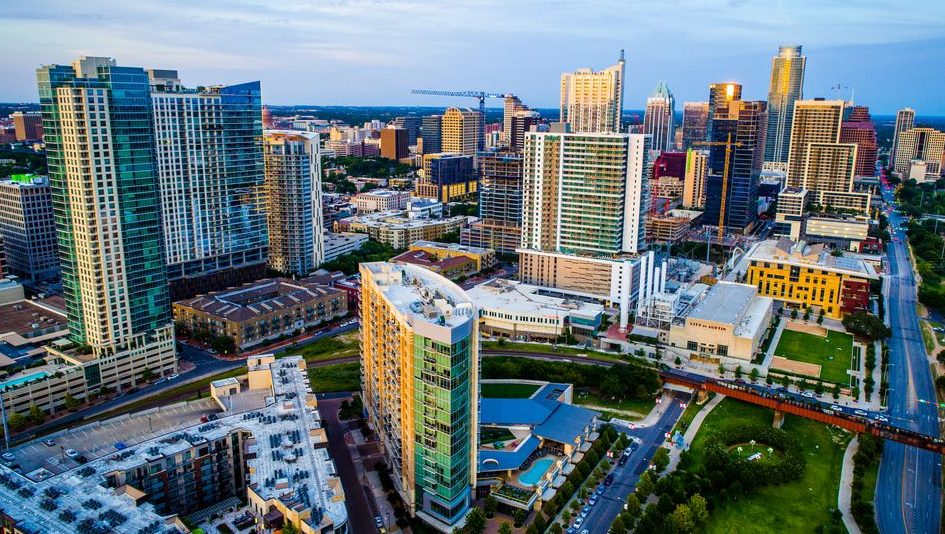 Austin has seen one of the nation's most aggressive inventory growth rates during the current cycle, and 2019 is set to deliver more of the same. But unlike in most other market leaders for inventory growth, developers in Austin haven't focused their efforts on any certain area. Instead, construction has been remarkably spread out across the Austin market.
In total, apartment developers have completed more than 60,000 new units in Austin during the current economic cycle, which began in early 2010. This new stock grew the existing inventory base by a stunning 30.8%. This was the second-largest increase among the nation's 50 largest apartment markets.

Also growing their apartment stocks by about a third in the cycle were Charlotte, where almost 47,000 units were delivered, and Nashville, which saw the completion of nearly 36,000 units. In both of those Southeast markets, a handful of submarkets accounted for the bulk of new units in the cycle. Charlotte's Uptown/South End received nearly a quarter of the market's total new apartments. In Nashville, a third of deliveries went to the downtown Central Nashville area.
Out of Austin's 16 submarkets, 11 have recorded delivery of 3,500 units or more during the current cycle, with only two receiving supply of more than 5,000 units. Not one submarket accounted for even a 10% share of the deliveries seen during the current cycle. By spreading these completions out across the market, individual submarkets have mostly avoided periods of oversaturation.
Southwest Austin and Cedar Park received the biggest completion volumes, with about 5,600 units delivering in Southwest Austin and nearly 5,500 units coming online in the northwestern Cedar Park area. Even these supply leaders each accounted for only about 9% of the market's total new supply tally from the past eight years. New product in both locales was absorbed fairly quickly. While completions in Cedar Park increased the existing inventory base by more than 70%, this was an area that had seen very little new product before the cycle began.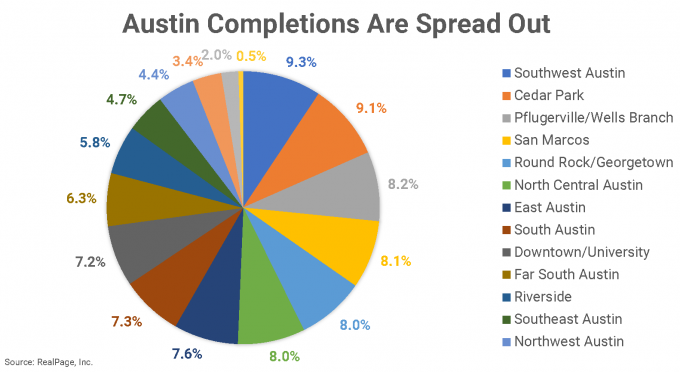 Accounting for about 8% of Austin's cycle delivery volumes were the northern submarkets of Pflugerville/Wells Branch, Round Rock/Georgetown and North Central Austin as well as the southern university community of San Marcos. These are the four least expensive submarkets in Austin.
Even Austin's urban core – the expensive Downtown/University area – only received about a 7% share of new supply in the current cycle. The Arboretum accounted for Austin's smallest slice of the completion pie, with 0.5% of the total.
As a result of new product additions being geographically dispersed, occupancy in Austin has closely mimicked the U.S. norm. That's significant given the sheer volume of new units delivered to Austin over the course of this cycle, and a rare feat for such a high-development market. Rent growth, however, has been more prone to swings.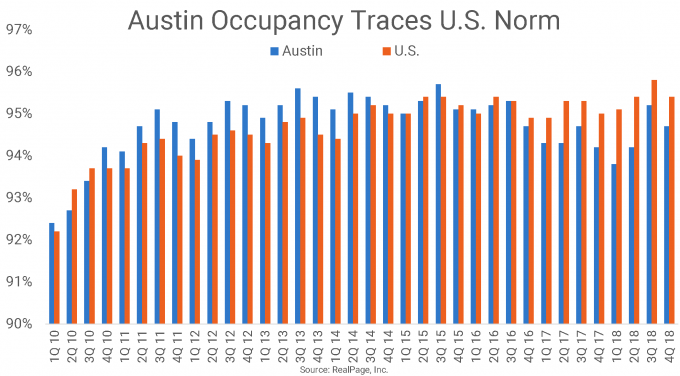 In the year ahead, overall delivery volumes in Austin are expected to remain elevated, as 2019 is on tap to be the sixth consecutive year in which completions reach 8,500 or more units. Some performance slowdown is expected, given the length of this cycle's supply wave and the mounting completions.
For more on performance expectations for Austin's apartment market, see the latest RealPage Asset Optimization webcast.