Apartment Construction Slows in Many Major Markets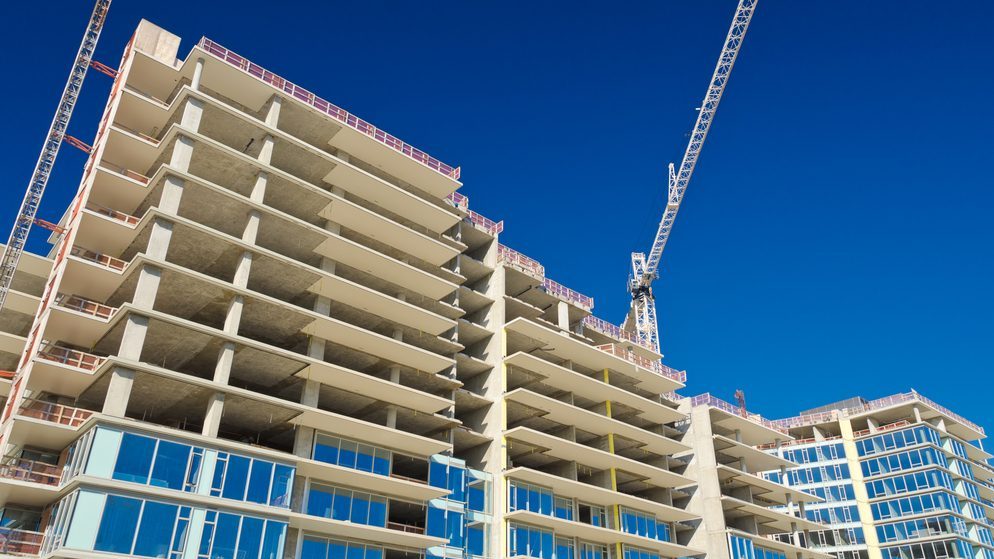 New apartment deliveries are scheduled to surge in the coming year, but construction activity has slowed to the lowest level in nearly four years. Slowing construction activity is seen across many local markets – some of which are seeing slowdowns of 20% or more from this time last year.
Nearly 526,300 units were underway at the end of June, down 5.5% year-over-year and the fewest since 3rd quarter 2015. Still, that level of construction is far above what's normal for the U.S. market, nearly double the long-term norm. Multifamily permits also plunged in June to the lowest level seen in over two years, according to Bureau of Labor Statistics.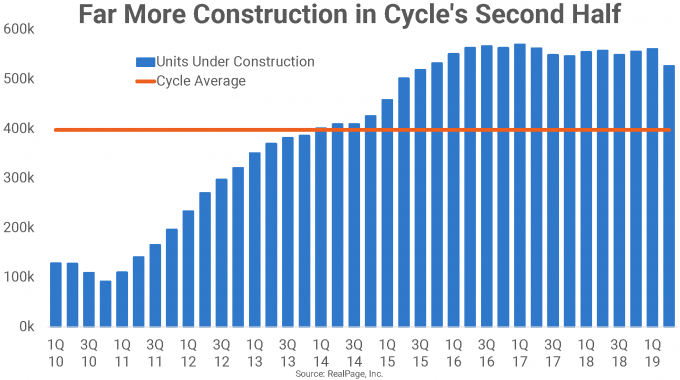 Construction activity is down from a year ago in 34 of the nation's 50 largest apartment markets, which are the major construction centers for the current cycle. Markets seeing the largest slowdowns include New York, Orange County, Tampa, San Antonio, Columbus, Portland and Orlando.
New York's construction slowdown – which accounts for more than 10,800 units, a 42.8% decline – is driven by the large Brooklyn and Queens areas. In Brooklyn, there were 4,400 fewer units under way in mid-2019 than in mid-2018, a 50% decline. In Queens, the drop totaled nearly 3,600 units, or 60%. These areas have been development leaders in the market through the cycle, but high costs and limited site availability are likely constraining activity after years of elevated volumes. Two other New York submarkets – Midwest West and Financial District – saw construction decline by more than 1,000 units to almost nothing in mid-2019.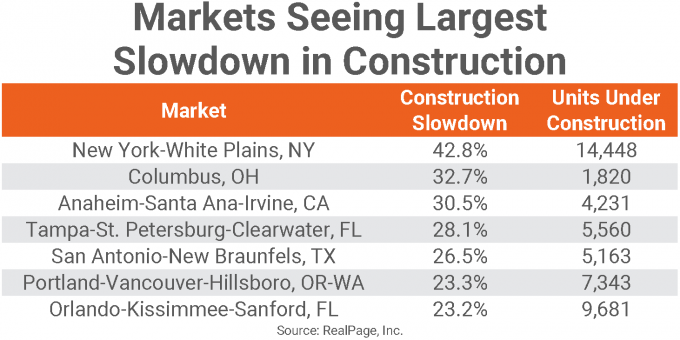 Construction has slowed in Columbus by more than 1,800 units, or 32.7% – most notably in the Downtown/University District and Dublin/Hilliard submarkets. These upper-tier areas have captured the bulk of new supply this cycle. The construction pipeline has all but dried up in the suburban Dublin/Hilliard, but activity is still elevated in the urban Downtown/University District. The 1,800 units underway in the downtown area represents 8% of existing stock there.
In California, Orange County's overall construction slowdown of more than 1,800 units, or 30.5%, can be attributed mostly to Irvine. Local developers have brought more than 12,000 new apartments to the Irvine area this cycle, but now, construction has dropped to the lowest level since 2014. Just 1,300 units were underway in Irvine in mid-2019, a decline of 815 units, or 38%, year-over-year. Slowdowns were also notable in Huntington Beach and East Anaheim/Orange.
Tampa's close-in submarkets are the primary culprit for the 2,000-plus-unit drop off in building. Central Tampa alone had a 600-unit decrease in construction from year-ago figures. Peninsula and Town and Country/Westchase both saw construction decreases in the 300-plus-unit range. Though construction across the Florida market will slow, only two submarkets – South St. Petersburg and North St. Petersburg – have more units under construction now than year-ago.
Conversely in San Antonio, close-in submarkets like Central San Antonio, Alamo Heights and South San Antonio have about the same amount of construction as year-ago. The market's building slowdown of about 1,800 units is driven by less construction in submarkets like Far Northwest San Antonio, which alone accounts for a more than 1,100-unit drop off.
East Portland has about 900 fewer units under construction now than a year ago, accounting for the largest chunk of the Portland market's 2,200-unit slowdown in building. Though this is the largest drop, every Portland submarket except Lake Oswego/Tualatin/Wilsonville has fewer units being built today than in 2nd quarter 2018.
Orlando's construction slowdown of nearly 3,000 units is remarkably spread out. Winter Park/Maitland has nearly 1,100 less units being built today than a year ago, but 10 of Orlando's 15 submarkets have less building activity compared to last year. A few submarkets, such as Northwest Orlando, Sanford/Lake Mary, Kissimmee/Osceola County and Ocoee/Winter Garden/Clermont, have slightly more building than last year. Only one submarket, West Orlando, has continued to see no new construction.