Apartment Construction Levels Earn DC a Convenient Moniker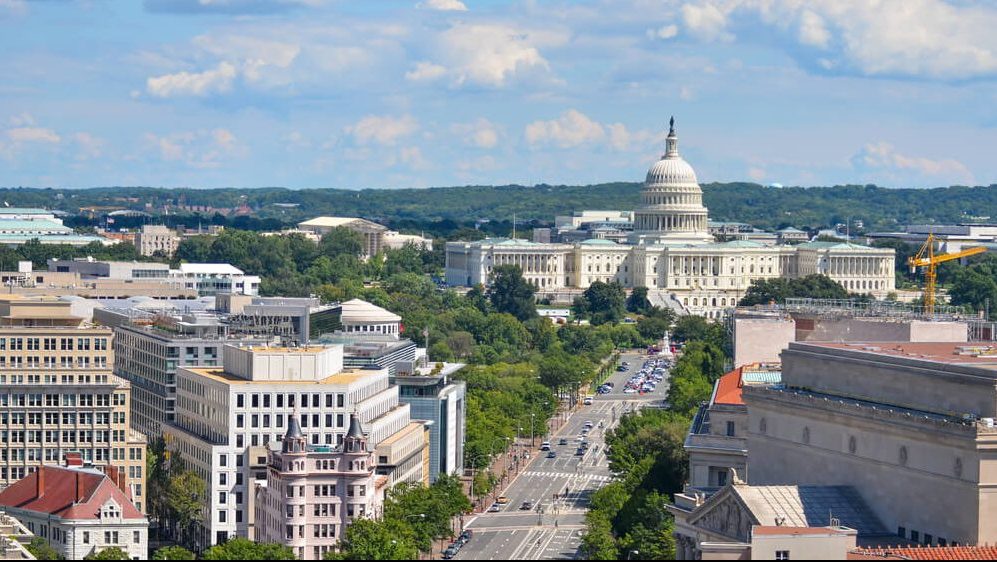 When it comes to apartment construction, Washington, DC is the country's 7-Eleven market.
Historically, new apartment supply here ran at about 7,000 units a year. The new norm that has emerged is roughly 11,000 units annually.
The step up in completion volumes has made Washington, DC one of the nation's most active apartment development centers during the current economic cycle. Over 110,000 units have been delivered here since the cycle began in early 2010, a tally roughly on par with the volumes delivered in Houston, and topped only by the total in Dallas/Fort Worth. Cycle deliveries have swelled the Washington, DC apartment base by over 18% in the past nine years.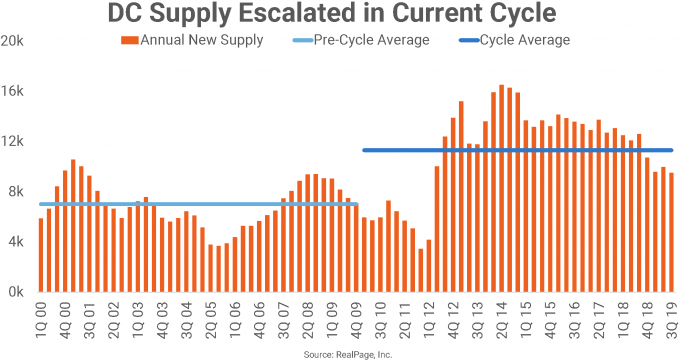 In the year-ending 3rd quarter 2019, annual deliveries were at nearly 9,530 units, one of the most substantial completion volumes nationwide, coming in behind new supply in only Dallas and New York. However, while above previous cycle averages, DC's latest annual delivery tally came in below the current cycle average, and the peak of over 16,500 units seen in 2nd quarter 2014.
Several submarkets have received substantial new supply volumes since 2010. Neighborhoods in the District proper have claimed about a quarter of all new apartments this decade. Significant building activity has also occurred in several areas of Northern Virginia, particularly Tysons/Falls Church/Merrifield.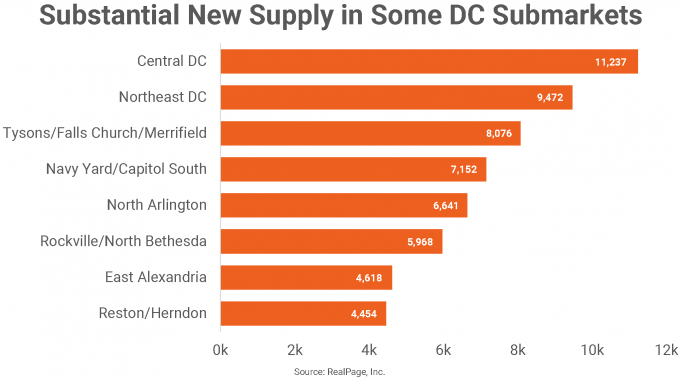 However, almost every area of greater DC has received at least some new supply this cycle, and that spread out activity has helped Washington digest today's bigger new supply volume.
More new supply is on the way. Roughly 32,000 units are under construction here as of 3rd quarter 2019. Dallas/Fort Worth is the only spot across the country with more supply on the way.
For more on the Washington, DC apartment market watch the RealPage Asset Optimization webcast, Up Close and Local: Washington, DC Market Update.